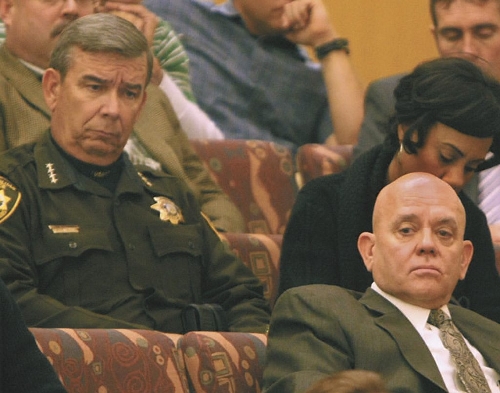 Families of those killed by Las Vegas police will be allowed independent counsel at coroner's inquests under reforms endorsed by Clark County commissioners Tuesday.
Commissioners gave preliminary approval to this and other reforms on a 4-2 vote after two hours of heated testimony from those who supported and opposed appointing counsel — or an ombudsman — to represent the families.
But that change could result in police officers involved in fatal shootings not testifying and lead to the demise of the inquest process , according to a police union official who plans to urge those officers not to testify rather than face cross-examination from an ombudsman.
And a half-dozen officers said they won't participate in inquests if they fatally shoot someone, even though the new policy would allow a union lawyer to represent officers.
Commissioners agreed that giving bereaved families representation at hearings was the most important and divisive change.
"I really appreciate the bravery of making this hard decision and not put it off," said Maggie McLetchie, attorney for the American Civil Liberties Union of Nevada and a critic of the inquest process.
Now, only the prosecutor, jury and judge can ask questions in open court. Families and interested parties submit written questions to the judge, who screens them.
An ombudsman was a compromise to letting families hire attorneys to represent them at inquests, McLetchie said. The idea is to enlist a neutral party who will question officers and witnesses without gathering legal ammunition for a future lawsuit.
But Chris Collins, executive director of the Police Protective Association that represents officers in the Metropolitan Police Department, said the ombudsman could ask questions that might be used against officers later.
"The legal advice we will give our police officers is to not participate in the inquest process," Collins said. He said the ombudsman decision will "put the first nail in the coffin to end the process."
McLetchie said officers who shoot a suspect have the constitutional right not to testify if they think it will incriminate them, but officers who witness a shooting couldn't simply bow out under the new ordinance.
The judge can subpoena them and hold them in contempt if they refuse to testify, McLetchie said, noting that they can be fined for the offense.
"They're not above the law," she said.
If officers legitimately plead the Fifth Amendment, the inquest can proceed without their testimony, McLetchie said.
Collins and McLetchie were on a 10-person panel that recommended how inquests could be revamped.
Commissioners also decided to:
■ Eliminate a jury verdict of justified, excusable or criminal. Juries will be renamed "inquest panels" and make findings of fact instead of fault.
■ Have the attorneys of family members and police officers meet twice with the judge and prosecutor before the inquest. Investigative files would be made available to the parties involved.
■ Allow the parties to determine which topics to delve into at the inquests, focusing on what happened during the shooting rather than digging into the dead person's or officer's past.
Commissioners Steve Sisolak and Larry Brown voted against creating an ombudsman for families but backed the other reforms. Commissioner Tom Collins, who opposes ombudsmen, was absent during the vote.
Sisolak, who called for the inquest advisory panel, had previously voiced support for giving families representation at hearings. But on Tuesday he agreed with Collins that an ombudsman will make the inquests adversarial and discourage officers from testifying.
That will stymie the whole fact-finding mission, Sisolak said. "I don't know how many facts you can find if you have police officers not participating."
However, McLetchie said that in King County, Wash., where families and officers have attorneys at inquests, there have been few cases in which officers refused to testify.
"It's a red herring," she said.
Before the vote, Commissioner Rory Reid said the only way to make inquests truly fair is to give families a real voice in the hearings.
Police officer Darryl Clodt said using deadly force is "very terrible," but sometimes officers have no choice. He argued that there was no need for a lawyer to cross-examine an officer on the stand, and he would decline to participate.
"I stand here knowing I will be judged by the public," Clodt said.
But Johnathan Abbinett, a veteran's advocate, said that although police have a tough job, they must be held accountable when they take a life.
Heather Spaniol , a resident, said officers who don't testify after a fatal shooting will look guilty.
Sheriff Doug Gillespie, who was on the advisory panel, said he backed all the changes . The whole point is to increase the public's trust in the process, he said.
"I believe those recommendations do just that," Gillespie said.
Contact reporter Scott Wyland at swyland@reviewjournal.com or 702-455-4519.