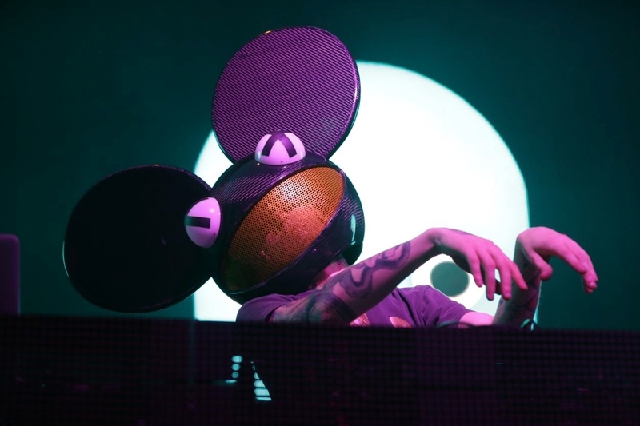 On Monday, I took a walk-through of MGM's new Hakkasan nightclub and restaurant, and let me tell you, it's going to be insanity up in there.
Hakkasan's restaurant opens May 3. It's based on the Michelin-starred Hakkasan in London, which attracts soccer stars, kings and Lady Gaga.
"It represents fantastic food in a great environment" — that's the pitch by Neil Moffitt, CEO and founder of Angel Management Group, running Vegas' Hakkasan.
The restaurant is one thing, with its intimate design, mixology bar and no pre-cooked food. But the club situation in Hakkasan is nuts.
The main club opens this Thursday with superstar DJ Deadmau5; Friday with Hardwell; Saturday with Bingo Players; and Sunday with Tommy Trash.
A week ago, Trash told me it is "mindboggling how decadent it is."
"It's absolutely exquisite. I have never seen a club like this in the world," Trash said.
Now I know what he means.
Hakkasan has four club spaces. The main club space comes with a giant LED screen behind a balcony DJ booth, bookended by choreographed performers, and private booths with marble bathrooms.
The ceiling is a spider web of LED lights. There's a wall of waterfalls and greenery. There are bronze-leather couches and blue-leather wall panels.
The nightclub floor gently slopes upward by little steps, theater-style, so no matter how far back you are in the club, you have a sightline to see the DJ and dancing girls.
"It's very gladiatorial in here to me," Moffitt says.
The main club can be walled off to create two smaller clubs on nights when AMG wants to book different performers.
Crazier: There's another club called the Ling Ling with blue-leather bottle booths and LED walls. It features open-format DJs who play a mix of music types (starting with DJ Vice this Thursday, Eric D-Lux on Friday and Questlove on Saturday).
The Ling Ling club is about the size of Bellagio's old nightclub Light.
That's how far nightlife has come. The old Light club would fit inside Hakkasan's ceiling.
There's more: The Ling Ling lounge is an intimate, invite-only bar meant partly to serve older guys who crave a warm-up or a cool-down room to chill in while their young lady dates are dancing in the main club.
Moffitt sums up this multi-club concept: "We could have three or four nightclubs in here and have them all working independently — or if you bring them all together, that's unique.
"What I really want is a concertina. I want a box I can open and close."
The only wild card: Will club service be big and good enough to manage an easy flow? Moffitt says AMG has been working hard to make that happen.
It was an easy decision for Moffitt to approach humongo DJs like Tiesto, Deadmau5, Calvin Harris and Steve Aoki. He has been working with DJs forever.
Moffitt was the first person to book Vegas shows for Deamau5 and Swedish House Mafia, rent the Joint for 10 sold-out Tiesto dates and book a 2006 Orleans Arena gig for Tiesto before the Strip's DJ craze went wild.
"I've been working with Tiesto in Ibiza since '98. We were doing 7,000 people on a Tuesday night in '98. He's not going to Ibiza this year. You can only see Tiesto in Las Vegas this summer," Moffitt said.
Now, Moffitt says, people from around the world will travel to Vegas just to see these acts at Hakkasan.
"Vegas can benefit from that — not only our venue, but hotel rooms and other restaurants in other locations."
I'd bank on it.
Doug Elfman's column appears Mondays, Tuesdays, Thursdays and Saturdays. He also writes for Neon on Fridays. Email him at delfman@reviewjournal.com. He blogs at reviewjournal.com/elfman.