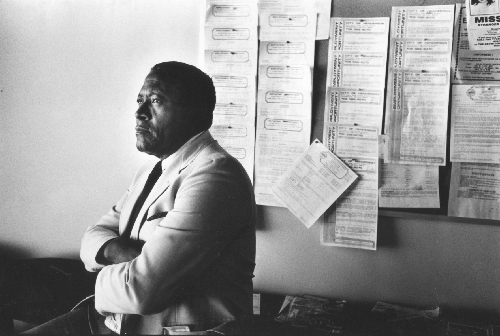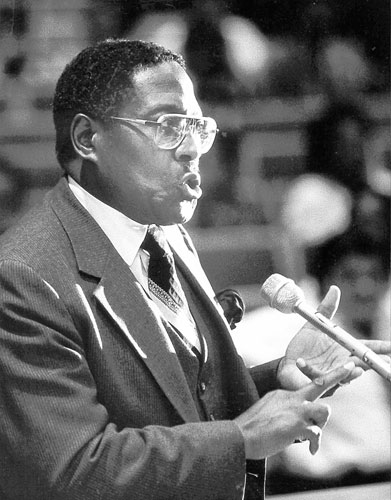 The Rev. Jesse Scott, a lifelong civil rights leader and former president of the local chapter of the NAACP, died early Monday. He was 90.
"He was one of the gurus of our community," said former state Sen. Joe Neal, whose friendship with Scott stretched nearly four decades. "His wise counsel is going to be missed."
Scott was born March 3, 1920, in Ethel, La., and was one of 10 children born to tenant farmers. He earned a bachelor's degree from Southern University in Baton Rouge, La.
As a young man living in the Deep South before the Civil Rights Act, Scott was denied the right to vote. His passion for social justice led him to move to Los Angeles in the 1950s, where he joined the National Association for the Advancement of Colored People and became one of the organization's field directors. He marched, rallied and met the Rev. Martin Luther King Jr.
In 1970, Scott moved to Las Vegas to become the executive director and later president of the local NAACP. He became one of the valley's best-known civil rights leaders.
"He was committed to service, church and sharing his wisdom," current NAACP President Frank Hawkins said in a statement.
Scott was "a beloved member of the NAACP for over 50 years and was committed to helping the youths in the organization," Hawkins said.
Scott also served as executive director of the Nevada Equal Rights Commission in the 1970s, working to get hotels to hire more minorities.
In 1990, when three Las Vegas police officers used a chokehold to subdue casino floorman Charles Bush, which killed him, Scott was at the forefront demanding an investigation into police procedures. The three officers were indicted by a Clark County grand jury on charges of involuntary manslaughter but were later cleared of criminal charges.
During the 1992 Los Angeles riots, sparked when a jury acquitted four Los Angeles police officers accused in the videotaped beating of black motorist Rodney King, Scott worked to calm racial tensions in Las Vegas.
"I thank God that I've seen so many things and that God has some use for me," Scott told the Las Vegas Review-Journal in 2006.
Former Gov. Bob Miller came to know Scott while serving as Clark County district attorney. As governor, he asked Scott to help calm the public during the riots. Miller described Scott as one of the more important people involved in the effort because "he was respected by everyone."
His death means the community has lost an icon, Miller said. "But all that he accomplished, the changes he helped make, are here in perpetuity."
Sen. Harry Reid, D-Nev., called Scott "a trailblazer for civil rights and a man of deep faith in God and humanity."
"Our state has lost a giant," Reid said in a statement.
Scott, who was associate minister at Second Baptist Church in historic West Las Vegas, was scheduled to deliver the opening prayer on the Senate floor in a few weeks, Reid said.
In 2007, Scott published an autobiography, "Pioneer for Social Justice."
The following year, the Clark County School District opened Jesse D. Scott Elementary School in North Las Vegas. Scott enjoyed spending time with the children at his namesake school, Principal Sharon Popolo said.
In telling the children about his death, "we concentrated on all the good times we had with Reverend Scott and how proud he was of all the kids here," Popolo said.
In recent years, Scott's mind remained sharp and he loved to discuss current events as always, Neal said. The two men met often for breakfast and they last spoke over the phone on Thursday.
"He was jolly," Neal said. "We had talked about death, and he was prepared for whatever came. You just dry your eyes and keep on going — that is how he felt about it."
Scott is survived by sons Tyrone Blake and Javis Blake of Las Vegas; stepsons David Yancy of Las Vegas and Donald Yancy of Dallas; and seven step-grandchildren.
A tribute and viewing will be from 5 p.m. to 8 p.m. May 21 at Second Baptist Church, 500 Madison Ave., near E Street. A funeral will be at 11 a.m. May 22 at the church.
"Having grown up in Las Vegas, I had the privilege of knowing Reverend Scott for most of my life, and he was an influence on me in my own public service career," said U.S. Rep. Shelley Berkley, D-Nev., in a statement. "While he may no longer be here with us today, I know that Jesse Scott's legacy will remain as an inspiration for generations to follow."
Contact reporter Lynnette Curtis at lcurtis@review journal.com or 702-383-0285.