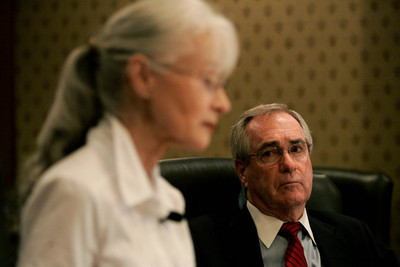 Alynne Griffiths has hepatitis C and believes she was infected at the Endoscopy Center of Southern Nevada.
On Wednesday, the 70-year-old Las Vegan filed a lawsuit against Pacificare of Nevada for "requiring or encouraging" her to seek medical care at the facility where federal and state health officials say staff routinely took part in unsafe medical practices between March 2004 and Jan. 11.
The lawsuit, among many filed as a result of the state's hepatitis C outbreak, is the first against an insurance provider.
"I would like to see a broader referral system where people can get access to different doctors and not be so restricted to these doctors who were involved," Griffiths said Wednesday from the office of her attorney, Gerald Gillock. "Unless you're independently wealthy, you have to go where your insurance company sends you."
Griffiths' complaint seeks damages in excess of $50,000.
It claims Pacificare of Nevada did not "direct, evaluate or monitor the effectiveness of health services provided by" the endoscopy center. It also claims the insurer breached its duty by failing to adopt and implement an appropriate quality assurance program and continuing to contract with the endoscopy center.
"That is one of the primary reasons for the problems being as significant as they are in Las Vegas. We have a limited number of Health Maintenance Organizations that control the medical care available to all of the lives in Clark County," Gillock said. "There's a statutory duty under the laws of the state of Nevada that these insurance companies have to maintain a quality control program. They have to inspect and ensure these health care providers are furnishing quality health care to their insured."
Gillock said patients have no choice when deciding on a physician in such cases involving HMOs.
Cheryl Randolph, spokeswoman for Pacificare, said the company could not comment on the complaint Wednesday because it had not been served.
"We have not had the opportunity to review it; therefore, we cannot comment until we've had a chance to review it," she said.
Gillock, who represents 50 former patients of the endoscopy center who have tested positive for hepatitis C, said he doesn't anticipate Griffiths' case turning into a class action lawsuit. He does, however, anticipate filing similar complaints against other insurance providers.
"We anticipate there may be some consolidation, but I don't think these are going to become class actions," Gillock said about his clients' cases. "Every person infected has different results."
Griffiths said she was sent to the Shadow Lane facility in September 2005 for a colonoscopy and in March 2006 for an endoscopy procedure.
Like thousands of other patients, Griffiths received a letter from the Southern Nevada Health District urging her to get tested for hepatitis B and C, and HIV.
She said she did so and tested positive for hepatitis C.
Recently, Griffiths' primary care physician referred her to several physicians for hepatitis C treatment.
None of those physicians is covered under her Pacificare health plan. The physician her health plan is now referring her to was associated with the 700 Shadow Lane facility between March 2004 and Jan. 11., she said.
Once again, Griffiths said Pacificare is forcing her into poor health care.
"The doctors I felt were qualified, and who were highly recommended to me, I cannot go to. This is about access," she said.
Neither Griffiths nor Gillock would reveal the name of the physician she is being referred to for hepatitis C treatment. But Gillock said he's not one of the four listed as an owner of the Gastroenterology Center of Nevada.
"He is one of the doctors who worked there," he said.
According to city and state health officials, there were 14 physicians who worked within the Gastroenterology Center group, an umbrella organization that ran the Shadow Lane clinic as well as two other surgery centers.
Doctors Dipak Desai, Clifford Carrol, Eladio Carrera and Vishvinder Sharmer, were listed as owners of the Gastroenterology Center of Nevada. Desai and Carrera have had their licenses temporarily suspended by the state's Board of Medical Examiners. The board is currently investigating whether complaints against other doctors are warranted.
In February, the health district announced that six people had contracted hepatitis C and that they had all undergone procedures at the Shadow Lane facility.
Investigations by Centers for Disease Control and Prevention and health district investigators revealed that the reuse of syringes in a manner that contaminated vials of medication, and the reuse of those vials, had exposed patients to hepatitis B and C and HIV.
Notifications have been sent to more than 60,000 former patients of the Shadow Lane facility, as well as its Desert Shadow Center affiliate on Burnham Avenue, urging them to get tested for the blood-borne viruses.
Health officials have not linked any HIV or hepatitis B cases to either of the two facilities: eight hepatitis C cases are linked to the Shadow Lane facility and one to the Burnham facility.
About 400 former patients of the Shadow Lane facility have tested positive for hepatitis C. Health officials have said 77 of them are "possibly" linked to that clinic.
Gillock, a well-known Las Vegas medical malpractice attorney, said his office has assembled a team of attorneys from across the country for its fight against the insurance companies.
"We're ready to roll up our sleeves and get into the trenches," he said. "We're quite confident that we're going to establish that these organizations have totally neglected their insured."
Contact reporter Annette Wells at awells@ reviewjournal.com or 702-383-0283.