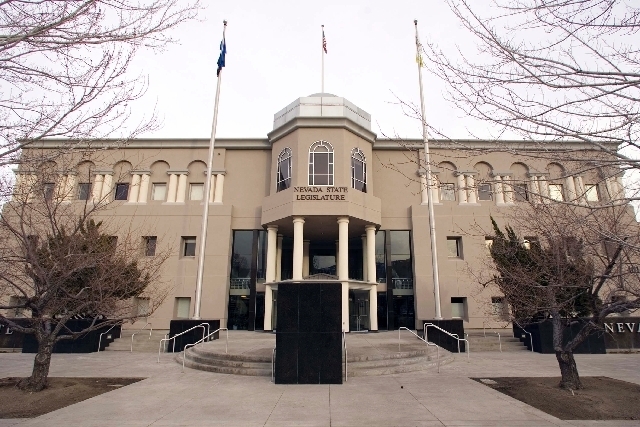 CARSON CITY — An Advantage Capital lobbyist who campaigned for a bill that became a state tax credit law has been accused of "misleading" Nevada legislators on the profitability of similar laws in Missouri and Florida.
The Las Vegas-based Nevada Policy Research Institute said in a release today that it obtained a videotape of lobbyist Ryan Brennan addressing legislators in the two states.
Auditors there told them no state audits were done to show whether the tax credit programs are making or losing money. The Review-Journal confirmed with the Missouri auditor that no audit has been performed. Florida officials did not return phone calls seeking comment.
But minutes of an April 6 Senate Commerce and Labor Committee hearing indicate that Brennan told Nevada legislators just the opposite.
"Senator, that is how it has happened in the two states that have used it the longest —Missouri and Florida," Brennan said. "Both confirm through state audits that revenue is exceeding the cost of the credits."
Senate Bill 357 — the Nevada New Jobs Act — was passed with only one legislator voting no and Gov. Brian Sandoval signing it into law. Credits would be given to the investors over a seven-year period and funds would come from the insurance premium tax. Investors would receive up to 39 percent in credits on their investments in lower income areas.
Brennan denied last week that he misled anyone and released reports from Missouri and Florida that said revenue generated by the tax credits programs far exceeded the cost of the credits.
In Missouri, the Senate Committee on Rules found the program would incur $97 million in expenses and collect $177 million in new revenue. In Florida, the governor's office requested a report that found their program cost $17.5 million and produced $52.85 million in economic activity in 2009-12.
"As you know, state budget officers don't offer this type of analysis," said Brennan last week. He is managing director of Advantage Capital Partners in California.
He did not explain why he used the phrase "state audits" at the legislative hearing.
Geoff Lawrence, the legislative lobbyist and deputy policy director of the research institute, said Brennan understood what he was saying when he mentioned "state audits."
"He had the most influential testimony to legislators and probably many votes were hinged on his testimony that appears to be misleading," Lawrence said.
The research institute is a conservative organization that usually takes shots at Democrats and any legislation that increases spending. But the chief sponsor of the bill was Senate Minority Leader Michael Roberson, R-Las Vegas. Both parties supported the bill.
Applications are being taken by the Department of Business and Industry for participation in the tax credit program, but regulations putting the program into effect have not yet gone to the Legislative Commission, a group of 12 legislators. They could act on the regulations, however, within a month. Brennan told legislators that his firm would be participating in the program in Nevada.
Roberson said Friday the Nevada New Jobs Act may have been the biggest job development bill passed by the Legislature.
"It is estimated that $250 million of private investment capital will flow to small businesses in distressed areas of the state, primarily in Southern Nevada, in the first year alone," he said. "This is capital which would not have otherwise been invested in Nevada and it will create hundreds of jobs for Nevadans."
Brennan never misled him and in the broad sense a state audit can be any type of an evaluation process performed in a state, according to Roberson. The reports Brennan released are evidence that the two states, through their governors and legislatures, did evaluate the success of the program, he said.
Under state law, it is a misdemeanor for a lobbyist "willfully or knowingly " to make a false statement or misrepresent facts to influence legislators to support or oppose bills. The offending lobbyist also can be temporarily or permanently removed from working in the Legislature.
But before anything happens, the director of the Legislative Counsel Bureau would have to conduct a thorough investigation. Just because someone made an inaccurate statement by mistake would not be enough to merit the revocation of lobbyist credentials, Director Rick Combs said.
Contact Capital Bureau Chief Ed Vogel at evogel@reviewjournal.com or 775-687-3901.