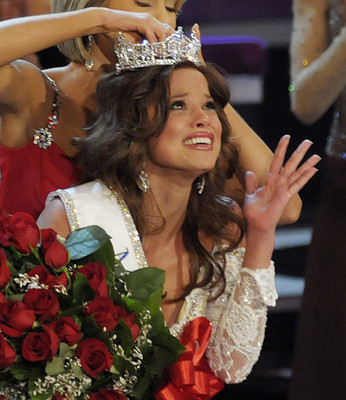 Your new Miss America thinks 2009 is a great year, partly because, hey hey, SHE became Miss America on Saturday. She said so during her first, post-victory news conference:
"What an incredible year it is. We have a brand new president. The very first African-American president — and he was just inaugurated several days ago — and now I'm Miss America! What a fun year! What an exciting year!"
Several people in the pressroom thought Katie Stam of Indiana was elevating her title to that of the president's ("and now I'm Miss America!").
Stam probably doesn't think she's as important as the president. She's young. She's not used to talking to the national press. But it says a lot about the Miss America Pageant, shown live on the TLC cable network, that her victory and statements caused no stir at all in the media.
As Entertainment Weekly put it in an online headline on Sunday, after she was crowned at Planet Hollywood: "Miss America — does anyone care?"
Sure, people care. The Miss America Pageant cares. TLC cares. Whole rows of pageant devotees cared enough to fly to Las Vegas, wear buttons that read "Miss Virginia is Tara-iffic," and to hold up signs of provincialism, like "Michigan," as if they were Miss America delegates.
But not a lot of other Americans care about Miss America anymore. The contest was passé by the 1980s. On Saturday, the pageant tried to zest up, with pop-hip-hop, mirrored backgrounds, red velvet drapes, and cameramen who followed the tall-shoed women's butts in bikinis.
But the set was a little strip club-y. And for large parts of the show, those "girls" came off as well-heeled anachronisms.
I was sitting in the 12th row near two Miss Americas: Kaye Lani Rae Rafko from 1988 and Susan Powell from 1981. Scores of people in the crowd got in free as seat fillers, for TV effect. Rafko asked a seat filler if he would swap seats with Powell, so the two former Miss Americas could sit together.
"YOU ask her," the seat filler told Rafko, apparently not recognizing her, then he sat down like a rude bastard.
When contestants were introduced on stage, they tried to personalize their locales by declaring what their states are known for. Miss Georgia said her state is the proud home to Usher, the singer. Miss Minnesota said her state is home to Best Buy. Miss Connecticut: home to the first hamburger.
And Miss Texas? She described her people as heavenward, as she cut the line of the night: "The bigger the hair, the closer to God."
But these rivals' hairdos weren't big, like they were in the past. Quite a few Misses were not the usual stereotype of perfect teeth and perky ta-ta's. Today's contestants include scads of A-cups, big noses, squinched-up faces, five-heads instead of foreheads, and most looked short.
I'm not saying that in a mean, critical way. I'm saying, as celebrity culture has become even more focused on big boobs, invisible noses and anime faces, contestants in this "scholarship pageant" have become more normal.
Their stage parents got screamed at. The guy who put finalists' parents in certain seats, so they could be filmed easier on TV, referred to them by their state, yelling at them like this: "Alabama! Let's go!" which meant the parents of Miss Alabama needed to rush and sit. "Iowa! Let's go!"
It was all odd and fairly unremarkable. In the past 12 months, I have seen the Miss Hawaiian Tropic contest and Miss America. Miss America didn't seem so different, except it adds a weak "talent" portion that doesn't reflect the final outcome well.
Miss Indiana sung the God song "Via Dolorosa" ("Way of Suffering") in a semi-pop-opera style of mediocre caliber. Stam was probably the fourth-best talent of the Top 10. And she was given one question, a softball: Are athletes role models? Duh.
Maybe the judges, ranging from an Olympic gold swimmer to a hairdresser, were impressed with Stam's speaking skills, cheery and politicianlike. Or maybe God intervened. Stam struggled with throat illnesses earlier in the week, and she overcame.
"Hopefully, as you can all see, I'm a very, very Christian person. And I just believe that God doesn't give you anything that you can't handle."
Oh, really? Go tell it on the mountain of cancer wards.
"I just lifted up my hands in prayer, and I said, 'I give it to You. Your will be done. If this is meant to be, it will be. And if it's not, I'm OK with that,'" Stam said. "And you know what? I can talk. I'm here. And now I'm Miss America. I got to sing a song for Him tonight up on stage, and I hope He shone through me."
Thank you, God, for I know many people request Your presence in plague- and war-infested armpits of starvation around the world and on Fremont Street, and You have Arizona Cardinals fans requesting miracles, but it is a far, far better thing to have lifted up the fourth-most talented, top-five cutest girl of the top 10 at the Miss America Pageant to victory over other God-fearing women in the same contest, because 2009 is a very exciting year indeed.
Doug Elfman's column appears on Mondays, Tuesdays and Fridays. Contact him at 702-383-0391 or e-mail him at delfman@reviewjournal.com. He also blogs at reviewjournal.com/elfman.