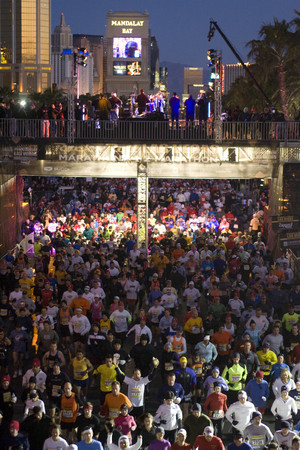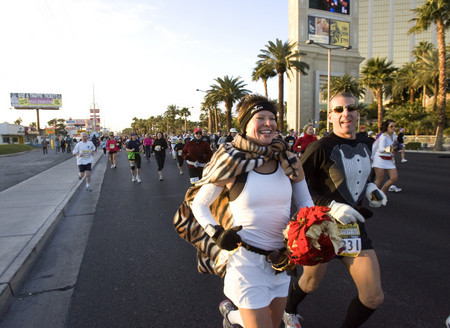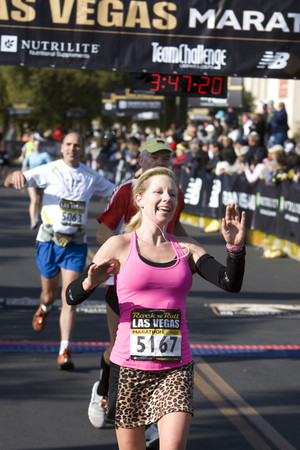 Sisters Patty Trento and Christy Bonesteel were in relatively modest attire to compete in the Rock 'n' Roll Las Vegas Half-Marathon — at least below their overflowing, showgirl-esque feather boa tops.
Just a couple of normal sisters letting loose for a weekend in Las Vegas, right?
Well, except the garb wasn't their idea.
"Mom thought of it. She made these," said Trento, with mother Janice Thelen nodding in approval, decked out in her own feather-flowing outfit.
"I think we left a trail of feathers on the Strip," Thelen said after the trio from Simi Valley, Calif., finished the festive event, which brought out approximately 27,500 runners who took control of Las Vegas Boulevard for several hours on a nippy Sunday morning.
More than 19,000 participants joined in for the half-marathon, contested almost entirely on the Strip. About 8,000 more entrants ran the marathon, with the first 10 miles on the Strip, and most of the rest of the race winding around southwest Las Vegas, with both races starting and finishing at Mandalay Bay.
"We got a lot of compliments," Trento said. "There are not many marathons where you can come dressed like this."
Said mom: "We got a lot of thumbs-up."
Jeff Padilla and Dawn Vonderheide got those, as well, along with a lot of bottoms-up as they participated in the half-marathon.
The couple from Newport Beach, Calif., both dressed up as Elvis — as did a couple of hundred others — and they modified a three-wheel stroller, turning it into a traveling party machine, replete with a small stereo pumping out the King's hits.
And tucked in the bottom? A cooler that comfortably held a 12-pack of beer. Not that 12 was enough.
"We stop sometimes to buy more," said Vonderheide, who met Padilla at the 2005 Las Vegas Marathon. The two have run it together ever since.
Added Padilla: "We stopped a couple times today. We hand them out to other runners."
But with a start-time temperature of just 36 degrees, it took a while for people to warm up to the idea of popping a cold one.
"A lot of runners were taking beers from us toward the end of the race," Padilla said.
"Not so much at the beginning," Vonderheide said. "It was awful cold at first."
Thelen and her daughters, along with Padilla and Vonderheide, were just a microcosm of what this event has quickly evolved into, with San Diego-based Competitor Group taking it over last December from financially plagued Devine Racing. Competitor then made it over in the model of its number of successful Rock 'n' Roll races around the country, and secured the Strip's northbound and southbound lanes to create an even more appealing course.
"We came in with a very definite goal, and that was to give the city of Las Vegas the marathon and half-marathon that it deserved," event general manager Adam Zocks said. "We wanted a race that lived up to the hype and excitement of this city."
A quartet of paratroopers sailed in just before the race's predawn start, deftly eluding stoplights at the intersection of Russell Road and Las Vegas Boulevard to hit their target just in front of the start line. It took 45 minutes to get all the runners beyond that line and on their way, but with a band jamming away — one of dozens along the course, along with cheerleaders, DJs and more — and a 15-minute fireworks show overhead, no one seemed to mind the wait.
"It's just a rolling party," Padilla said.
Trento couldn't have agreed more. With all the Elvis runners (and walkers and drinkers), and the 85 couples who either got married or renewed vows at the run-through wedding ceremony early in the race, along with all the other costumed and revved-up participants, the energy was palpable.
"It just adds to the atmosphere, and I think it's energizing for other people. It keeps them focused and distracted," said Trento, capping her thoughts with a quote that might only make sense in Las Vegas.
Contact reporter Patrick Everson at peverson@reviewjournal.com or 702-383-0353.
Video and slide show