It's lonely at the top for Nevada's last fire lookout
September 5, 2015 - 1:05 pm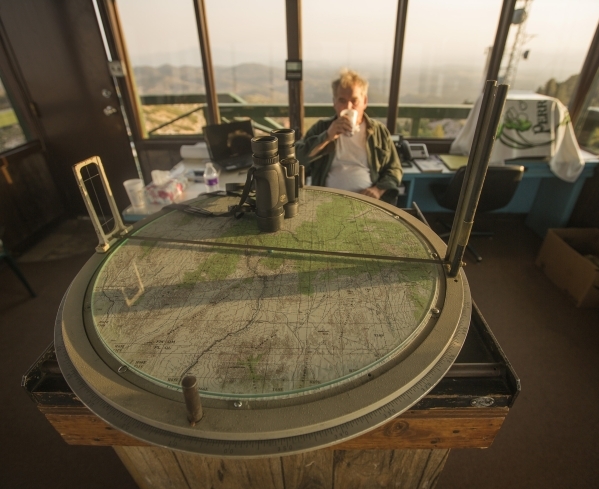 CALIENTE — John Dubovick leans against the railing of his mountaintop perch, electronic cigarette in hand, as the sun sets over a million acres of eastern Nevada.
The sky all around him is smudged with smoke, but he never reaches for his binoculars. The last watchman knows when there is nothing to see.
It has been a slow year at the Ella Mountain lookout, a Bureau of Land Management watchtower 7,500 feet up the Clover Range, 150 miles northeast of Las Vegas.
The two-story building is Nevada's only remaining manned fire lookout. Dubovick is that man.
This is his 20th fire season in the tower, and so far it has been the quietest, with maybe two dozen fires total, none larger than a quarter acre.
"Either we've done really well, or nature's done really well," Dubovick says.
Most years, he calls in 50 to 100 fires. During his first year as a BLM lookout, it was closer to 300.
"We had big fires going everywhere," he says.
Room with a view
The Ella Mountain lookout tower was built in 1962 on a mountain ridge scarred by fire two decades earlier. The scorched trunks of 60-foot Ponderosa pine still litter the surrounding slopes.
The building's top floor is a box 15 feet square, with windows on all sides. Each set of windows faces a cardinal point on the compass — due east is Utah; south are the Mormon Mountains near Mesquite; west is the Delamar Range; and north is the Lincoln County seat of Pioche, where Dubovick lives.
At the center of the room is a raised platform topped with a piece of early 1900s technology that lookouts still use to narrow down the location, elevation and size of wildfires.
It's called an Osborne Fire Finder, and it resembles a manhole-sized lazy Susan covered with a topographic map and bracketed by what look like gun sights. When Dubovick spots a distant plume of smoke, he trains those sights on the fire and uses a ruler mounted on the device to pinpoint it within a square mile or so on the map.
Then he gets on the radio and calls in a smoke report to BLM dispatch in Ely.
The other tools of the trade include a standard telephone, a wind and temperature gauge, binoculars and a computer Dubovick uses to track the weather and any lightning strikes.
He sleeps in the corner on a double bed he keeps crisply made when he is not in it.
"If I fall out of bed, I'm at work," he says.
Smoke but no fire
The smoke in the air on this recent Wednesday came from fires raging hundreds of miles away in California, Idaho and the Pacific Northwest. The haze cuts visibility on Ella Mountain to as little as 3 miles.
Under ideal conditions, Dubovick can see 40 miles from the lookout and pick out the smoke from a single burning tree up to 20 miles away.
"We spot fires in Utah, 24 miles due east," he says. "I've reported fires clear into California on a clear day."
Once, when she was filling in for him at the tower, Dubovick's wife, Linda, spotted a blaze at Lake Mead, roughly 90 miles south as the crow flies.
Another time, in 2003, Dubovick called in a fire near Pioche, almost 40 miles away, that burned within 100 yards of his own house.
From his lofty position, he can help coordinate the firefighting response, alert crews on the ground to hazards they might not be able to see and serve as a "human repeater," relaying local radio traffic from firefighters to the dispatch center 150 miles away.
When Dubovick first got the job, he spent a lot of time scanning the landscape with binoculars because he didn't want to miss anything. Now the 67-year-old trusts his eyes and his instincts to notice even the smallest curl of smoke.
"Because I've been looking at this terrain for so long, it sticks out to me. It doesn't belong there," he says.
The largest fire he has seen was the Southern Nevada Complex, which started as 11 separate blazes that merged and grew to more than 500,000 acres. It was the nation's largest fire of 2005, and it burned to the top of a ridge about a mile-and-a-quarter from the lookout.
The smoke was so heavy at times that Dubovick couldn't see past the rock outcrop about 40 feet away. Soon a fire crew covered the entire building in cabin wrap, a fire-resistant foil.
"Everywhere you looked to the south was on fire," he says. "Once they had the place all wrapped up, I was out of here."
The rise of the towers
Wildfire detection became a federal priority in 1910, after a string of massive blazes engulfed the Northwest, scorching more than 3 million acres and killing at least 85 people.
The U.S. Forest Service, then in its fifth year, began erecting lookout towers across the nation in hopes of catching fires early.
As Dubovick once explained to a BLM official who came to his tower looking for ways to save money, even a low-level national response to a wildfire can cost $500,000 or more, and a full Type-1 mobilization will easily top $1 million. More than $20 million was spent fighting the Carpenter 1 Fire on Mount Charleston in 2013.
If he has kept just one fire from growing into a national problem, he says, "I paid for being here for 20 years."
BLM officials in Nevada seem to agree. Tye Petersen, fire management officer in the agency's Ely office, said there are no plans to close Ella Mountain despite a nationwide decline in use of lookouts.
According to the national Fire Lookout Association, towers were built in every state except Kansas during the 20th century, but the number of states that still staff them is down to 27. In Idaho, once home to a whopping 989 lookouts, the state now maintains about 60 sites with people in them.
In some cases, the towers have fallen to the budget ax. In others, manned lookouts have been replaced by mountain-top cameras that use infrared to see at night and can be controlled and monitored by someone sitting at a computer in a windowless office or at home on a laptop.
The BLM now has four such camera lookouts peering out over central and northern Nevada.
Petersen said the technology is impressive but limited. The remote-operated towers do not provide precise locations for fires, and the same haze that obscures Dubovick's view also reduces how far the cameras can see.
Only five manned lookouts ever operated in the state, according to the association. Ella Mountain is all that is left.
"It's a neat old facility," Petersen said. "Our plans are to keep it operational as long as possible."
Lonely at the top
Dubovick says the BLM hired him to man the tower in 1996 because he was "too old to fight fire" but handy with tools.
The work is seasonal, lasting from about mid-May through the end of September, when fire season gives way to cooler temperatures and the first dusting of snow. The tower stands empty — its windows shuttered and doors locked — through the fall and winter.
Dubovick tends to be busiest in June and July, when monsoonal weather patterns bring lightning to the area.
The Massachusetts native and Vietnam War veteran says he had to drop to the floor of the lookout in the middle of one thunderstorm as cloud-to-cloud lightning arced sideways through the sky at eye level.
During another storm, he was outside on the tower's catwalk when a bolt split a Ponderosa in two about a half-mile away.
The building is equipped with grounding rods and has never been struck while he was there, but Dubovick says lightning has hit the communication tower next door.
"It was like being close to an artillery round," he says.
The job pays a little more than $15 an hour, with shifts lasting from sunrise to sunset or longer "when there's fires around," he says.
But most days are quiet, like this one, leaving Dubovick alone on the mountain with hours to kill.
"People ask me all the time, 'How can you live with yourself up there?'" he says. "You have to be at peace with yourself."
When he had dogs, he used to bring them along for company.
He has also gotten to know a few of the technicians who drive up to service the nearby communication towers owned by the state, the Air Force and the Union Pacific Railroad.
When the wind blows just right, you can hear the freight trains rumble through Rainbow Canyon a few miles to the west.
These days, there are two or three guys who fill in for Dubovick when he is off work or called away on other BLM business. His wife doesn't man the tower anymore, he says. She doesn't like being up on the mountain by herself.
Comforts of home
For Dubovick, though, the lookout is home-away-from-home. He usually spends two or three nights in a row there before going down the mountain for supplies.
The building has a small kitchen and a shower downstairs connected to a 1,050-gallon water tank the BLM fills at the start of each fire season. Electricity comes from power lines that run uphill from Caliente, 14 miles away by dirt road.
Last year, the tower got high-speed Internet and satellite television, so Dubovick can watch the Red Sox.
Before that, he drew his entertainment from a box of books, a handful of radio stations and whatever TV channels he could get with an old pair of rabbit-ear antennas.
He also passes time by working on the lookout. Over the years, he has fixed leaks in the roof, filled holes in the catwalk, repaired the stairs and replaced most of the plumbing.
"I've been here so long it's become a part of me, and I take a lot of pride in it. I betcha I've painted every inch of it five times in 20 years," he says. "You can only read so much."
There are a few things he doesn't do to pass the time anymore. Dubovick has quit drinking and smoking in the years since he became a lookout. He loves his job, and he intends to keep it "'til I can't climb the stairs anymore," he says.
"I see something new every day. It's amazing," he says. "The bonus is I get paid to be here."
On this night, he makes a large pot of homemade spaghetti for him and his guests, then calls Pioche to check in with Linda. He is in bed by 9, drifting off to baseball highlights on TV.
In the morning, the last watchman rises before dawn to make coffee and cook breakfast. He checks in with dispatch at 6 a.m., then settles in upstairs for another long day with lots to look at but nothing to report.
It will be another week before he sees fire again.
Contact Henry Brean at hbrean@reviewjournal.com or 702-383-0350. Follow him: @RefriedBrean