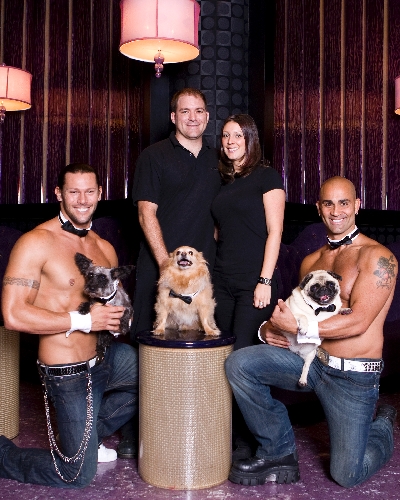 A year after being abandoned in a trashed foreclosure home, three dogs — Moe, Sam and Dora — held a riotous reunion last week in the Rio's Chippendales Theatre.
If these Chippendawgs could talk, the tales they could tell.
In May 2009, Chippendale Jace Crispin found an underfed silver terrier-poodle on the street near his Southern Highlands home.
After dog tags provided an address, Crispin took the dog to the owner's home. But no one came to the door.
At the back of the house, he found an open door. When no one responded to his calls, Crispin entered and found wall-to-wall squalor. Throughout the deserted home were signs of what he described as "typical foreclosure rage."
Holes were punched in the walls, and the staircase railings had been destroyed. "The place had been ransacked. Everything in the refrigerator was strewn on the floor."
Crispin's shock turned to anger when he found two more dogs, both so gaunt "their ribs were showing through their skin. The only thing they had to eat was garbage."
After enlisting help to corner the other two traumatized pets, he took all three home. Two days later, Crispin took one of the dogs, a pug, to the Rio, home of the flagship theater of the Chippendales' franchise.
It was love at first sight for fellow Chippendale John Rivera. He adopted the pug and named her Dora because he owned a mini-pinscher, Diego, named for the character in the "Dora the Explorer" cartoon series.
A day later, Crispin took a second deserted dog to the theater. The sandy-colored Papillon chihuahua mix was embraced by lighting tech Jennifer Fish and her boyfriend, audio engineer Justen Fedder. They named him Sam.
Crispin, whose mother is a veterinarian, kept the terrier- poodle and named him Moe.
Sam was timid at first, but has come out of his shell so much that he wrestles and plays with the couple's three cats, Fish said.
Reunited for the first time hours before Wednesday's show, the dogs romped together onstage. They appeared to recognize Crispin's voice and took chase Pied Piper-style when he started running around the theater.
Leaving family pets behind to fend for themselves in 100-degree temperatures boggles the new owners' minds.
"How do you do that to something so helpless?" Fish asked.
GIVING UP THE GOLD
Jason Kidd's trophy case soon will have an Olympic gold medal for each of his two children, thanks to an assist from Elaine Wynn.
She is returning his Redeem Team gold medal from when Team USA won the 2008 Beijing Olympics. "I'm just a borrower," Wynn told me. "I never intended to keep it."
Kidd gave the medal to Wynn, an ardent basketball fan, after striking up a friendship with her during Team USA's three-week stay at Wynn Las Vegas, which hosted the team during training camp.
"I told her I had one already, and the way they treated us at the Wynn, it was the least I could do," Kidd said.
This weekend, Wynn is at the Naismith Memorial Basketball Hall of Fame in Springfield, Mass., which named eight individuals and two teams to the Enshrinement Class of 2010. She was named to the Hall of Fame's board of governors earlier this year.
SIGHTINGS
Steve Schirripa of "The Sopranos," at Ferraro's Wine Bar on Friday, checking out the band TotaLotus. … Paris Hilton, turning heads at XS (Encore) and Tryst (Wynn) on Friday.
THE PUNCH LINE
"Mel Gibson, Line 2." — From David Letterman's Top Ten Things You Don't Want To Hear On Your Summer Vacation
Norm Clarke can be reached at (702) 383-0244 or norm@reviewjournal.com. Find additional sightings and more online at www.normclarke.com.