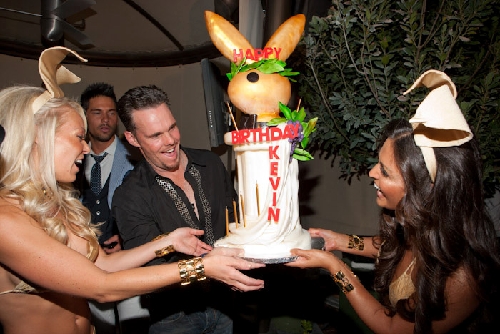 It didn't look like a first date.
Reality TV stars Jesse James of "West Coast Choppers" and Kat Von D of the tattoo shows "Miami Ink" and "LA Ink" showed plenty of affection while dining at N9NE Steakhouse in the Palms on Saturday.
Vegas Confidential was first with the new romance, reporting via Twitter after seeing the couple walk in the restaurant.
Later, we reported by Twitter that Von D, whose full last name is Von Drachenberg, was seen resting her head on James' shoulder.
She announced her breakup from Motley Crue's Nikki Sixx on Twitter four days ago, tweeting, "To avoid confusion, I just want to let everyone know Nikki and I are no longer dating, but still remain friends."
James has kept under the radar since his June divorce from Bullock, who's known as "America's Sweetheart." Their marriage blew up 10 days after she won an Oscar in March for best actress in "The Blind Side" when tattoo model/stripper Michelle "Bombshell" McGee went public with her affair with James.
James and the Mexican-born tattoo artist also were seen holding hands, People magazine reported Sunday.
THE SCENE AND HEARD
I'm hearing film legend Tony Curtis might be out of the hospital this week after being bedridden for more than a month in a Henderson hospital following another bout with what a spokesman said was chronic obstructive pulmonary disease. …
A Madame Tussauds display featuring a young Elvis Presley in a replica leather outfit will commemorate the 33rd anniversary of Presley's death today. An "Elvis DJ" will be featured in front of the Strip museum from 11 a.m. to 1 p.m. Elvis, 42, died at his Graceland estate in Memphis, Tenn. …
Hearing more rumblings that a version of the TV show "Hollywood Squares" is coming soon to a showroom on the Strip. It would feature both national and local talent. The show began in the 1960s and has had numerous resurrections since then.
SIGHTINGS
NFL Hall of Fame quarterback Joe Montana, caught in the middle of a marshmallow-tossing blitz Saturday in the private dining room at N9NE Steakhouse. He was with Microsoft honcho Richard Brodie and poker stars Andy Bloch, Erik Seidel and Chris "Jesus" Ferguson. Bloch had won the dinner with Montana and N9NE chef Barry Dakake after making a $10,000 donation to the NSPCA. … Kevin Dillon, who plays Johnny "Drama" Chase in "Entourage," playing pinball at the Pinball Hall of Fame on Saturday before heading to the Palms for dinner at N9NE and celebrating his 45th birthday at the fourth Midsummer Night's Dream party at the Palms Pool & Bungalows. … Singer Pink, back from her "Funhouse Summer Carnival Tour" of Europe, was spotted with friends at Panera Bread Factory in the Galleria mall on Sunday.
THE PUNCH LINE
"How's that chain of all-you-can-eat-off-the-floor restaurants working out for you?" — Comedian Jeffrey Ross during the David Hasselhoff roast on Comedy Central on Sunday.
Norm Clarke can be reached at (702) 383-0244 or norm@reviewjournal.com. Find additional sightings and more online at www.normclarke.com.