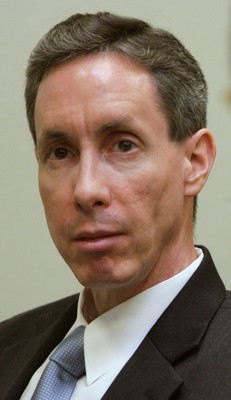 KINGMAN, Ariz. — The attorney leading the Arizona defense of the prophet of a polygamous sect has filed a motion here to suppress evidence seized in the controversial raid on the church's Yearning For Zion ranch in Texas.
Michael Piccarreta contends nothing discovered during the April searches at the ranch is admissible in the Arizona prosecution of Warren Jeffs.
Jeffs, 52, is head of the Fundamentalist Church of Jesus Christ of Latter Day Saints most of whose members live in Colorado City in northern Arizona, and the neighboring community of Hildale, Utah.
Piccarreta's suppression motion contends Texas authorities "staged and perpetrated one of the most intrusive, invasive and unconstitutional raids of a disfavored religious group in American history." The motion says the raid that produced the temporary relocation of 468 children residing at the ranch was fundamentally flawed on many fronts.
Piccarreta asserts that probable cause for the search warrant was largely established on the basis of false information provided by a Colorado woman who, over the telephone, claimed she was a 16-year-old victim of sexual abuse at the ranch established in 2006 by the FLDS. He also argues that Texas authorities, had they exercised any level of due diligence, could have learned that search target Dale Barlow was in Arizona rather than at the YFZ ranch.
"The number and magnitude of the constitutional errors involved in this search leads one to conclude that Texas law enforcement simply did not care whether it violated the constitution," the motion states. "Texas authorities searched through and seized items that were clearly constitutionally protected religious matters and privileged communications under the law."
Jeffs remains jailed in Kingman while awaiting trial for sexual conduct with a minor charges stemming from his alleged assignments of two underage girls in spiritual unions involving sexual relations with their male adult relatives. Sexual activity in one of those unions led to rape-as-an-accomplice convictions in Utah were two five-years-to-life prison terms were previously imposed upon Jeffs.
Piccarreta argues that all evidence seized in Texas is tainted by an unlawful search, and that none should be introduced as evidence against Jeffs. Matt Smith, the Mohave County attorney prosecuting Jeffs in Kingman was not immediately available for comment and the suppression motion has not yet been scheduled for a hearing.