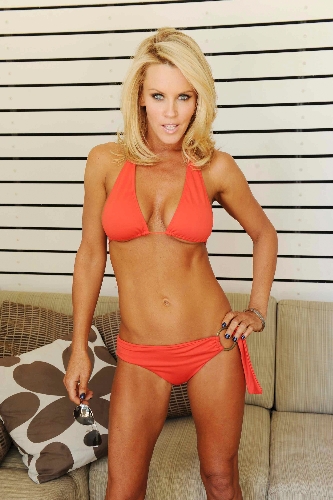 Jenny McCarthy has found a new man in Las Vegas.
He's Jason Toohey, a former fitness model and cast member in the pirate show at Treasure Island. They've been living together in Las Vegas for two months, McCarthy's rep told People magazine's Mark Gray.
McCarthy, the former Playboy Playmate of the Year who split with actor Jim Carrey in April, was with Toohey at the Midsummer Night's Dream lingerie party at the Palms on Saturday, which she hosted.
But Toohey remained in the shadows during her red carpet appearance. A spy told me they were seen walking away, hand in hand, after the red carpet scrum. McCarthy has a son and Toohey a daughter.
Toohey, 35, is listed as founder of Eyedews, an under-eye mask treatment. McCarthy has not only been promoting the product via Twitter but had Eyedews logo placed in the background of the red carpet at the Palms Pool & Bungalows.
She told the Las Vegas Review-Journal's Doug Elfman last week that she rented a house in Las Vegas while a new home is being built for her in Los Angeles.
THE SCENE AND HEARD
Starting Sept. 13, Molly Sullivan will host a 30-minute 7 p.m. weeknight show "Cool in Vegas" on KTNV-TV, Channel 13. The program will "showcase people who have built businesses and careers in Las Vegas" along with residents and tourists who enjoy the life and lifestyle, said Jim Prather, executive vice president and general manager of KTNV-TV. Sullivan, who grew up in Las Vegas, is the Las Vegas-based host and sports reporter for Mountain West Sports Network (The Mtn.).
Wayne Newton joins U.S. Senate Majority Leader Harry Reid, D-Nev., and U.S. Rep. Shelley Berkley, D-Nev., for a groundbreaking ceremony today for a new USO lounge at McCarran International Airport. Since October 2001, Newton, in his position as chairman of the USO Celebrity Circle, has assisted in the recruitment of other celebrities to entertain troops and promote the USO. …
Free tickets are available for the Miss Universe preliminaries at 7 p.m. Thursday at Mandalay Bay Events Center. Go to the website: www.showtickets4 locals.com.
SIGHTINGS
Paris Hilton, promoting her spring 2011 shoe collection and latest fragrance Tease during a MAGIC week appearance at Tryst (Wynn) on Tuesday. … Tennis great Steffi Graf, taking in B.B. King's show at his club at The Mirage on Monday. … James Preston of ABC's new vampire series, "The Gates," took a controlled fall Tuesday from 855 feet from the 107th floor of the Stratosphere. The SkyJump is similar to a vertical zip line, with a top speed of 40 mph. … Tess Taylor and sisters Alexis and Gabby Neiers of the reality show "Pretty Wild," at Curves nightclub (Venetian) for the MAGIC launch of Alexis' lingerie line, Miss Lexxy. They also are in town for meetings with agent Jaki Baskow to work on a book deal. Alexis was convicted of being involved with a group that broke into celebrity homes, including those of Lindsay Lohan and Orlando Bloom. … Romi Dames of "Hannah Montana," comedian Harlan Boll and Playboy twins Karissa and Kristina Shannon at the Ksino Clothes booth Tuesday at MAGIC at the Mandalay Bay Convention Center. … Reigning Miss Universe Stefania Fernandez, at the 7 p.m. performance of "Love" (Mirage) on Monday. … A large crane, spotted operating near a plane on Newton's estate in the past week. … "West Coast Choppers" star Jesse James and celebrity tattoo artist Kat Von D, holding hands while touring "Bodies … the Exhibition" (Luxor) on Sunday. … Stephanie Pratt of MTV's reality series "The Hills" backstage with the "Jersey Boys" (Palazzo) on Monday. "I asked them 100 questions!!!" she tweeted. … Detroit Pistons' veteran Tayshaun Prince, having breakfast over the weekend at The Griddle, a Henderson hot spot. He is in town working with local schools.
THE PUNCH LINE
"All over town, traffic was completely paralyzed. The city of Hollywood was like an enormous Botoxed forehead." — Jimmy Kimmel on President Barack Obama's campaign trip to Los Angeles.
Norm Clarke can be reached at (702) 383-0244 or norm@reviewjournal.com. Find additional sightings and more online at www.normclarke.com.