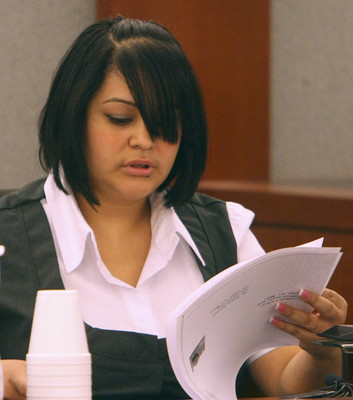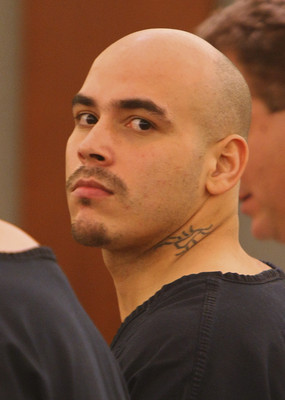 A juror who wrote sexually explicit letters to a defendant in a murder trial and then visited him at the county jail didn't commit jury misconduct, a judge said Monday.
District Judge Valerie Adair ruled that defendant Ricky Vazquez, 27, won't get a new trial because juror Marnie Ramirez didn't engage in wrongdoing when she contacted Vazquez by mail and in person after the trial.
Vazquez was convicted of second-degree murder in October. Ramirez was a juror for his case. She said previously that she was the holdout on the jury who wanted to convict Ramirez of voluntary manslaughter, a lesser charge.
Vazquez's attorney Keith Brower had asked the judge to grant Vazquez a new trial after he learned that Ramirez contacted Vazquez. She told Vazquez she conducted independent research on his case, court documents state.
It is improper for jurors to do independent research on a case during a trial.
Ramirez was ordered to appear in court and explain why and when she contacted Vazquez.
She told the court Monday that she only researched the case and contacted him after she and the other jurors delivered a verdict.
She was clearly nervous and spoke so quietly that Adair asked her to speak louder several times.
Ramirez, 21, is married and works as a bank teller. She said she wrote several letters to Vazquez and went to the jail three times to see him. She last visited him on Nov. 26.
In her letters, she tells Vazquez that she's a sex addict and wants to touch him. She also tells Vazquez in the letters that she'll send him photos of herself.
She declined to comment after the hearing.
Vazquez and co-defendant Lee Vincent, 24, were tried for the murder of Richard Morris during a week-long trial that ended Oct. 24.
Morris was found shot to death on Sept. 10, 2006, near Alta Drive and Rainbow Boulevard during a robbery.
Contact reporter David Kihara at dkihara@reviewjournal.com or 702-380-1039.