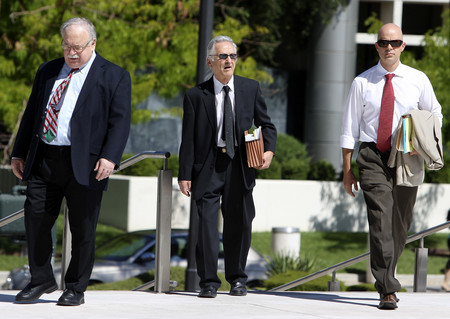 The second time she met with him to negotiate a bribe, Candice Trummell thought brothel owner Maynard "Joe" Richards seemed unusually paranoid.
He was nervous the feds might be following him, she said.
Richards was right to worry.
The 75-year-old owner of three Nye County brothels was sentenced Wednesday in federal court in connection with a political corruption case Trummell helped crack by wearing a microphone and a hidden camera for the FBI.
Richards will spend a year in a Las Vegas halfway house and five years on probation for trying to bribe Trummell in 2005, when she served on the Nye County Commission.
U.S. District Judge Robert Jones also fined Richards $250,000 and ordered him to report any money or "in-kind services" he might give to a public official while he's on probation.
Jones called political corruption the most serious crime handled by the federal courts.
"Whether it's a $100,000 or a $5,000 bribe, it simply won't be tolerated," the judge said.
It's unclear whether Richards will be allowed to stay in the brothel business in Nye County. Commissioners there might use his felony conviction to move against the licenses he has for three bordellos north of Pahrump and a strip club in the middle of the town, 60 miles west of Las Vegas.
"Any privilege licenses he has would be fair game," said Nye County prosecutor Ron Kent, who observed the sentencing at U.S. District Court in Las Vegas.
The only business restrictions the court placed on Richards was a prohibition against expanding his small, sex-based empire.
Richards was indicted in 2006 on two felony counts of wire fraud after he paid Trummell $5,000 to rewrite an ordinance that kept him from building a new brothel at the south end of Pahrump.
In March he pleaded guilty to one of the charges as part of a deal with federal prosecutors that spared him from prison time.
Richards did not address the court before he was sentenced, but Trummell had plenty to say.
She urged the judge to give Richards the maximum punishment allowed under the terms of the plea agreement.
Allowing Richards to escape with a fine he easily can afford and no jail time would do little to discourage future corruption or persuade public officials to cooperate with the authorities, she said.
But U.S. Attorney Gregory Brower praised the outcome, saying, "We have a guilty plea in a political corruption case."
Brower added that Richards' age and health played a part in the decision to negotiate a deal.
"We very rarely have defendants this old in any case," he said. Richards also has a heart condition.
As far as Brower is concerned, the punishment fits the crime. "What we have here is a minor-league attempt at a bribe that fails from the outset," he said.
In an interview before Wednesday's hearing, Trummell described what it was like to go undercover for the government.
She said she recorded about six face-to-face meetings in 2005 with the brothel owner, all of them in Las Vegas and none of them scarier than the second one.
Trummell said she could tell Richards was nervous right away. Instead of going into the restaurant, he told her to get in his car with him. There were FBI agents hiding in a nearby vehicle to snap pictures of the meeting, but they did not follow Richards' car when it sped off, Trummell said.
"He could have been taking me back to (his brothel in) Crystal for all I knew," she said. "I tried to act casual. I was obviously nervous because I was wearing a wire."
The recording device was a little smaller than a makeup compact and had small microphone wires coming out of it. It would only record, not transmit, so agents could not use it to track her.
"The box itself I would mostly store in my bra. That was my idea," Trummell said.
She also wore a small video camera.
"It (looked as if it) was a button, so we would sew it into various clothing," she said.
After driving around for a while, Richards stopped at another restaurant somewhere in the northwest valley. As soon as they got inside the place, she ducked into the bathroom to collect herself and call the FBI.
Trummell made it through the rest of that meeting and the next four without incident.
Once authorities decided they had enough evidence to arrest Richards, they had Trummell schedule one last appointment with him and then fake car trouble and change the meeting place. She persuaded Richards to see her at a nondescript office building. Once she was inside, federal agents whisked her away to another room. She could hear a surprised Richards being taken into custody.
Even if Nye County strips Richards of his licenses, he appears to have more than enough money to retire in comfort. A pre-sentencing report listed him with $25 million in assets, including about $1 million in cash.
His legal bordellos reportedly gross about $1 million a year. He also owns a truck stop on U.S. Highway 95 about 90 miles northwest of Las Vegas and a weekly newspaper called the Pahrump Mirror.
Richards' 12-month term in a Las Vegas halfway house is set to begin Aug. 10. In the hallway outside the courtroom, he joked that maybe the judge would let him write his newspaper column "from incarceration."
Jones did not weigh in on that, but he did seek to restrict what Richards writes about. In the most unusual condition of his probation, Richards has been barred from making "any public comments" about Trummell or her family for the next five years. The restriction was added after Trummell complained that Richards has long used his newspaper to ridicule her and her family. The attacks have only increased since his indictment, she said.
Trummell left the Nye County Commission in 2006 and now lives and works in the Las Vegas Valley. She said her experience as a cooperating witness ended in frustration and disappointment, but she doesn't regret it.
"It was still the right thing to do," she said. "I say to myself I wouldn't do it again, but I probably would."
Contact reporter Henry Brean at hbrean@ reviewjournal.com or 702-383-0350.