Judge's romantic interest found dead
December 28, 2013 - 1:02 am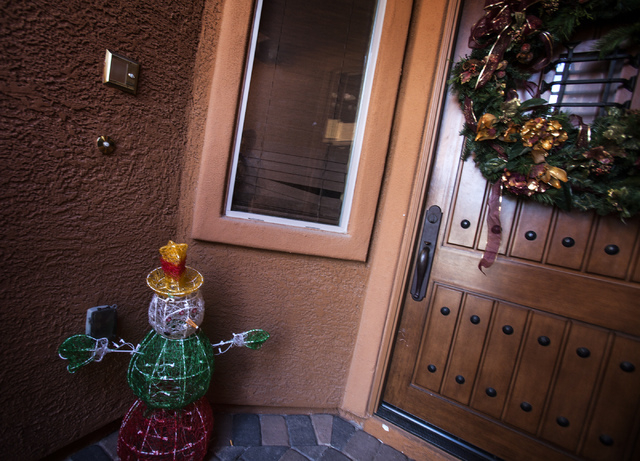 Lisa Willardson was one of the loudest voices of support for suspended Family Court Judge Steven Jones.
As a former prosecutor she also saw herself as an outspoken child advocate and judicial watchdog with political aspirations.
But her voice is silenced now.
Jones found Willardson's body Thursday slumped over the toilet in the bathroom of her rented Henderson home, according to his lawyer, James J. Jimmerson.
Word of Willardson's death came after Jones was found to have committed professional misconduct by maintaining a romantic relationship with her while she appeared in cases before him.
Willardson had dedicated herself to children's causes in court, volunteering for three years in the district attorney's office until she was hired with a salary only to end up getting fired amid the furor over her relationship with Jones.
Despite the broad range of her legal and political interests, Willardson may best be remembered as one of the judge's biggest defenders and the source of one of his biggest miscues.
Jones discovered her body Thursday afternoon after he returned from a three-day trip to Brian Head, Utah, with his children, Jimmerson said.
Coroner's office responders found Willardson dead at 6:40 p.m. Thursday.
Willardson, 45, apparently had been throwing up, and investigators called to the scene by a 911 call from Jones reported no signs of foul play.
Willardson did not accompany the judge to Utah over the holiday, though she had family there.
Jimmerson described Jones as "very emotional" and "very hurt" and asked that the public respect his privacy during such a "sensitive time."
"With everything else that this excellent jurist is facing, this is just an unbelievable shock, and it is devastating to him," Jimmerson said Friday.
Clark County Coroner Mike Murphy said his office conducted an autopsy Friday, and toxicology tests were being done, probably putting off a formal cause of death for weeks.
"We were notified yesterday, and we are investigating," said Murphy, adding his office is working with Henderson police.
Citing an ongoing investigation, Henderson police refused to release details of Willardson's death or the 911 call made Thursday.
Her lawyer, Gary Modafferi, said that he last spoke to Willardson a couple of days ago and the two exchanged Christmas greetings.
"Lisa was never depressed. She was in good spirits the last time I spoke to her," Modafferi said.
He described Willardson as a fighter who looked forward to having her day in federal court, where she was suing the district attorney's office over her termination.
Modafferi said any suggestion that she took her own life was "beyond belief. She never felt sorry for herself," he said.
Condolences started appearing on her Facebook page Friday morning after word spread of her death.
At her home at 1044 Via Camelia St., in a gated community near Lake Las Vegas, neighbors said Henderson police arrived Thursday afternoon, followed by the coroner's office in the evening.
No one answered the door at the one-story home, but a large dog came to a window and barked. Parked in front of the home was a white Lexus coupe, with an "Elect Lisa A. Willardson to Family Court Judge" placard on the driver's side door.
Her death came as Jones was grappling with the recent Nevada Commission on Judicial Discipline decision that special prosecutors had proven "by clear and convincing evidence" eight of the 12 charges they filed against Jones in December 2012 stemming from his relationship with Willardson.
Special prosecutors had proved all three counts tied directly to the judge's romantic relationship with Willardson, the commission ruled.
Two of the counts alleged Jones improperly maintained a "close social and personal relationship" with Willardson between October and December 2011 while she "actively litigated cases" before him and then failed to disqualify himself from her cases.
The other count accused Jones of interfering with then District Attorney David Roger's efforts to remove Willardson from the child welfare unit.
Both sides were notified of the decision late Tuesday, but it wasn't made public until the Las Vegas Review-Journal reported the story Thursday morning.
Willardson had steadfastly defended Jones throughout his disciplinary proceedings.
Earlier in the year, the State Bar of Nevada had given Willardson a "letter of caution" critical of her professional judgment for engaging in the relationship with Jones.
But that didn't stop her from putting the word out on her Facebook page and Twitter account that she intended to run for public office herself in 2014 in a race against Family Court Judge Jennifer Elliott.
Willardson also used social media to show her affection for Jones and criticize media coverage of the disciplinary proceedings against the judge.
Another of her social media causes, Nevada Judicial Guardian, promoted transparency in the courts.
Her last two tweets occurred on Christmas Day when she wished her followers a "Merry Christmas" and said she was "so looking forward" to 2014.
"It's going to be the best year …. #happiness #can't wait," she wrote.
The relationship between Willardson and Jones was scrutinized by the Judicial Discipline Commission during a weeklong hearing in Las Vegas earlier this month.
More than a dozen witnesses testified under oath, including Jones, Willardson and Roger, who fired Willardson in December 2011 after the relationship was exposed.
Special prosecutors presented evidence that showed Jones and Willardson text messaged each other 34 times on Oct. 20, 2011, the day after they met for lunch for the first time.
Investigators uncovered 2,500 texts between the couple through Dec. 15 of that year, prosecutors said.
Both Jones and Willardson testified that they didn't start thinking they were in a relationship until Thanksgiving, when they spent time together with Willardson's family in Utah.
Jones said he was still dating Willardson.
Jones was suspended by the commission after his November 2012 federal fraud indictment. He has been receiving his $200,000 annual salary since then and is up for re-election in 2014.
The indictment alleges Jones used the power of his Family Court office to carry out a $3 million investment fraud scheme with five other defendants between 2002 and 2012. His trial is March 3.
The judge's fight with the judicial commission resumes on Jan. 27, when the panel holds a public hearing on a wide range of possible sanctions over his affair with Willardson, including another suspension and removal from the bench.
One voice conspicuously will be missing in the judge's corner that day.
Contact reporter Jeff German at jgerman@reviewjournal.com or 702-380-8135. Follow him on Twitter @JGermanRJ. Contact reporter Francis McCabe at fmccabe@reviewjournal.com or 702-380-1039.