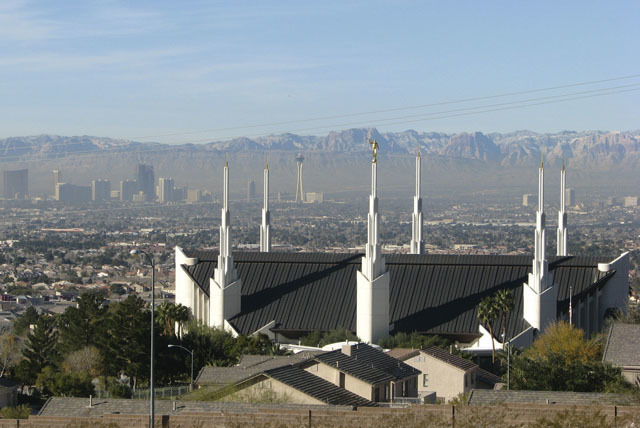 The man who shot and killed himself at the Mormon Temple in east Las Vegas Tuesday night is the son of 9th U.S. Circuit Court of Appeals Judge Jay Bybee.
Scott Greer Bybee, 26, of Henderson, walked into the courtyard of the temple at 827 Temple View Drive, near Bonanza Road and Hollywood Boulevard, and shot himself, according to police.
Police had received calls from Bybee's family with concerns that he was going to the temple to kill himself, Lt. Mark Reddon said.
When officers arrived, they found Bybee dead in the courtyard, Reddon said.
Reddon said the temple was not evacuated because there was no threat, but they did shut down any remaining services that night.
The coroner's office has not released a cause of death.
Judge Milan D. Smith, Jr., a colleague of Bybee's, sent a statement to Bybee's fellow judges by the request of Bybee and his wife Dianna. Smith said their son had suffered for years from depression and they had tried several types of treatment.
Smith said Bybee would be out of his chambers for several days as the family deals with the loss.
"It will take time for Jay, Dianna, and their other family members, to begin the healing process, but they will be grateful for your prayers and good wishes on their behalf," Smith said.
Church of Jesus Christ of Latter-day Saints spokeswoman Kristen Howey issued a statement calling the incident tragic, and saying the church was mindful of all those involved.
No memorial service plans had yet been made.
Reporter Annalise Porter contributed to this report.
Contact reporter Steven Slivka at sslivka@reviewjournal.com. Follow @StevenSlivka on Twitter.