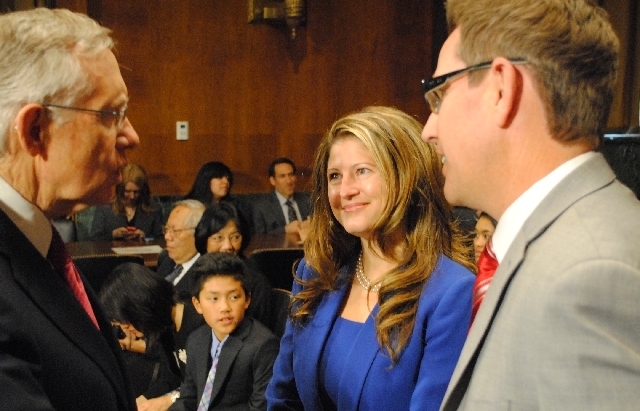 WASHINGTON — As U.S. Sen. Harry Reid was considering Las Vegas attorney Jennifer Dorsey for a federal judgeship in May, two senior partners at her law firm made $150,000 in contributions to a political action committee associated with the Nevada senator, records show.
While apparently legal, the donations were called "problematic" by a legal expert, who said they could be perceived as attempting to buy a judicial appointment as Dorsey's confirmation is pending before the Senate.
Dorsey also made a personal contribution of $2,500 to Reid's campaign committee in March 2012, shortly after they initially spoke about her interest in becoming a federal judge, according to Senate records. Reid returned that contribution a month later, as he proceeded to check out her credentials and experience as a litigator.
In June, Reid agreed to recommend Dorsey to the White House for a post on the U.S. District Court, and she was nominated by President Barack Obama in September.
Reid in a statement said Dorsey's "academic background and courtroom experience speak for themselves. She has great respect from her peers and colleagues in Nevada and I am confident she will serve the bench with distinction."
As Dorsey was being vetted by Reid, senior partners at her firm, Kemp, Jones & Coulthard, made contributions to Senate Majority PAC, a super PAC created by former Reid strategists to elect Democrats to the U.S. Senate. Reid, the Senate majority leader, and other leading Democrats traveled extensively last year to raise money for the PAC, which is co-chaired by a former Reid chief of staff.
Founding partner Will Kemp made a $100,000 contribution on May 1, 2012, according to campaign finance records. Founding partner J. Randall Jones made a $50,000 contribution on May 14, 2012.
Reid declined comment on the firm's contributions to the political action committee. His spokeswoman, Kristen Orthman, emphasized that Dorsey's personal contribution to Reid's campaign was returned as the senator weighed her possible nomination and wanted to avoid an appearance of conflict.
Dorsey did not respond to requests for comment Thursday and Friday. A secretary at her office said the attorney usually does not comment to reporters.
Neither Kemp nor Jones responded to calls or to email queries made through their secretaries on Friday.
Lawyers making contributions to politicians and their causes is commonplace. Nor is it unusual for lawyers to want to see friends and legal partners ascend to the prestigious federal bench.
It's when the two appear to mix that problems can arise, legal experts said.
"This feels problematic to me," said Charles Geyh, John F. Kimberling professor of law who teaches and writes on ethics at the University of Indiana Maurer School of Law. "There's no denying a perception problem here. Politically it seems like a dangerous thing to undertake."
Carl Tobias, the Williams Professor of Law at the University of Richmond, cautioned against jumping to conclusions.
"I can't draw a cause-and-effect relationship" between the partners' donations and Dorsey's nomination, said Tobias, a former professor at the Boyd School of Law at the University of Nevada, Las Vegas. "I think people could ask whether it appears that they were trying to promote one of their partners. You'd like to have the answers to those questions."
Sen. Dean Heller, R-Nev., declined to comment on Friday. In recent weeks he has declined comment on Dorsey's nomination, saying he prefers to let the confirmation process move forward before saying how he would vote.
This week Heller declined an invitation to appear at Dorsey's confirmation hearing. Although Dorsey was nominated in September, only last month did Heller return the customary "blue slip" to the Senate Judiciary Committee, signalling that he did not object to a confirmation hearing.
Heller and Reid clashed earlier over Clark County District Judge Elissa Cadish, whom Reid had nominated to a federal judgeship but whom Heller had blocked over a gun rights dispute. Heller allowed Dorsey's nomination to proceed a few weeks after Cadish withdrew her nomination, leading to speculation that he and Reid had struck a deal.
Dorsey, who turned 42 on Friday, appeared Wednesday before the Senate Judiciary Committee for her confirmation hearing. The Las Vegas native obtained degrees from UNLV and Pepperdine University School of Law. She became a partner at Kemp, Jones and Coulthard in 2004, where she has specialized in complex civil litigation.
Dorsey answered questions about her experience and her approach to the law posed by Sens. Mazie Hirono, D-Hawaii, Charles Grassley, R-Iowa, and Mike Lee, R-Utah. The senators seemed satisfied with her performance, said Tobias, who watched a webcast of the session.
Dorsey was introduced to the committee by Reid, who called her a "fine woman who will be a great addition to the bench in Nevada. She has really a sterling reputation among her peers."
Reid said Dorsey's nomination was in line with his desire to place more women on the federal bench. If confirmed, Dorsey would join District Judges Miranda Du and Gloria Navarro as Reid-backed Nevada federal court appointees.
In 1998, Reid backed attorney Johnnie Rawlinson for a District Court judgeship in Nevada, and two years later promoted her confirmation to the 9th U.S. Circuit Court of Appeals.
Dorsey has received a mixed rating from the American Bar Association's Standing Committee on the Federal Judiciary, a 15-member panel that rates federal judge nominees on integrity, professional competence and judicial temperament, and on a scale of "well qualified," "qualified" and "not qualified."
In Dorsey's case, the ABA said a "substantial majority" (10-13 members) rated her "qualified" while a minority rated her "not qualified."
Reid declined this week to comment on the rating, which matched ratings for Du and Navarro when they were under Senate consideration. He had made no secret of his disdain for the ratings, which he said rely too heavily on prior judicial service as opposed to "real world" qualifications.
In 2010, Reid said the examiners should "get a new life and start looking at people for how they are qualified and not whether they have judicial experience."
Contact Stephens Washington Bureau Chief Steve Tetreault at stetreault@stephensmedia.com or 202-783-1760. Follow him on Twitter @STetreaultDC.
DORSEY NOMINATION TIMELINE
March 2012: Jennifer Dorsey speaks to U.S. Sen. Harry Reid "about my interest in a federal judgeship."
March 31, 2012: Dorsey contributes $2,500 to Reid's campaign committee.
April 30, 2012: Reid returns Dorsey's contribution.
May 1, 2012: Will Kemp contributes $100,000 to Senate Majority PAC.
May 14, 2012: J. Randall Jones contributes $50,000 to Senate Majority PAC.
June 12, 2012: Reid staff tells Dorsey he is forwarding her name to the White House.
Sept. 19, 2012: President Barack Obama nominates Dorsey to U.S. District Court for Nevada.
April 24, 2013: Senate Judiciary Committee holds Dorsey confirmation hearing.
SOURCES: Federal Election Commission, Senate Judiciary Committee.