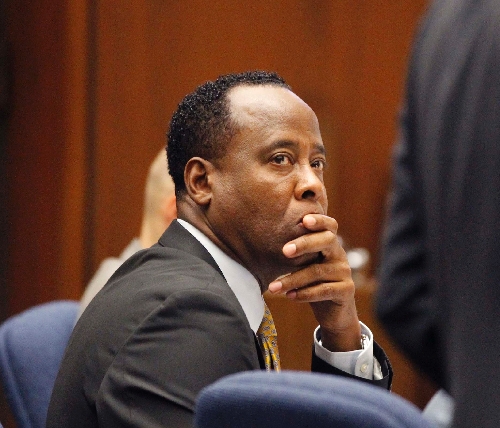 LOS ANGELES — Jurors who have sat facing Dr. Conrad Murray for two weeks listened Friday as the physician detailed in a recorded interview his interactions and treatments on Michael Jackson in the months and hours before the singer's death.
Murray sounded calm on the more than two-hour recording as he spoke of their relationship, efforts to save his life and the medications he gave Jackson in his efforts to get him to fall asleep. It was the first time Murray's interview with police detectives had been played in public.
The June 27, 2009, interview outside a noisy hotel ballroom gave police their first hint that Jackson's death was not from natural causes and that he had been given the anesthetic propofol to cure his insomnia.
"He's not able to sleep naturally," Murray told the detectives early in the interview.
Just before court adjourned for the day, Murray is heard on the recording telling detectives that he had no intention of hurting Jackson. "I did not want him to fail."
Murray told the detectives how he met Jackson and walked them through the treatments he gave the singer on the day he died, including doses of the sedatives lorazepam and Versed.
Jackson remained awake for hours after returning home around 1 a.m. on June 25, 2009, after rehearsals for comeback concerts.
"It was 4 o'clock in the morning, and then he complained," Murray said. " 'I've got to sleep Dr. Conrad. I have these rehearsals to perform.' "
Jackson threatened to cancel that day's rehearsal, so Murray gave him some more lorazepam.
Murray told detectives that the singer remained awake and continued to complain about his lack of sleep. Murray told detectives he relented to Jackson's demand for his "milk" — a nickname the doctor said the singer used for propofol, which is a milky-white liquid.
Over the course of the interview, Murray told police that other doctors had given the anesthetic before.
Defense attorney Ed Chernoff told the detectives that Jackson was familiar with how the drug was administered through an IV and certain dosages.
Murray told the detectives he took all possible precautions — keeping oxygen and a pulse-monitoring machine nearby — and repeatedly warned Jackson that using propofol was an artificial way to sleep.
Prosecutors contend that Murray was reckless by giving Jackson propofol outside a hospital setting and without the proper monitoring equipment.
Murray said Jackson told him before he agreed to be his personal physician that he might need help. The physician said Jackson told him that he expected to sleep for 15 to 18 hours at a time.
He said Jackson told him, " 'You don't quite know or understand that these hours are long.' "
"I think, on you, it will be too much," Murray said. "What Mr. Jackson knew is this is something he did every day."
Authorities allege Murray gave Jackson a lethal dose of propofol and other sedatives while trying to help the singer. Defense attorneys say Jackson gave himself the lethal dose after Murray left the room.
Murray has pleaded not guilty to involuntary manslaughter. If convicted, he faces up to four years behind bars and the loss of his medical license.