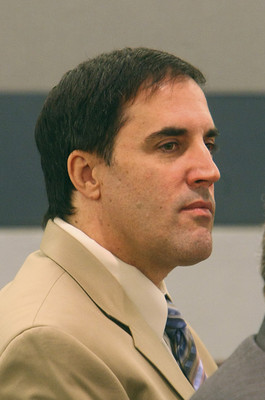 RENO — A Washoe County jury on Tuesday delivered a $590 million judgment against Darren Mack, the wealthy former pawnshop owner imprisoned for killing his wife and shooting the judge who handled the couple's divorce.
Under the award in the wrongful-death lawsuit, $30 million will go to the estate of his slain wife, Charla, and the remainder will go to the couple's young daughter, according to Hans Jessup, administrator for the Washoe County court.
Mack, 46, was sentenced last month to life in prison with possible parole after 36 years.
In a deal with prosecutors, Mack had pleaded guilty to first-degree murder in the June 2006 stabbing of Charla Mack. He also entered an Alford plea, in which a defendant acknowledges there is enough evidence for a conviction without admitting guilt, to a charge of attempted murder in the shooting of Washoe Family Court Judge Chuck Weller.
Mack said in court that he shot Weller through a courthouse window on the same day he slashed his wife's throat in the garage of his southeast Reno townhouse.
Mack since has sought to withdraw his pleas and stand trial, maintaining that he had acted in self-defense and that his former lawyers coerced him into the plea deal.
A judge has denied his motions to withdraw the pleas. Another hearing on the arguments is scheduled for next month.