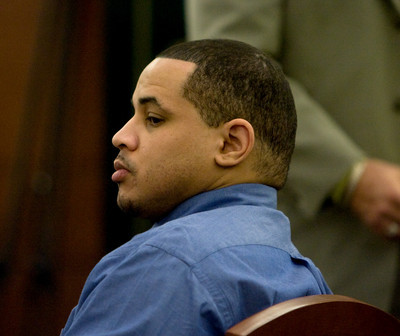 A man authorities suspect of being a serial killer in multiple rapes and strangulations was found guilty Wednesday of first-degree murder in the slaying of an 18-year-old Las Vegas woman.
After deliberating for about a day, a Clark County District Court jury convicted 34-year-old Norman Flowers of sexually assaulting and killing Sheila "Pooka" Quarles in 2005.
Flowers was silent and composed when the jury delivered a verdict that means he could be sentenced to death. Jurors will start the penalty phase of the trial today.
The victim's mother, Debra Quarles, attended the entire trial but declined to comment after the verdict.
Sheila Quarles was found dead in a bathtub full of hot water in March 2005 at the apartment she shared with her family on Pecos Road near Washington Avenue. DNA evidence helped link Flowers to the crime.
Several months later, two more women were found killed and sexually assaulted. Marilee Cootes, 45, had been strangled and raped. Her assailant also burned her thighs and singed her pubic hair. Rena Gonzales, 24, was strangled with a telephone cord.
Flowers has been charged in connection with the two slayings and will go on trial next year. His DNA was found inside Cootes but not Gonzales, authorities said.
Flowers grew up in Compton, Calif. He moved to Las Vegas with his family when he was 16. He passed the general educational development tests and worked as a telemarketer and stock boy at a local department store, said one of his attorneys, Deputy Special Public Defender Clark Patrick.
Flowers served time for first-degree arson and burglary. He was on parole at the time of the killings.
Flowers dated Quarles' mother in 2004. After the killing, he re-entered Debra Quarles' life. He told her to get grief counseling and drove her to two counseling appointments. Before police identified him as a suspect, Flowers asked Debra Quarles about the investigation into her daughter's death, said Chief Deputy District Attorney Pam Weckerly.
Before she was killed, Sheila Quarles was secretly dating a woman who worked as a bus driver. Sheila Quarles also was seeing a man named George Brass and had sex with him the morning of her murder.
Authorities found DNA from Brass and Flowers inside Sheila Quarles.
Brass, 23, is facing murder charges in an unrelated case. Authorities said Brass and three other men went on a monthlong crime spree in Las Vegas in 2006 targeting Hispanics and others in killings, robberies and home invasions.
During the trial, Brass was brought to the courthouse from the county jail to testify. He told the jury that he had consensual sex with Sheila Quarles on the floor of her apartment the morning she was killed. Afterward, he went to work at his job at Wal-Mart. Several hours later, Sheila Quarles was found dead.
Las Vegas police do not think Brass had anything to do with her murder.
Cootes and Gonzales lived in separate apartments at the same complex on Russell Road near Boulder Highway. They were found dead inside their apartments within several hours of each other.
Flowers knew both women through an ex-girlfriend.
Several jailhouse informants testified before a grand jury that Flowers admitted to having sex with Cootes and to smothering Gonzales, according to court documents.
Contact reporter David Kihara at dkihara@reviewjournal.com or 702-380-1039.