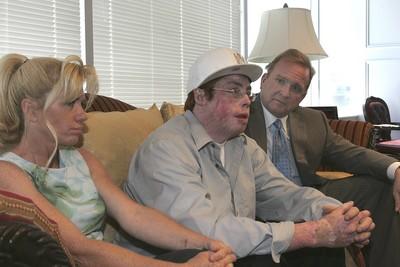 As the weeks passed in 2001 Joseph Provenza's mother, Kim, kept hearing the same thing from doctors: "People burned like your son don't live."
Not until the 13-year-old Pahrump youngster was taken off a ventilator seven months after his horrific motorcycle accident — one that saw him suffer third-degree burns over 90 percent of his body — did she think his death wasn't imminent.
"He came down in the hospital with pneumonia, heart and kidney problems. You name a problem and he had it," Kim Page said. "He's already had 35 surgeries and he needs more. He goes to the Shriners Burn Center in Sacramento off and on."
On Tuesday, Joseph Provenza, now 19, walked with his mother and sister into the law offices of Las Vegas attorney Robert Eglet. Four days earlier — exactly six years after the May 4, 2001 accident — a District Court jury had awarded him $41.5 million in a personal injury case filed against the manufacturer of the clothing he was wearing, which Eglet argued failed to protect him in the fire.
In Eglet's Fourth Street office, Provenza's badly damaged hands shook. Winces of pain crossed his face, particularly on his heavily scarred right cheek.
And his near future appears to be about more pain.
"I've got to get part of a foot amputated on May 16," he said, closing his eyes. "I know I need it."
Eglet, a senior partner with the law firm Mainor Eglet Cottle, persuaded a jury that the LeMans Corporation of Wisconsin should have made its special motocross clothing fire retardant.
Attempts to reach jurors about the verdict they delivered were unsuccessful.
Wayne Mason, a Texas attorney hired by LeMans, said an appeal of the verdict "is absolute."
"The clothing was never advertised as being fire retardant," Mason said.
That doesn't matter, Eglet argues.
"People expect that when you buy special clothing for an endeavor where you're sitting on top of a gas tank and hot engine that it would be fire retardant," Eglet said. "You have to remember that this company already makes fire-retardant pajamas for children … and those pajamas look like a motocross outfit."
Provenza was celebrating his grandfather's 80th birthday when the accident happened. Riding a Yamaha dirt bike with his uncle and cousin in the Pahrump area, he fell after making a jump. When the bike hit the ground, Provenza was soaked with fuel from a gas tank that apparently ruptured, Eglet said.
"I can't remember what happened," Provenza said. "I really can't."
The heat from the still running engine caused the fire to ignite.
"He ran and he kept starting fires in the underbrush," Eglet said. "Instead of what he was wearing being protective clothing that would allow the gas fumes to burn off, the cotton shirt and the nylon polyester pants he was wearing caused the fire to spread." Provenza was taken by helicopter to University Medical Center. After nearly three months there, he was transferred to the Shriners Hospitals for Children — Northern California, in Sacramento.
During the trial, renowned Las Vegas plastic surgeon Dr. William Zamboni testified that Provenza was, to his knowledge, the youngest boy ever to survive after suffering third-degree burns over 90 percent of his body.
"I don't know how to tell you how much it hurt," Provenza said.
Provenza's sister Brittany, 22, cried as she described her brother's pain.
"When he came home, mom and I had to change his dressings," she said. "We had to scrub off the dead skin. He cried when he knew it was time for us to do it. I knew I was helping him but it was so hard."
Defense attorney Mason acknowledged jurors were obviously moved by Provenza's condition. But he believes the jury should have been able to hear evidence that resulted in District Court Judge Elizabeth Gonzalez dismissing Yamaha as a defendant in the case in 2006.
In the original lawsuit, Eglet had argued that the Yamaha dirt bike had defects in its fuel tank assembly.
Mason said that prior to the accident, the bike had been hot-wired to get it started, an action that he believes may have later caused the fire.
In her decision to dismiss Yamaha from the suit, Gonzalez referred to a deposition given by Provenza's father, Michael.
"Michael Provenza testified he thought the bypass wire might be the cause of the accident and he believed this evidence of modification would interfere with his son's potential lawsuit," her dismissal order stated. It continued: "Provenza admits that he intentionally and knowingly removed the bypass wire placed on the coil wire and threw it on the ground in the storage unit prior to the Yamaha defendants' opportunity to inspect the condition" of the bike.
The judge also referred to other failed efforts to preserve the bike "against spoilation," noting there was a question of whether this was "intentional, knowing, willful or simply negligent." As such, she found, Yamaha could not expect "a fair adjudication on the merits" of the case.
Mason believes that if jurors had heard what Michael Provenza had done, they would have come to a different verdict.
"Gasoline came out and hit the hot-wire and that's how the fire started," Mason said. "What happened is tragic but the father destroyed evidence."
Eglet said that what Michael Provenza did, or why the fire started, has no bearing on what he sees as the central fact of the case — clothing supposedly specially designed for motocross wasn't fire retardant as it should have been.
"The reason why pajamas for children were forced to become fire retardant by the federal government was because of cases just like this," Eglet said. "People have a right to believe that clothing supposedly specially designed to wear on a hot running bike is fire retardant."
Eglet refused to say how much of the $41.5 million award attorneys would receive. He did say the normal contingency fee ranges from 33 to 40 percent of the verdict.
The jury stipulated that the money be parceled out this way: $4,266,600 for past medical and related expenses; $7,115,370 for future medical and related expenses; $2,029,482 for future loss of earning capacity; $17,000,000 for past pain, suffering and disability; and $11,000,000 for future pain, suffering and disability.
Joseph Provenza isn't so much concerned about the money.
"I just wish I didn't ache," he said.