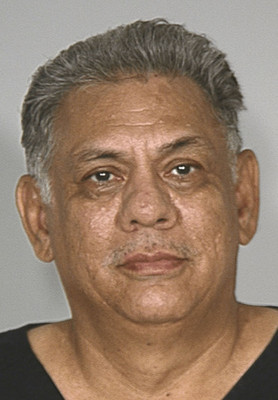 A Vietnam War veteran was sentenced to death Tuesday for raping and killing a 68-year-old woman at an assisted living apartment complex in 2007.
Frederick Mendoza, 62, pleaded guilty in District Court last week to killing Rita Kremberg.
Mendoza showed little emotion when the Clark County jury delivered the sentence. Officers returned him to the county jail immediately after the hearing.
"We're very disappointed," said James Oronoz, one of Mendoza's attorneys.
Mendoza, who suffers from post-traumatic stress disorder, sexually assaulted and stabbed Kremberg 18 times and slit her throat with a steak knife, authorities said. Mendoza and Kremberg lived at Destination Senior Living at Spring Valley, near Jones Boulevard and Flamingo Road, but didn't know each other.
On the day his trial was set to begin last week, Mendoza pleaded guilty to murder with a deadly weapon with a victim older than 60 and sexual assault with a deadly weapon with an elderly victim. After he pleaded guilty, the case went directly to the penalty phase, where the jury decided to sentence Mendoza to death.
"He wanted to accept responsibility," Oronoz said.
Kremberg was originally from New York. She lived in Las Vegas for about nine years with her husband, who died in 2002. They didn't have any children, but a friend testified that Kremberg and her husband had been active in raising money for medical centers for kids.
Her friend, Gene Fogleman, said Kremberg was afraid of the crime in New York City and thought she'd be safer in Las Vegas.
Kremberg was found dead in her apartment on March 3, 2007. She was naked from the waist down and had multiple stab wounds. Her attacker didn't steal anything from her apartment.
Las Vegas detectives found Mendoza's fingerprints on a liquor bottle in Kremberg's apartment. Mendoza denied knowing Kremberg or ever being in her apartment when homicide detectives asked him about it. He had lived at the Destination Senior Living facility about three months.
Mendoza's DNA was found under Kremberg's fingernails and on her genitals, said county prosecutor Robert Daskas.
Daskas also told the jury that Mendoza had a prior conviction for a sexual crime in Las Vegas. In 1977, he met a woman at a hotel bar, followed her to her hotel room, choked her and raped her, Daskas said.
The victim wanted to press charges against Mendoza because she believed he would kill the next time, Daskas said.
Mendoza pleaded guilty to battery with the intent to commit rape in 1978 and was out of prison by 1979.
Oronoz painted a more sympathetic picture of Mendoza. He told the jury that Mendoza's father left him at a young age and his stepfather was abusive. He was kicked out of his house at 14 and was shuttled between relatives. He joined the Marines and became a rifleman in Vietnam during the war.
His experiences in Vietnam deeply affected him, said Robert Draskovich, another of Mendoza's attorneys. He said Mendoza saw Vietnamese corpses used as targets by U.S. troops, women raped and a soldier who carried body parts from enemy soldiers as trophies.
The Department of Veterans Affairs ruled that Mendoza suffered from post-traumatic stress disorder and granted him a 100 percent disability, Draskovich said.
He was awarded the Vietnam Cross of Gallantry and other medals.
"He served his country," Oronoz said. "He served his country honorably."
Contact reporter David Kihara at dkihara@reviewjournal.com or 702-380-1039.