Justin Timberlake and Friends
October 19, 2009 - 9:00 pm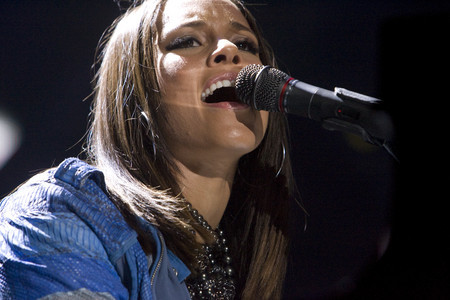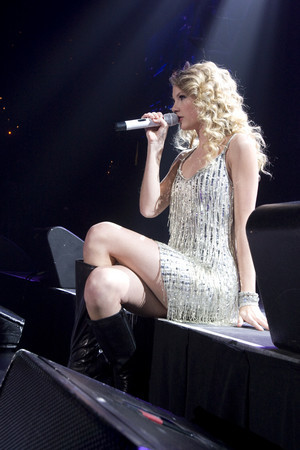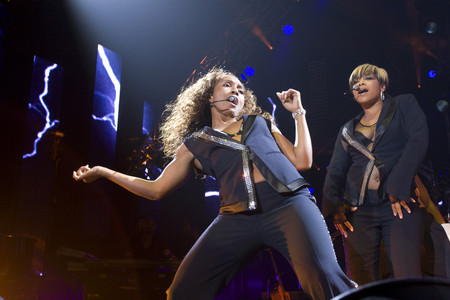 The man of the hour took a backseat to the girl of the minute as she whipped her hair around in golden arcs, looking like a blonde windmill on a particularly gusty day.
Taylor Swift doesn't sing her songs so much as exorcise them from her willowy frame, from which they rush and roar as if someone picked the lock to her pent-up emotions.
This wasn't really her show — the night nominally belonged to Freon-cool pop changeling Justin Timberlake, who was hosting his second annual benefit for Shriners Hospitals for Children at the Mandalay Bay Events Center on Saturday night — but she laid claim to it anyway.
Clad in an impossibly sparkly dress and black cowboy boots, she sashayed across the stage as if it was a Parisian runway, singing songs about always being the other girl in pursuit of a boy somehow oblivious to her charms.
"I've had this theory that music is just love stories set to a melody," she announced at one point, letting us know two things: 1) She's probably not a Cannibal Corpse aficionado and 2) Heartache is what butters her bread.
Swift took the stage early in the nearly three-hour show, followed by another knockout performance by a femme fatale force of nature.
Alicia Keys sang with Pentecostal zeal, pounding at her piano with her knees resting on its bench, lunging up to sing from the back of her heels, pumping her fist in the air in the kind of triumphant pose normally reserved for the little plastic figurines atop first-place trophies.
Her voice — sonorous, strong and as sensual as a well-timed caress — grabs lapels and means business.
Like Swift, she sings of vulnerability even though her commanding physical presence often seems to subvert her very words.
"No one, no one, no one, can get in the way of what I'm feeling," she boomed at the end of her three-song set, and you could practically roast marshmallows in the fire in her eyes.
Together, Swift and Keys anchored an evening that pulled the curtain back on contemporary pop music, exposing more similarities than differences. Turn on the radio these days, and everything is compartmentalized: you'd never hear an Alicia Keys song on the same country stations that play Taylor Swift, even though little separates them other than the occasional fiddle.
But such distinctions were blurred on this night.
There was beat-box enhanced R&B from rising Brit crooner Jay Sean and the return to the stage for the first time in over seven years from female vocal group TLC, who performed as a two-piece after the death of singer Lisa "Left Eye" Lopes in 2002, with Lopes' verses played on a backing track.
Too bad TLC's lip-synced set seemed so anticlimactic after robust performances from Keys and Swift, who actually sang their tunes live.
TLC was well-abetted by Timberlake's ace backing band, who teased the funk out of hits like "Waterfalls" with limber bass lines and wah-wah guitar licks, but it wasn't enough to make this feel like anything more than a quick detour down memory lane.
Up to this point, the only thing missing from this night of genre hopping was some straight up rock 'n' roll, a taste of which was provided by Timberlake himself.
After cameos by Ciara, Snoop Dogg and producer Timbaland, who testified to the singer's hip-hop and R&B savvy, Timberlake put the hammer down on songs such as "Like I Love You," which began with him strapping on a six-string and dueling with a pair of guitarists at the center of the stage and gradually built up into a climactic jam that incorporated the signature riff to Nirvana's "Smells Like Teen Spirit" into the mix and ended with Timberlake pogoing madly in tight circles.
Meanwhile, moody pop kiss off "Cry Me A River" grew fangs with some roilin' organ, a combustible guitar solo coda and touches of Coldplay's "Viva La Vida."
"Can't believe it's ending this way," Timberlake sang near the show's conclusion, and he was hardly alone in that sentiment.
Contact reporter Jason Bracelin at jbracelin @reviewjournal.com or 702-383-0476.
REVIEW
Who: Justin Timberlake and Friends
When: Saturday
Where: Mandalay Bay Events Center
Attendance: 10,000 (est.)
Grade: B+
Slideshow