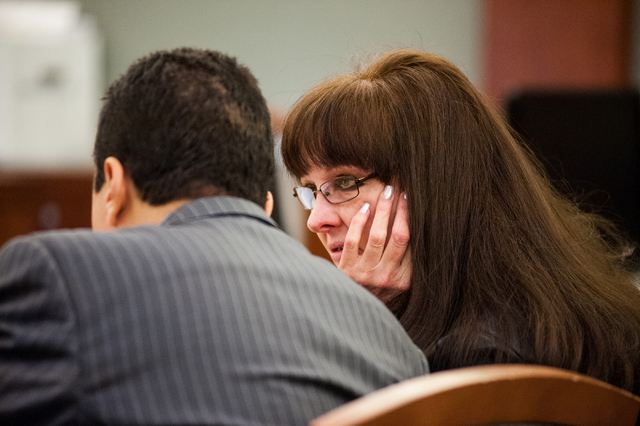 A key witness in the case against a woman accused of shooting and paralyzing her son after a fight over his then-girlfriend may not testify, Clark County prosecutors said Tuesday.
Prosecutors say Linda Cooney, 66, shot Kevin Cooney in June 2011 with the same .357-caliber handgun that she used to shoot and kill her ex-husband and his father, James Cooney, more than two decades ago in Florida.
Kevin Cooney, who was diagnosed as an incomplete quadriplegic, has refused to cooperate with authorities but was supposed to testify at his mother's trial today.
However, Chief Deputy District Attorney Michael Staudaher learned that Kevin Cooney was taken to the hospital with a high-grade fever and it was unknown whether he would be able to make it to the courthouse to testify.
Linda Cooney is charged with attempted murder, battery with use of a deadly weapon and intimidating a witness. She also is charged with stalking Kevin Cooney's ex-girlfriend Karina Taylor. If convicted of all counts, she faces 3 to 65 years in prison.
Staudaher told the jury during opening arguments that Kevin Cooney may not testify in the trial. He suggested that there is enough evidence from other witnesses to convict Linda Cooney of trying to kill her son.
Staudaher described Linda Cooney as wanting complete control of her two sons.
"Whenever anyone enters into the picture that somehow underminds or separates her from her children, things don't go well," Staudaher said.
When Kevin Cooney and Karina Taylor began a relationship, Linda Cooney tried to sabotage it, Staudaher said.
Kevin Cooney and his mother were feuding over Taylor the night of the shooting, Staudaher said. Linda Cooney was trying to subvert her son's relationship by sending text messages to Taylor's colleague saying the woman was "an evil whore." She had sabotaged her son's previous relationships before, Staudaher said.
Defense lawyer Michael Becker hinted at a self-defense strategy. Before the shooting, Kevin Cooney had written on Facebook that he had an "out of control temper and rage" and "specifically talked about killing his mother," Becker told the jury.
Becker said that while prosecutors are trying to "tar and feather" his client for being bizarre, it was Kevin Cooney who suffered from mental problems.
The evidence will show that "Kevin was to blame for his own injuries," Becker told the jury.
The jury also heard a 911 recording of Christopher Cooney, Linda Cooney's other son and a Las Vegas police officer, frantically reporting that his mother told him she "was attacked by my older brother and that she shot him."
Linda Cooney told another 911 operator her son had been shot, but she didn't know what happened. That operator broadcast the incident as a suicide attempt.
Staudaher noted that after Kevin Cooney was shot, Linda Cooney called Christopher Cooney before calling 911. The two called 911 after they spoke for nearly 16 minutes.
After the shooting, Kevin Cooney was diagnosed as an incomplete quadriplegic, meaning he has some movement in his arms and legs.
As a boy, he testified at his mother's murder trial. Linda Cooney said she shot James Cooney after he attacked her with a kitchen knife in her Florida home. A jury there acquitted Linda Cooney of murder charges after they found she had shot her husband in self-defense in 1991.
And Kevin Cooney's testimony — he was 11 — was instrumental in her acquittal of first-degree murder. He testified he saw his father holding a shiny object, but originally told investigators his father had nothing in his hand.
Despite objections from Cooney's defense lawyers, the jury will learn about the Florida case.
Meanwhile, Linda Cooney has been in jail since February, when a Las Vegas judge found her guilty of misdemeanor battery for attacking Taylor while she was visiting Kevin Cooney in the hospital.