Kid agents bust perps during Mob Museum summer camp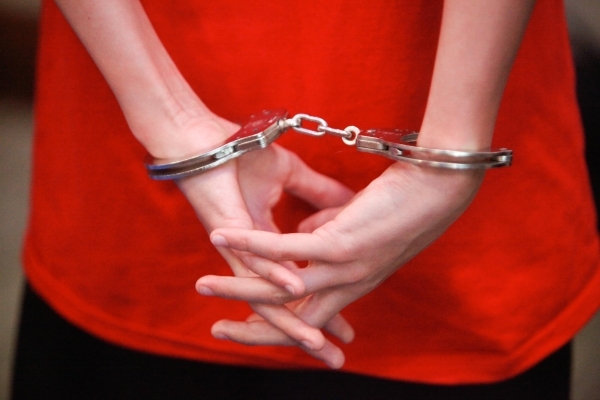 Alex Nicola will have the best answer ever when his parents ask what he did today at summer camp.
Catch a fish? Go on a hike? Make a key chain out of sticks and pebbles in arts and crafts?
Nope. Alex spent his day learning self-defense, hanging out with real-life federal agents, wearing a wire, going undercover and taking down a perp for tax fraud.
Sweet, and all in a summer day's work for Alex, 13, a participant in The Mob Museum's Special Agents of Summer day camp program.
During their weeklong tour of duty as the Las Vegas-based National Museum of Organized Crime and Law Enforcement's youngest agents, Alex and 10 fellow campers toured the museum, learned about fingerprinting and other investigative techniques, worked with real-life crime fighters and even put all of their newfound law enforcement knowledge to work by cracking a few cases themselves.
The summer camp program is new to the museum, which opened in 2012.
"We talked about how it would be cool to have a summer camp," said Paul Camacho, a museum board member and former special agent in charge of Internal Revenue Service criminal investigations in Las Vegas.
Camacho worked with the museum to develop an exhibit about the role IRS criminal investigators have played in bringing down mob figures and fighting crime. So, he says, one goal of the camp would be to expose children to the broad diversity of law enforcement and show them that solving crimes often involves more subtle work than all of that flashy shoot-em-up stuff they see in the movies.
Other goals were to teach campers about investigative techniques and how the legal system works. Jessica Reymond and her son, Cody, learned about the camp while taking a visiting nephew to The Mob Museum on an outing.
"The kids loved it," she said, "and while we were here, we found out about the summer camp."
The camp is designed for kids ages 11 to 14, and Cody's experiences there turned out to be the envy of his too-old-for-camp brother and cousin. When Cody came home early in the week talking about how they learned to do fingerprints, "my 18-year-old said, 'I would have loved that,' " Reymond said.
Each camper received a T-shirt denoting his or her status as a "special agent of summer" and an official badge. Diana Rafferty, the museum's education manager, said that wasn't enough for a few campers who, in the spirit of the mobsters they had learned about, wanted tags bearing their nicknames, too.
"The next morning, I gave them unofficial badges," Rafferty said, smiling. "I've got 'Mouth.' I've got 'Baby.' I've got 'Legs.' "
At midweek, the campers spent a day working with agents from the IRS criminal investigations unit in Las Vegas. The session began with campers being sworn in as special IRS agents.
Might that special agent status last until, oh, April 16? Special Agent Nakia Scruggs laughs. "Only for the day," she said.
The IRS agents told campers about their jobs and how by "following the money," the IRS has put away many criminals over the years, including some of the more famous, notorious guys the campers learned about at the museum, Camacho said.
The plan for the day was to involve campers in an interactive scenario to "give them a little experience about what it is to be a special agent," Scruggs said. "So, they'll get a little special agent training. We'll give them some hand-to-hand combat techniques and handcuffing techniques. And, they'll be investigating someone."
With chairs moved away and mats placed on the floor, the campers learned a few basic jabs, uppercuts and strikes, pounding away on strike bags. They learned how to handcuff someone using actual handcuffs (although the pistols they're given were, of course, fake).
"Any questions?" Special Agent Rob Norris asked.
"Can we do it again?" a young agent replied.
After the campers returned to their seats, a presentation about how IRS criminal investigators do their jobs was interrupted by a phone call: An informant wanted to come up and talk to them about a guy who's been stealing electronic goods and reselling them.
After an IRS agent — with an assist from the agent-proteges — interviewed the informant, it was decided that a meeting would be arranged. A wired Alex Nicola would be the undercover officer, while other campers would be members of surveillance teams, watching with IRS agents while the meet goes down by the museum's loading dock.
Alex handled his first undercover assignment well. As he negotiated with the suspect, Alex was asked how many iPads he wanted to buy. Three, Alex said.
"I'm thinking 300," the suspect replied.
The deal was made, and the agents returned to their headquarters to build a case. Checks of the house in which the suspect lives, the car he drives and his bank accounts revealed he's living well beyond his $10,000-a-year sales clerk's salary.
What else, the campers were asked, might the IRS have to use in building a case?
"Secret weapons?" a camper said.
Tax returns. A check of the suspect's tax returns showed he'd reported only income from his real job. The group decided to obtain a search warrant to investigate the suspect's home and a storage unit. Camper/agent Alexandra Vasknetz was chosen to present to a judge the investigators' findings so far.
In the museum's courthouse exhibit, Alexandra offered a solid rundown of what the team suspected and what it already knew. The search warrant was granted, and the investigation continued, with even a check of the suspect's trash yielding important bits of evidence.
Long story short, another meeting was set up and the suspect was arrested in the parking lot behind the museum with IRS agents' vehicles' sirens sounding and campers converging on the hapless perp with faux pistols drawn.
The real agents congratulated their proteges for doing some solid police work. Along the way, the campers learned not only about how law enforcement officers build a case, but how painstaking that task can be.
Courtroom speaker Alexandra Vasknetz, 14, signed up for camp at the urging of a friend's mother, and said the week turned out to be "interesting." While she never had thought of pursuing a law enforcement career, she said the possibility "certainly has options for a career, because it's pretty cool."
That day's events offered "a lot of excitement," she said, but her favorite activity so far was "just being able to sit in the car (during surveillance) and talk to the agents."
Undercover agent Alex Nicola, meanwhile, said he liked "the investigation, and how to find out what happened and see who's guilty and who's not guilty."
Before the week was over, campers would work another case, this one about artifacts that were disappearing from the museum. Not to spoil the ending, but the young agents already had a strong suspicion an employee of the museum was involved. That case would culminate on the last day of camp with a trial at which campers would play the roles of various court officers.
"Hopefully, they'll bring back a conviction. We'll find out," Rafferty said, laughing. "But they'll have a lot of fun with it."
Contact reporter John Przybys at jprzybys@reviewjournal.com or 702-383-0280. Follow him: @JJPrzybys