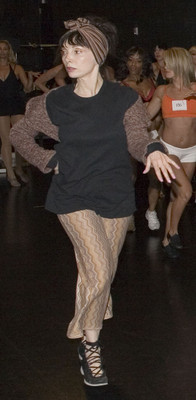 Kid Rock has thrown in the towel on the proposed pay-per-view grudge match with Tommy Lee.
Rock made it clear Monday the fight was going nowhere during an appearance on the Howard Stern Show, which included a verbal confrontation by telephone between Rock and "Beacher's Madhouse" producer Jeff Beacher.
Rock, who was charged with misdemeanor battery for whacking Lee during the broadcast of the MTV Video Music Awards Sept. 9 at the Palms, said he wanted $250,000 up front before talking to Beacher.
Beacher, in a collaboration with boxing promoter Bob Arum, had offered a $5 million winner-take-all deal to Rock and Lee.
When Stern brought Beacher on the show, Rock clammed up. Afterward, Beacher told me, "Kid Rock should pay me $250,000 for keeping him in the press and helping to sell his album.'
During the interview with Stern, Rock took a couple of more shots at ex-wife Pamela Anderson, who got married to Rick Salomon on Saturday in Las Vegas.
When Stern asked Rock why his 2006 marriage to Anderson ended so quickly, Rock said it was all about the money: He had it and she didn't.
Stern pressed for more details, but Rock said he could get in legal trouble for talking about the failed relationship.
When Stern asked Rock if Anderson was worth less than $3 million, Rock nodded.
HAPPY ANNIVERSARY, 'MICKEY'
Twenty five years ago today Toni Basil's smash hit "Mickey" spent a week atop Billboard's Top 40.
Most one-hit wonders are never heard from again.
Not Basil, who grew up in Las Vegas. She became a pop culture phenomenon.
"This all has never gone away," said Basil, who is returning to her hometown in February as choreographer for Bette Midler's show in The Colosseum at Caesars Palace.
"I was just on 'The Singing Bee' (on NBC) the other night. P. Diddy did it as a chant during the (2004) Super Bowl halftime show. It's used a lot. Every generation, a group of girls uses it for cheerleading tryouts or dancing in some cheerleading competition.
"I went on YouTube and I was looking at cheerleaders all over world to see what's done and what they were doing now and on YouTube in China they're using that song for a competition, because they have a lot of cheerleading competitions. In China! That song is not going away. It just keeps getting recycled in each generation."
Check YouTube and you'll find endless parodies of the 1980s classic, from Weird Al Yankovic's rendition to others featuring Spanish crooner Luis Miguel and seemingly every cheerleading wannabe.
Basil's back story begins when her parents moved from Chicago to Las Vegas, where her father was the orchestra leader at the Sahara for years. She recalls seeing lounge legends Louis Prima and Keely Smith while walking through the Sahara.
Within a year, Toni was attending Las Vegas High School and putting her ballet training to good use as a cheerleader.
After graduating in 1961, she headed for Los Angeles to pursue dancing.
Her choreography career was well-established — she was the choreographer for David Bowie, Tina Turner and Midler's tours in the 1970s — when a perfect storm of good timing made her a music video icon.
Her side trip to video fame started in Europe in the late '70s.
She was signed to a video album deal through a European company at a time when music videos were in their infancy in the U.S.
"I found a song called 'Kitty' that was recorded a couple years before by an English group and I changed the name from Kitty to Mickey," she said. "And I put the chant on it so I could shoot this cheerleading video (in her Las Vegas High cheerleading outfit)."
Someone with the British Broadcasting Company spotted Basil doing "Mickey" on late-night television in Europe and tracked her down for a TV special.
Within a few months, she was topping the charts in England and Australia.
"Not until after that did I get an American deal as a recording artist," she said. That was about 1981, when something called MTV started taking off.
"It's all about timing," she said.
THE SCENE AND HEARD
Chuck Liddell, in November's issue of Playboy, talks about an incident at a Las Vegas club that almost led to a catfight between Willa Ford, his girlfriend at the time, and Paris Hilton. Liddell got security involved before a brawl broke out between Paris' pals and Liddell's UFC buddies. Now that's a fight I'd pay big bucks to see.
THE PUNCH LINE
"Today is World Teachers Day. All over the world we honor teachers. Although I think if you really want to honor teachers, you should probably just pay them." — Craig Ferguson
Norm Clarke can be reached at (702) 383-0244 or norm@reviewjournal.com. Find additional sightings and more online at www.normclarke.com.
NORM CLARKEMORE COLUMNS