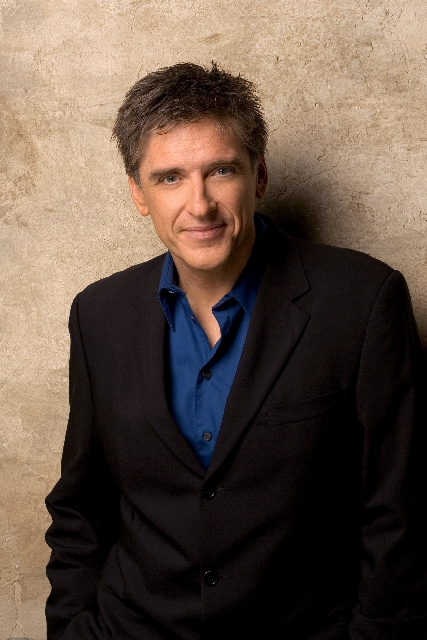 Late-night TV host Craig Ferguson likes being a dad so much, he wants to father children with his new wife. Ferguson, performing stand-up tonight through Feb. 27 at the MGM Grand, says it's refreshing to hang out with children.
"It reminds me of my drinking days. A toddler around the house is just like having a very small drunk. They're crazy. They have mood swings. They do dangerous stuff. They'll pour stuff on their heads. They're my kind of people."
Plus, he says, when kids start a tantrum, they're easier to handle than boozers: "You just pick 'em up. Drunks — not so easy."
How many more kids does he want?
"Uh, less than eight. And more than one," he says. "When you become a parent, you go from being the star of the movie in your own life to the extra in the movie of someone else's life.
"It happens immediately. And I kind of like that."
If Ferguson gets his kid wish, it will be with art dealer Megan Wallace Cunningham. They married in December after living together for three years.
This is Ferguson's third marriage. Here's my question: Comedian-actor Tom Arnold once said a man in his second marriage is well-trained, but less patient — so what is a man like during his third marriage? Ferguson doesn't have a good answer yet.
"The only reason I married my wife is she's the only person on the planet who could have changed my mind about gettin' married again. I thought, 'Well, I probably should have applied that criteria to the first two.' "
Ferguson, who earned his U.S. citizenship last year, delved into his past recently to write his second book, an autobiography called "American On Purpose," coming out in the fall. But his past wasn't easy to recall in full.
"I was having to try to remember stuff (from) back in the drinking days. It's very (expletive) patchy back there. But I just dressed up the lies, so it should be OK," he jokes.
Ferguson's show times are 9 p.m. daily in the MGM's Hollywood Theatre ($69.85; 891-7777).
YOUR CONCERT SHOW GUIDE
Emo band Thursday plays today in the House of Blues at Mandalay Bay; Ray Romano and Brad Garrett are at The Mirage today and Saturday; Yes does the House of Blues on Saturday; Dana Carvey jokes at The Orleans today through Sunday; Al Stewart sings today at Santa Fe; Skid Row rocks at Sunset Station today; Brooks and Dunn country up the Star of the Desert Arena at Buffalo Bill's in Primm on Saturday; and Mosaic sings at the Las Vegas Hilton on Saturday. Check out today's Neon section for more on all that.
What do you think about all this? Write your thoughts on my blog (reviewjournal.com/elfman) or e-mail me (delfman@reviewjournal.com), and I'll post them. My column runs Sundays, Mondays, Tuesdays and Fridays. See you then.