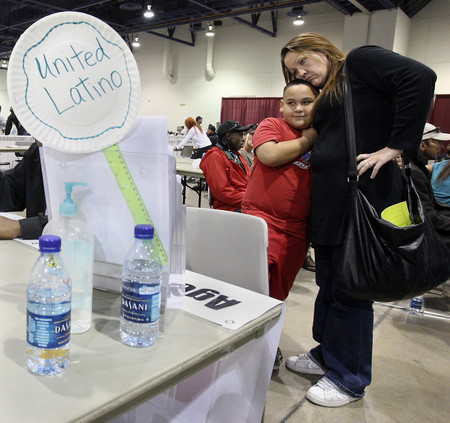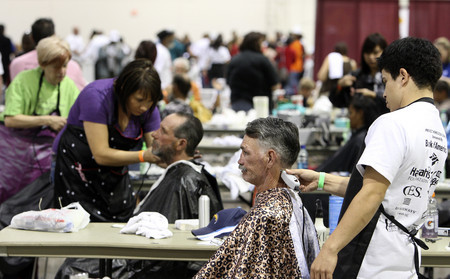 Nine-year-old Julian has nightmares that his mother will be killed by a violent ex.
Manuela, 12, is afraid she will never again live anywhere other than a homeless shelter.
And 8-year-old Bradley worries that the police will come to arrest him and his mother because they are living in an unregistered car.
Dozens of children were among the thousands of mostly desperate people who attended Tuesday's Project Homeless Connect at Cashman Center, an annual event that aims to help some of the valley's estimated 13,300 homeless people find housing, jobs and other services.
The Clark County School District reported in April that 352 children were living in homeless shelters, with 82 others living in cars, RVs or parks.
On Tuesday, 72 children attended Project Homeless Connect, according to the county. With their mothers' permission, the Review-Journal sat down with some of them to ask about their lives, fears and dreams.
BRADLEY
Bradley Mars, a towheaded third-grader, is happy to tag along behind his mother, the "best mom in the world," as she applies for social services, seeks housing assistance and visits the "prayer booth" at Project Homeless Connect.
But he's not happy that the two of them have been living with another family in a Dodge Neon for the past several days, camping in parking lots of big-box stores around town.
That's the situation in which he and his mother, 34-year-old Brenda Melendez, have found themselves since they ran out of friends willing to let the family crash at their places. Melendez, who says she suffers from health problems including depression, has struggled to provide for the boy the past several years.
"It's a little bit hot," Bradley says of sleeping in the cramped car. "It's uncomfortable."
Bradley wishes he had a refrigerator, not to mention a home.
If he and his mom are someday able to get their own place, the first thing he'll do is "throw a surprise party for my mom," to cheer her up.
When asked what he worries about, Bradley says sleeping in a car is scary.
"I'm afraid the police are going to come and get us because we don't have (car) registration and we'll all go to jail."
After a moment, he adds: "That's all."
JULIAN
As he waits patiently for a free haircut at Project Homeless Connect, fourth-grader Julian Frost opens up about what it's been like to be homeless with his mother, 29-year-old Shelly Frost, for the past year or so, since she lost a temporary job and the two were kicked out of a friend's place because it was too crowded.
The friendly youngster, who repeatedly interrupts himself to call out hellos to passers-by, doesn't enjoy the challenges that come with living in a downtown homeless shelter.
"It's so crowded, and the other kids pick on me, call me fat," he says, scowling. "There's too many kids, running around and screaming. I miss watching TV."
Despite his living situation, Julian says he does well in school, where his favorite subjects include "science, P.E., computers, everything besides math."
But it's hard sometimes to concentrate because of the constant worry that stems from frequent moves and the frightening exchanges he witnessed months ago between his mother and her ex.
"I worry that she's going to get killed while I'm at school," he says.
Julian's biggest wish is that he and his mother will one day have a place of their own, "with five bedrooms and a big pool."
MANUELA
Manuela Tucker is almost a teenager, and she craves privacy.
But the quiet, serious sixth-grader gets very little of it living in a crowded homeless shelter with her mother and two brothers.
That's where the family has stayed in recent weeks, since an aunt asked them to move out for fear she would get in trouble with her apartment complex's manager for housing them all.
As Manuela tells it, in the past several years the family has bounced from Washington state to Arizona to Las Vegas looking for a better life, but nothing has worked out.
Her mother hasn't worked since 2007.
And her father?
"I don't know where he's at."
Manuela, who wants to be an actress or a singer when she grows up, was hoping to get some decent used clothes at Project Homeless Connect. She isn't sure what her mother, who has wandered away, was hoping for.
In addition to the lack of privacy, Manuela doesn't like how the shelter requires all its residents to get up each day at 6 a.m.
And, though she tries not to think about it too much, she's terrified that she'll be stuck living there forever.
"It really sucks staying at a shelter."
Contact reporter Lynnette Curtis at lcurtis@ reviewjournal.com or 702-383-0285.