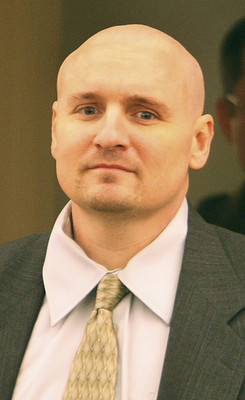 When most kids were playing with toys, Bryan Crawley — now a convicted murderer — was learning how to be a petty criminal.
Crawley's mother taught him to steal handbags for her when he was about 5 years old, said Christopher Oram, one of Crawley's attorneys.
Oram spoke at Crawley's penalty hearing in District Court, which started Wednesday. He told jurors that they didn't have to sentence Crawley to death for killing Las Vegas businessman John Herda in 2006 during a home invasion and robbery.
Jurors on Monday convicted Crawley of killing Herda. They also convicted him of more than 20 other charges, including attempted murder, trying to hire a hit man to kill witnesses and armed robbery.
Oram tried to soften the image of Crawley, who turned 41 on Wednesday. Crawley's father, a Vietnam War veteran, was abusive, and Crawley's mother groomed him to be a criminal, Oram said.
He said Crawley was like the Artful Dodger, a character in Charles Dickens' novel "Oliver Twist" who was trained by an adult to become a cunning pickpocket.
County prosecutor Marc DiGiacomo said Crawley has an extensive criminal history that started well before he shot and killed Herda.
In the early 1990s, Crawley assaulted an elderly man in Las Vegas during a robbery attempt, DiGiacomo said. In 1998, Crawley shot a man in the leg at a North Las Vegas bar. In November 2000, while dressed as a police officer, Crawley and another man robbed several men in Las Vegas.
"He got a taste for it. He enjoyed it," DiGiacomo said.
Allison Kiel, Crawley's ex-girlfriend, testified Wednesday that he physically abused her when they were dating. She said he would hit and choke her and once stabbed her in the leg. When she tried to leave him, he would find her and beat her.
Once, he caused her to crash her car when he was chasing her in his vehicle, she said. The accident broke her neck, punctured her lungs and nearly tore her arm from its socket. She was in the hospital for two weeks.
Crawley hit her while she was recovering in the hospital, she said.
Herda, 83, founded Herda Discount TV and Appliance. Originally from Detroit and born of Romanian immigrants, Herda joined the Marines after the Japanese attacked Pearl Harbor and fought at Guadalcanal and at the Battle of Tawara, said Susan Herda, the victim's daughter-in-law, who had known Herda since she was 16.
She recalled that Herda was a central figure within the family. She and her husband, John Herda, built a house next to Herda's, and they lived as neighbors for 30 years.
"It's been really tough" since his death, she said.