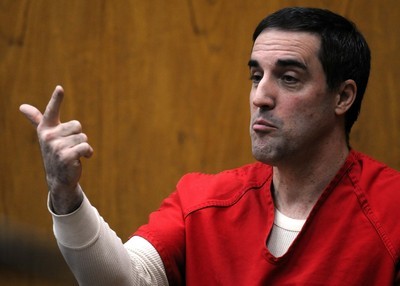 RENO — Convicted murderer Darren Mack testified Thursday that his estranged wife overpowered him and pointed a gun in his face before he responded in self-defense by fatally stabbing her in the garage of his Reno home.
Mack, a wealthy former pawnshop owner, told District Judge Douglas Herndon on the first day of his sentencing hearing that there was "another side" to his 39-year-old wife, Charla, that was so violent he feared for his life and took to wearing a bulletproof vest.
But Special Prosecutor Christopher Lalli said Mack is much larger than his 5-foot-4, 134-pound wife, who was killed June 12, 2006. Lalli said he doubted there ever was a gun.
"Weren't you stronger than her?" Lalli asked.
"When she got in her fighting mode, she had amazing energy," Mack replied.
Charla Mack was stabbed in the neck so severely that her head was almost severed, Lalli said.
Darren Mack, 46, spoke for nearly three hours during the penalty phase hearing, which will end today when Herndon hands down his sentence.
Mack pleaded guilty Nov. 5 in Las Vegas to first-degree murder after prosecutors offered a deal that he receive a 20-year to life sentence. He also made an Alford plea to the attempted murder of Washoe County Family Court Judge Chuck Weller. Such a plea admits only that prosecutors have enough evidence to prove a case.
About 90 minutes after killing his wife, Mack went to a parking structure in downtown Reno and with a rifle shot Weller, who was standing 170 yards away by a window in his courthouse office.
Weller, who was handling the couple's acrimonious divorce, was wounded in the shooting but returned to work two months later. He is scheduled to testify today.
Lalli said the state Parole and Probation division has recommended Mack be given a 16-year to 40-year sentence for shooting Weller. He added that the state is recommending the sentence be imposed consecutively on the sentence for Charla Mack's murder.
Herndon is not bound by the plea bargain or the state recommendation. But if he follows it, Mack would remain in prison for at least 36 years.
In Thursday's hearing, Mack never mentioned having any remorse for the killing until asked by his lawyer, William Routsis.
"It was tremendous tragedy," Mack said. "The impact is my little girl doesn't have a mother and my two stepchildren don't have a stepmother. I lost a wife, too. I wish that day never occurred."
Mack complained repeatedly that his previous lawyers, Scott Freeman of Reno and David Chesnoff of Las Vegas, with Lalli, were "liars."
Mack said he was forced by his lawyers to plead guilty when what he wanted to do was claim self-defense.
He said he made the guilty plea after spending many sleepless nights lying on a thin mattress on a hard bed in the Clark County Jail.
"I was betrayed by my lawyers," he said.
He said Chesnoff had told him he would be acquitted.
After the lawyer received the final $160,000 payment on the $1,260,000 he received for defending him, Mack said, Chesnoff suddenly wanted him to plead guilty.
Last month, Herndon rejected moves by Mack to withdraw his guilty plea and receive a new trial.
"Give me a jury trial, Mr. Lalli," Mack said Thursday. "If I lose, I'll take the death penalty."
Mack said Weller had made biased orders that favored his wife and forced him into bankruptcy. He said that he was earning $44,000 a month, but that Weller's decisions forced him to pay out $18,000 a month more than he was earning.
At other points in the hearing, Mack said he had to live on $5,000 a month.
A few weeks before the killing, Mack said, Weller ordered him to pay his wife a $1 million settlement.
Mack said he told the judge he did not have the money but Weller threatened to jail him and prevent him from seeing his 9-year-old daughter if he did not pay.
Mack earlier said he voluntarily offered his wife a $1.2 million divorce settlement.
His net worth in 2005 was estimated at $9.4 million.
Mack fled to Mexico after the killing and shooting. He testified Thursday that he voluntarily returned because he wants to fight on behalf of those hurt by judges.
"I came back to make sure it doesn't happen to other people," he said. "There are two things you can't admit in court in Nevada: They are proof and the truth."
Mack said he plans to "get out the truth about what happens in the judiciary."
"For the next few years, I'll have a private office to work in," he said.
Contact reporter Ed Vogel at evogel@reviewjournal.com or (775) 687-3901.