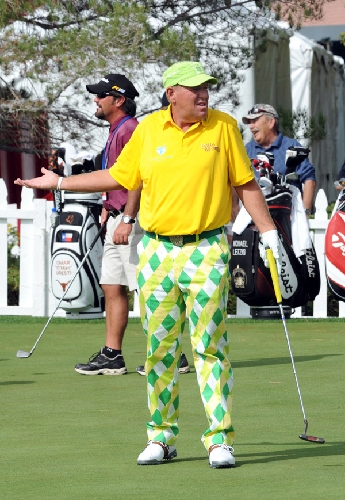 Some epic Las Vegas partying appears to be temporarily derailing the comeback plans of rising golf star Anthony Kim.
Kim, who has said he wanted to shed his party-boy image, withdrew from the Justin Timberlake Shriners Hospitals for Children Open on Wednesday after reports surfaced about a weekend of high-stakes gambling and a hard-partying spree.
Several golf outlets attributed his departure to a nagging thumb injury.
But after Vegas Confidential reported Wednesday that he had been admonished for his "loose cannon" behavior while gambling at the Bellagio, the website Golf.com ran details on Kim's wild night at Jet nightclub at The Mirage.
Golf.com ran a tweet posted on the Twitter site of Palms' resident DJ Exodus. The tweet, with a time stamp of 1:02 a.m. Tuesday, read: "Anthony Kim is an animal 115 bottles then to top it off a 25k bottle of Dom, which he showered the dance floor with …"
Kim's rep, IMG's Dave Haggith, told Golf.com that the incident at the Bellagio had nothing to do with Kim's withdrawal from the tournament.
"The two are completely unrelated," said Haggith, adding the Vegas Confidential report was overblown. "He was being boisterous and he was asked to calm down and he was compliant."
Golf.com wrote: "Normally a story about a Tour player going out and having fun on a Monday night wouldn't make many headlines, but Kim has been in this position before. At the 2009 Presidents Cup, Robert Allenby referred to AK as the 'current John Daly,' saying that the then-24-year-old was up drinking until 4 a.m. the night before a match. Allenby later apologized, but the damage to Kim's reputation was already done."
Vegas Confidential reported Wednesday on Twitter that Kim was partying with NFL Hall of Famer Jerry Rice at Pure. Their evening included spraying champagne into the crowd.
THE SCENE AND HEARD
The 10th annual Michael Jordan Celebrity Invitational at Shadow Creek was announced Wednesday. It will take place March 30–April 3. …
My head is still spinning from so many same-sounding names in one week: Lili Claire, Bob Sinclar and Claire Sinclair. The Lili Claire Foundation (which I mistakenly referred to as Marie Claire) sponsored the Nevada Wild Fest. Sinclar, the French DJ, performed at Haze (Aria) on Sunday, and tonight Sinclair, the 19-year-old Miss 2010 October Playboy Playmate, will be introducing two new numbers at the Crazy Horse Paris revue at the MGM Grand. Hugh Hefner and galpals are expected.
SIGHTINGS
Joining Timberlake in the Pro Am on Wednesday was rising PGA star Rickie Fowler, NFL Hall of Famer Emmitt Smith, retired NFL quarterback Doug Flutie and pro John Daly. … Oscar-winning director Oliver Stone, at Sapphire on Tuesday with a friend. … Twitter co-founders Evan Williams and Biz Stone, along with Twitter vice president of product Jason Goldman, hosting Twitterati for local Twitter personalities at Blush Boutique Nightclub at Wynn Las Vegas on Tuesday. … Gavin Maloof, in the private box of New York Yankees senior vice president Hank Steinbrenner with Yogi Berra and others during Game 4 of the American League Championship Series on Tuesday.
THE PUNCH LINE
"Hopefully Brett Favre won't be suspended. It would break his streak of retirements." — Jimmy Kimmel
Norm Clarke can be reached at (702) 383-0244 or norm@reviewjournal.com. Find additional sightings and more online at www.normclarke.com.