King dream a nightmare for bigoted Howard Hughes
January 19, 2016 - 6:24 am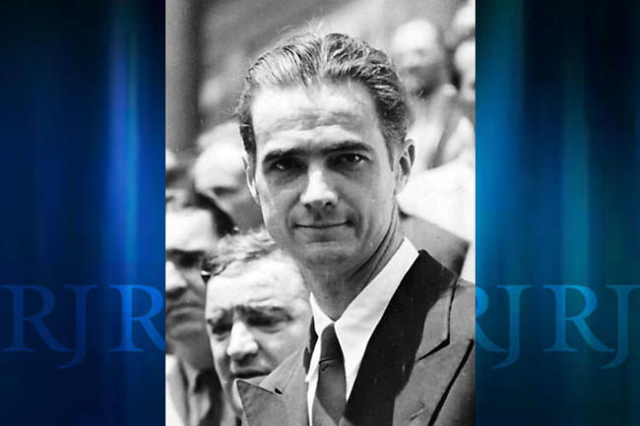 Suspected Confederate holdout Hey Reb! dodged a bullet when a group of UNLV academics determined the school's mustachioed mascot was more outdoorsman than anachronistic embarrassment.
Despite taking some pointed criticism by U.S. Sen. Harry Reid, the Las Vegas airport is still named after bigoted Nevada political powerhouse Pat McCarran.
So perhaps it's understandable Southern Nevadans aren't particularly agitated by the ubiquity of the name of a famous and historically important former Las Vegan, whose outright disregard for blacks puts the UNLV caricature and the deceased politician to shame.
I am speaking, of course, of the late eccentric billionaire Howard Hughes. More than a much-made-over university mascot and a U.S. senator who died in 1954 before the rise of the modern civil rights movement, Hughes fomented his racist views at a pivotal time in Las Vegas history when he was at the height of his power. And there's clear proof that those views were set to a political purpose that helped hold back minorities in the late 1960s.
His words, culled from the missives he wrote to his business alter-ego Robert Maheu, paint a picture of Hughes that his community boosters at the time either didn't know or care about. Those passages are especially stinging during a time set aside to honor the brave life of civil rights legend Dr. Martin Luther King Jr. (Most of the politicians were too busy trying to sidle up next to him and tap his campaign slush fund to bother with whether the new boss of Las Vegas was a throwback to the days the community was known as "the Mississippi of the West.")
The Hughes-Maheu memos first reached a wide audience in 1985 with the publication of Michael Drosnin's "Citizen Hughes." Hughes hated "negroes," believed them to be unclean, a menace to mainstream society — and bad for his business bottom line.
Writing to Maheu, Hughes said he knew, "there is tremendous pressure on the strip owners to adopt a more liberal attitude toward integration, open housing, and employment for more negroes. Now, Bob, I have never made my views known on this subject. And I certainly would not say these things in public. However, I can summarize my attitude about employing more negroes very simply — I think it is a wonderful idea for somebody else, somewhere else. I know this is not a very praise-worthy view, but I feel the negroes have already made enough progress to last the next 100 years, and there is such a thing as overdoing it.
"… I know this is a hot potato, and I am not asking you to form a new chapter of the K.K.K. I don't want to become known as a negro-hater or anything like that. But I am not running for election and therefore we don't have to curry favor with the N.A.A.C.P., either."
It wasn't an isolated moment. Hughes was only too happy to weigh in on the state of affairs of the "negro." He passed on the Ali-Frazier championship prizefight because he was concerned that too many blacks would be attracted to his Desert Inn.
The same was true for professional tennis. He couldn't stand the thought of Arthur Ashe on the country club's illustrious courts.
Although it's been widely written that Hughes bought KLAS TV-Channel 8 as a way of making sure he could watch his favorite late-night movies, rarely reported is that he was a virulent critic of the station's groundbreaking minority programming.
And after the actor James Earl Jones kissed a white woman during the television broadcast of "The Tony Awards," Hughes was beside himself with outrage. He called the actor who portrayed a character based on the boxer Jack Johnson in "The Great White Hope" a "repulsive gob of grease."
Hughes acted on his racist views by sending a legal minion to the state Legislature to work in concert with the Laxalt administration to defeat fair-housing legislation.
As mysteriously as he'd arrived during the Thanksgiving holiday in 1966, Hughes departed in 1970.
In fairness, his legacy has manifested itself in positive local developments Hughes had no hand in, and I've seen no evidence that his old paranoia and prejudice survived his departure from the Las Vegas shadows of power.
And he wasn't alone in his beliefs.
"Many casino owners fiercely resisted civil rights legislation in Nevada," Annelise Orleck wrote in "Storming Caesars Palace: How Black Mothers Fought Their Own War on Poverty." "But none was more adamant, or freer with invective, than aviation and film mogul Howard Hughes."
Just imagine what the nutty billionaire would have thought of Monday's Martin Luther King Jr. Day parade.
— John L. Smith's column appears Sunday, Tuesday, Wednesday, Friday and Saturday. He can be reached at 702-383-0295 or jsmith@reviewjournal.com. On Twitter: @jlnevadasmith