Korn pumps out a lot of metallic energy at the Pearl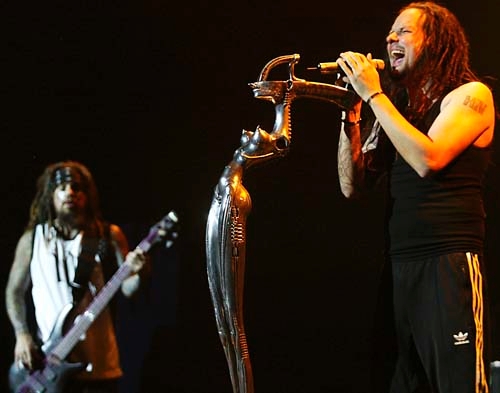 He's pretty much the Charlie Brown of heavy metal, a tsunami of hair and hurt, his sharp-edged words all barbed wire and betrayal.
In the loud, rumbling avalanches of anxiety that double as his band's tunes, Korn frontman Jonathan Davis hardly ever catches a break — and yet, he always seems broken.
His emotional well-being is prone to some gruesome crashes, like an airplane whose landing gear is stuck in the up position.
"My inner self-esteem is low. How deep can I go?" Davis asked during a bruising "Blind" at The Pearl on Friday, singing hunched over at the knees, head down, his long, dark mane mopping the stage of his sweat in a pose equally suggestive of penitence and pain.
"Why do I feel so helpless?" he wondered aloud earlier, sounding like a dude in desperate need of a Happy Meal and a hug, maybe a few minutes to take in some kitten videos on YouTube.
But for all the scab picking inherent in Korn's catalog, there's something galvanizing and invigorating about the band's metallic mood swings, which come on like thundering therapy sessions, especially live.
Their sound is just as cathartic as Davis' lyrical postcards from the edge are.
It all begins with a domineering, concussive low end, marked by bassist Reggie "Fieldy" Arvizu's seemingly bottomless bass lines, which can be felt in your chest cavity.
Guitarist J. "Munky" Shaffer's combination of turgid riffs and squealing notes is the high-pitched counterpoint to the band's gut-churning rhythmic density, with Davis' elastic, changeling voice charting all the territory between the two, ranging from death metal gurgling to falsetto pleading.
Because they focus on the rhythm first, Korn's tunes are often defined by a rock-steady groove, and as such, they possess a somewhat unique trait in the metal canon: you can actually dance to them.
And at The Pearl, there were plenty of hips swishing to the beat — not a frequent sight at a show of such a hard-edged nature — particularly from the ladies in attendance, some of whom even ventured into the mosh pit.
But though the sonics were stern, there was a palpable sensitivity in much of Korn's repertoire — this too sets them apart from most of their headbanging brethren — with Davis largely eschewing any metal machismo.
"What looks so strong, so delicate," he sang on the hooky "Coming Undone," sounding triumphant in defeat, and the same kind of vulnerability was present in songs such as "Somebody Someone," with its vaguely Middle Eastern guitar signatures, the pulsating, digital throb of "Throw Me Away" and new tune "Oildale," from the band's forthcoming "Korn III: Remember Who You Are," which was driven by roiling guitars and a big-voiced chorus.
But for all of Davis' woe, this night was not a dour one.
Instead, it was a lively, sweaty outburst of pent-up energy.
Shaffer, smiling wide, seemed to be enjoying himself as much as anyone in the house, playing from his knees, on his back, sprawled out face first at the lip of the stage, knocking over monitors and hurling water at any crowd members in the wings who dared to not get out of their seats during the band's performance.
Davis, too, appeared energized, throwing himself into his songs with such physical abandon that he was sucking on oxygen and energy drinks in-between tunes.
He may give voice to feelings of helplessness and loss, of being bullied and belittled, but for him — and this is the lesson to be taken away from this band — comeuppance is always just around the corner.
"You'll never see me fall from grace," he sang during Korn's biggest hit, "Freak on a Leash," and rightfully so: Charlie Brown may never win, but he never gives up either.
Contact reporter Jason Bracelin at 702-383-0476 or e-mail him at jbracelin@reviewjournal.com.
REVIEW
Who: Korn
When: Friday
Where: The Pearl at The Palms
Attendance: 2,000 (est.)
Grade: A-