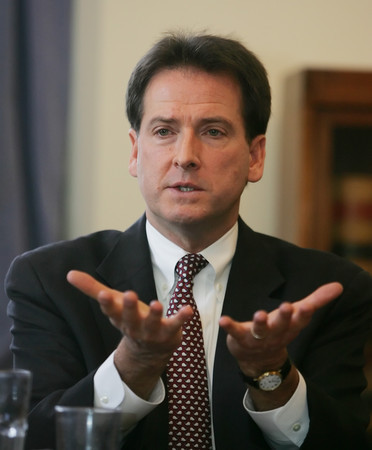 Lt. Gov. Brian Krolicki will stand trial in Clark County on charges he misappropriated state funds, a District Court judge ruled Tuesday.
Judge Valerie Adair denied a motion to have the case dismissed based on venue, which was made by Krolicki's attorneys in August.
His lawyers argued that evidence presented by the state attorney general's office to a grand jury showed the acts in question occurred in Northern Nevada and were not directly linked to any act in Clark County.
Adair ruled prosecutors had met the burden of "slight or marginal evidence" needed to establish venue in Clark County, according to court records.
Authorities contend that Krolicki, while state treasurer, and Kathy Besser, his chief of staff, misappropriated about $6 million in fees earned by the state's college savings program by not depositing it in state accounts. The funds have been accounted for.
The attorney general's office maintained that Clark County is an appropriate venue because the majority of the money paid into the state's college savings program came from Clark County residents. The funds also paid for advertising in Southern Nevada.
Besser's attorney, Lidia Stiglich, said trying the case in Clark County does not change the fact that her client is innocent. "There is no crime there," Stiglich said. "We're confident that anywhere in the state of Nevada, we will prevail on the merits."
Chief Deputy Attorney General Conrad Hafen said he was pleased with Adair's ruling and anticipated moving forward with the case.
The trial was scheduled to start Oct. 12 but might be delayed. Attorneys for both defendants have indicated that they plan on again filing a motion to disqualify the attorney general's office from prosecuting the case because of a conflict of interest.
Clark County District Judge Elissa Cadish had granted an earlier motion to do so, but the order was voided when she recused herself because of her own conflict of interest.
Stiglich said she also expects to file a motion to challenge the "sufficiency of the evidence" against her client.
The time needed for the state to reply to those motions and for Adair to rule probably would delay the trial for months.
Krolicki was indicted on two counts of misappropriation and falsification of accounts by a public officer and two counts of misappropriation by a treasurer. Besser faces two counts of being a principal to misappropriation and falsification of accounts and being a principal to misappropriation by a treasurer.
Both Krolicki and Besser have pleaded not guilty.
Krolicki's attorneys did not return a call seeking comment.
Contact reporter Francis McCabe at fmccabe@reviewjournal.com or 702-380-1039.