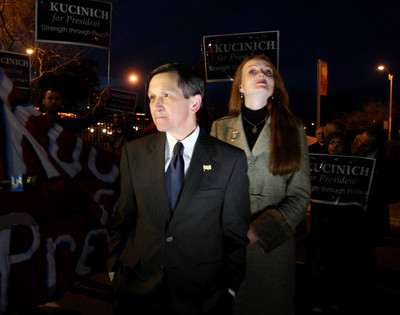 Less than an hour before long-shot candidate Dennis Kucinich was to take the stage, the Nevada Supreme Court announced that MSNBC could exclude the Ohio congressman from Tuesday evening's Democratic presidential debate.
Lawyers for NBC Universal Inc. had asked the court to overturn a lower court's ruling ordering the cable network to allow Kucinich to participate in the debate or cancel the broadcast.
The Supreme Court unanimously ruled that alternate District Judge J. Charles Thompson overstepped his authority when he signed an order requiring the network to allow Kucinich to take part in the debate with Hillary Clinton, Barack Obama and John Edwards.
Thompson had ruled that NBC Universal broke its contract with Kucinich when it barred him from taking part in the debate. Thompson signed a temporary restraining order Tuesday morning against NBC Universal.
The Supreme Court determined that the lower court had "abused its discretion in determining that a contract existed between the parties."
And in a footnote, it wrote that the lower court's ruling was an "unconstitutional prior restraint" on NBC's First Amendment rights.
Kucinich vowed to fight on after he received news of the decision, which might mean filing a complaint with the Federal Communications Commission or appealing to the U.S. Supreme Court.
"We are going to persist," he said. "No one should be shocked by this. No one should be surprised. This is how it works."
Speaking outside Cashman Center, Kucinich accused NBC, which he called "the media arm" of General Electric and defense contractor Raytheon, of excluding him because of his stance against nuclear energy and the Iraq war. "Why would they want someone to question (these things)? It's a threat to their bottom line," he said. "This is a real danger to our democracy."
Kucinich also was barred from the Jan. 5 debate in New Hampshire even after filing a complaint with the Federal Communications Commission arguing that the American Broadcasting Co. violated equal-time provisions by keeping him out of that debate.
The Supreme Court's decision brought an end to several tense hours of waiting. Four justices in Las Vegas and three in Carson City heard arguments from attorneys during an hour-long emergency hearing that began at 1:30 p.m.
The court announced its decision a little after 5 p.m. The debate was scheduled to begin at 6 p.m.
Attorney Don Campbell, who represented NBC and argued before the Supreme Court, said the court's decision amounted to a First Amendment victory.
"I think the decision shows the court's sensitivity to this very important issue," he said.
Kucinich on Monday filed a complaint with the district court claiming that NBC broke its contract with him when it rescinded an offer to allow him on the stage with the other candidates. He also claimed that the network wasn't following federal requirements providing for equal time for candidates.
The invitation was extended on Jan. 9 to presidential candidates who finished at least fourth in the Iowa caucuses or the New Hampshire primary.
New Mexico Gov. Bill Richardson came in fourth in New Hampshire and Iowa but later dropped out. Sens. Chris Dodd and Joe Biden, who also fared better than Kucinich in Iowa, also dropped out.
Kucinich received zero delegates in Iowa and about 1 percent of the vote in New Hampshire.
On Friday, Chuck Todd, NBC News' political director, sent the Kucinich campaign an e-mail rescinding the invitation, according to court documents.
"The people of Nevada would be better served by including him (Kucinich) in the debate," said William McGaha, Kucinich's attorney.
Campbell argued that the district court didn't have jurisdiction over the matter. He also argued that NBC wasn't breaching FCC rules because the Federal Communications Act doesn't apply to debates broadcast on cable television outlets such as MSNBC.
"We are not dealing with a broadcast station," he said during the hearing.
"They (MSNBC) are cable."
Kucinich attended the Supreme Court hearing but declined to comment after the proceedings.
Campbell also argued that the government shouldn't force a media outlet to give access to a candidate.
"Mr. Kucinich's claim … undermines the wide journalistic freedoms enjoyed by news organizations under the First Amendment," Campbell stated in court documents.
Contact reporter David Kihara at dkihara@reviewjournal.com or (702) 380-1039.
ON THE WEB
Nevada Supreme Court ruling