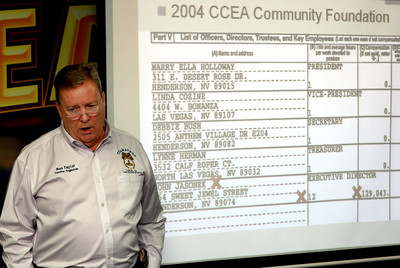 The battle for the right to represent Clark County's teachers in labor matters began in earnest Friday with dueling groups each claiming the other has mismanaged funds.
Teamsters Local 14, the challenger to the current union, held a news conference to denounce the Clark County Education Association for overpaying its officials and struggling to pay health care benefits.
The education association fired back by accusing Local 14 of waging a smear campaign and glossing over problems of its own.
Both will now vie for the support of the district's approximately 18,000 teachers.
The Teamsters said Friday that many teachers have complained to them about extremely late payments of medical bills by the Teachers Health Trust.
Ron Taylor, a school district teacher and Teamsters organizer, said those reports are disturbing.
"We can't have something like this be insolvent," he told a smattering of reporters and teachers at Friday's news conference. "Teachers and their families depend on it."
Taylor said the Teamsters, if they win the right to represent teachers, would fix problems with the health trust to avoid the fate that befell the bankrupt health trust of school district support staff six years ago.
Mary Ella Holloway, president of the education association, said on Friday that the Teamsters are relying on bad information to mislead the public about the health trust.
"They're just fabricating stuff," Holloway said in an interview before Friday's news conference. "We're very conscious of what can happen to us if we don't do things correctly."
The health trust's tax return from 2005 shows nearly $27 million in assets.
Holloway questioned the solvency of the Teamsters' own health fund, which had a $7 million deficit according to its most recently available federal tax return, from 2005.
When presented with that document on Friday, Local 14 head Gary Mauger couldn't explain the deficit.
"We'll look into it," he said. "Right now I'm not sure what that means."
Local 14 representatives also charged at the news conference that the education association and a related foundation have put the financial interests of their officers above all else.
The Review-Journal reported Friday morning that the foundation's executive director, John Jasonek, got $129,000 for 12 hours of work per week between Sept. 1, 2004 and Aug. 31, 2005. He received another $134,000 in the 2004 tax year as head of the teachers association.
Jasonek's foundation salary and the amount the foundation spent overall on administrative costs have been far above national averages, according to Charity Navigator, a New Jersey-based evaluator of charities.
Jasonek countered by saying his salary isn't excessive, especially when considering the services the foundation has provided to teachers and students.
Clark County School District officials said they are prepared for aggressive campaigns by both sides. The district's legal department last month issued a memo discouraging either side from courting teachers on school grounds during school hours.
"We have to remain neutral on this issue," district spokesman Michael Rodriguez said.
"We have no preference about which organization ends up representing educators."
Local 14 needs the support of more than half of all teachers in the district to oust the current union.
It plans to make a formal challenge to the teachers union as early as November, asking for an election to determine which union the teachers favor.