Lack of psychiatric care options for children taxes local emergency rooms
February 8, 2014 - 10:38 pm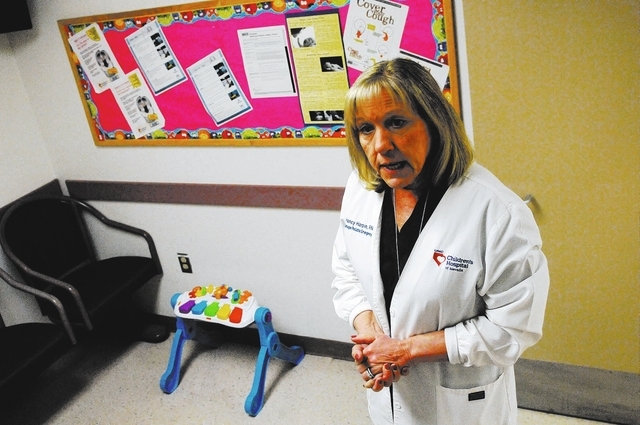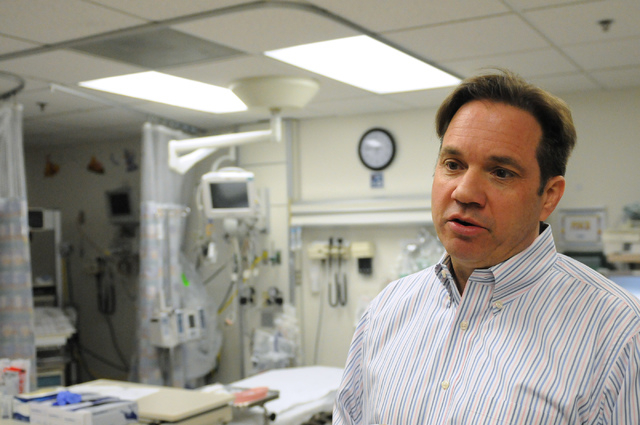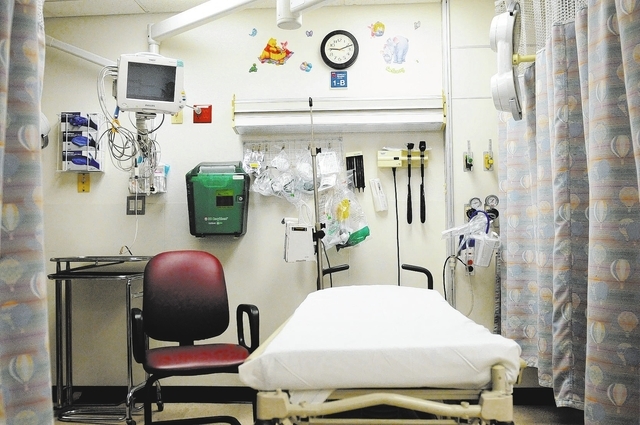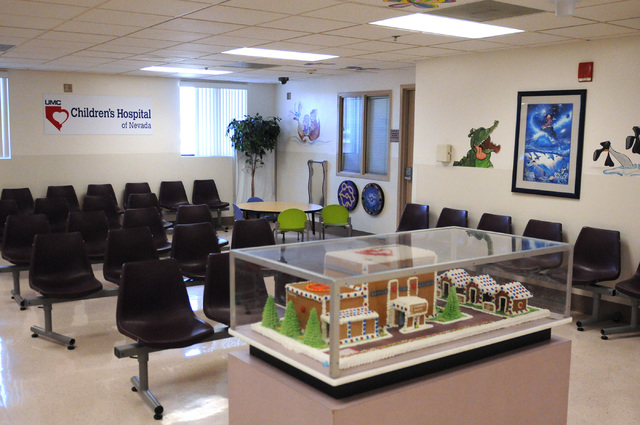 It's not just mentally ill adults creating an emergency services overload at University Medical Center and other local hospitals.
During its busiest times, the emergency room at UMC's Children's Hospital of Nevada deals with 10 to 12 patients an hour who have various physical ailments, not including those with psychiatric problems the facility is ill-suited to treat. Multiple ambulances can arrive simultaneously during the peak hours from 3 to 11 p.m. About six nurses and two doctors are usually on hand to provide care. In cases of mental illness, medical staff can only stabilize and medically clear the children. They are not able to treat their psychiatric conditions.
"It's not an ideal situation," Dr. Jay Fisher, head of UMC's pediatric emergency department, said on Wednesday as he walked through the facility.
But the scenario unfolds daily at the public hospital because the state's mental health system is not adequate to meet the growing demand for pediatric mental health services, according to UMC officials.
The children's emergency room sees anywhere between two to four patients in need of mental health services a day, and about 800 to 1,000 a year, Fisher said. That represents about 50 percent of all mentally ill children seeking treatment at emergency departments throughout the valley.
"We all share the same burden," Nancy Harpin, registered nurse and clinical manager at UMC's pediatric emergency department, said of emergency rooms dealing with mentally ill children.
Sunrise Hospital and Medical Center sees hundreds of children with behavioral health issues in its pediatric emergency department, said Brendan D. Bussman, vice president for strategic development and marketing for the hospital. Over the last several months, hospital officials have worked with other facilities to address the growing need that continues to outpace available resources, he added.
"We are committed to continue to address this challenging issue," he said.
The St. Rose Dominican Hospital, Siena campus sees an average of about three mentally ill children a week, spokeswoman Katie Ryan said.
The most common age group for children in need of mental health services at UMC is 13 to 17, but officials have seen patients as young as 4.
About 50 percent of the children brought to UMC's pediatric emergency department arrive by ambulance, Fisher said. They come from homes, schools, the Clark County Department of Family Services' Child Haven campus and the Clark County Department of Juvenile Justice Services.
The uninsured or undocumented make up about 25 percent of the children who wind up at UMC's pediatric emergency department, Fisher said.
Children and adolescents who come into the emergency room with physical ailments, such as fractures or deep lacerations, are in and out of the department in about 90 minutes, Fisher said. But children who come in with psychiatric needs end up staying an average of eight to 12 hours as they wait for a bed to open up at a mental health facility.
"It frustrates us because we are used to fixing things," said Fisher, adding that the situation consumes a lot of nursing and physician hours that could be devoted to children with medical emergencies.
"We don't have the manpower for that," he added.
And hospital staff can't always find placements for mentally ill children, Harpin said.
Desert Willow Treatment Center, which has 58 beds, is the only public hospital that will take children who have no payment source.
Desert Willow, on Charleston Boulevard near Jones Boulevard, has an eight-bed unit that officials haven't been able to open because of a nursing shortage, said Kelly Wooldridge, deputy administrator for the Nevada Division of Child and Family Services. The unit has been closed for a few years.
"There's just not enough nurses to go around," she said last week.
The facility has five vacancies for registered nurses that it needs to fill so it can open the unit. The beds could be used for acute care or for youth who have mental and substance abuse dis­orders, Wooldridge said.
"We have 12 beds for acute and it's full every day," she said.
During the last legislative session, Desert Willow was given $301,255 for fiscal 2013 and $400,209 for fiscal 2014 to fund the additional nursing positions needed to open the closed unit, Wooldridge said.
"We always have a recruitment list," she said, adding that hospital officials are involved in efforts to recruit at various nursing schools as well.
There are more resources available to children with insurance or Medicaid and they can be transferred to Montevista Hospital, a 90-bed facility on Rochelle Avenue near Jones, which last year made a $10 million investment in adding 72 beds, with 48 devoted to those from the ages of 12 to 17 in need of residential care.
They can also be transferred to private facilities, such as Spring Mountain Treatment Center, an 82-bed mental health facility, or Desert Parkway Behavioral Healthcare Hospital, which recently expanded its services for children.
Last month, the state's Division of Child and Family Services launched a pilot program to try to address the increase of mentally ill children at Southern Nevada emergency departments. It will help those who are uninsured and undocumented.
The state agency has two mobile crisis response teams that will work at UMC and at Clark County School District sites, Wooldridge said. The teams will provide clinical assessments to see if there are children who can be provided services without being hospitalized.
The program was modeled after the Wraparound Milwaukee program for children with mental health needs, which has been recognized nationally, Wooldridge said. However, the local program is expected to have more children than it will be able to accommodate.
The Southern Nevada program will be funded with $259,367 for fiscal 2013 and $255,990 for fiscal 2014.
But what's needed, Fisher said, is an expansion of the current system.
In 2010, it was estimated that there were 118,830 children with behavioral health problems in Clark County. Of them, some 38,942 suffered serious emotional disturbances, according to the first of a series of mental health reports released last fall by the The Lincy Institute at the University of Nevada, Las Vegas.
"We are not trying to say this (the system) has failed. Everybody is doing their job," Fisher said. But "we need more of what we have presently. The entire system is playing catch-up. Not just here, it's nationally."
Harpin and Rosemary Virtuoso, coordinator for the school district's Department of Student Threat Evaluation and Crisis Response, came up with the idea to establish a mental health task force last June to try to address the issue. The group has been able to streamline the process to transfer children to mental health facilities and has opened the line of communication between the agencies that serve this population.
The task force meets once a month.
"Our problem is unique, I think, because of the other stresses in the system," Fisher said.
The Clark County Children's Mental Health Consortium, composed of various county and community agencies, was created by legislation during the 2001 special legislative session to develop long-term plans for mental health services for children with emotional disturbances. Over the years, it has developed a few recommendations to improve the system, such as having local services that are easy to access, funding for family-to-family services and more early intervention.
Reporter Yesenia Amaro can be reached at 702-383-0440, or yamaro@reviewjournal.com.