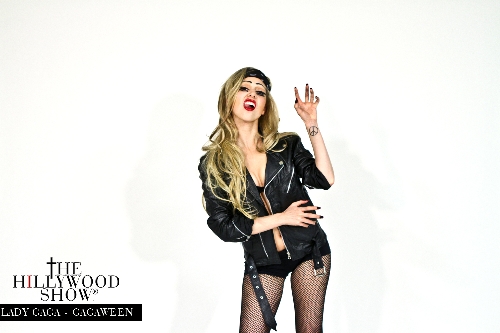 Friday was The. Best. Day. Ever! for two Las Vegas sisters known for their Internet parodies of movies.
Hillary and Hannah Hindi's two-minute spoof of a Lady Gaga Halloween produced the ultimate endorsement.
Lady Gaga liked it so much she tweeted on Friday: "OK THIS IS AMAZING MONSTER VIDEO, haus of gaga just peed in the bed laughing. This girl looks just like me!"
She added the Hindis' YouTube.com video titled "This is Gagaween."
Hillary, who goes by Hilly, handles the acting roles. She's 21. Hannah, 25, is the producer of TheHillywoodShow.com.
"They are ecstatic," said Emily Hindi, mother of the home-schooled sisters who have been doing parodies for five years.
Hilly channels Lady Gaga with 10 costume changes in the spinoff of "Nightmare Before Christmas" with Gaga-esque lyrics.
There's no telling how much Lady Gaga's stamp of approval will boost the careers of the Internet sensations who live near Green Valley.
Consider the magnitude of their big break.
"It was so generous of Lady Gaga," the mother said. "She posted it on Twitter and Facebook. She has 14 million Twitter followers and 44 million friends on Facebook."
The ultimate goal, Hilly said, "is to get picked up by a network."
The sisters were already mini-celebrities on the Internet .
Their "Twilight" parody was tweeted by "Twilight" cast members, "and our Harry Potter parody went viral," Hilly said.
They've become so well-known among the vampire-loving crowd that they have a large following and they serve as co-hosts and emcees at the official "Twilight" conventions.
Next stop for "The Hillywood Show," they hope, will be Hollywood.
"That would be awesome," Hilly said.
PLAYMATE, REPORTER ROMANCE?
Eye spies have been noticing Jonathan Humbert, KLAS-TV, Channel 8, investigative reporter, in the company of saucy Laura Croft, Miss Playboy July 2008 and a regular on "Holly's World."
She posted a photo Wednesday on her Twitter feed of Humbert at what appeared to be a sports bar.
Accompanying her photo was a playful tweet addressed to CNN's Wolf Blitzer which read "I've got your cub with me."
She recently started hosting Night School 4 Girls at the Excalibur. She specializes in seductive tips.
Humbert's final day at KLAS was Friday. He's leaving for Seattle to accept a job with ABC affiliate KOMO-TV.
Humbert, who broke the scandal involving former Gov. Jim Gibbons and his trip to Washington, D.C., with Kathy Karrasch declined to discuss the relationship with Croft, saying it was a personal matter.
SIGHTINGS
Former U.S. astronauts Tom Stafford, Charlie Duke and Eugene Cernan, having lunch at Todd English P.U.B. (Crystals at CityCenter) on Friday. … At Republic Kitchen & Bar's second anniversary on Thursday: NBA All-Star Chauncey Billups, NBA guard Damon Jones and Cincinnati Bengals defensive ends Frostee Rucker and Robert Geathers, among the 700 attendees. … KVVU-TV, Channel 5, reporter Stephanie Jay, dressed as Wonder Woman and hanging out on the Strip on Friday with the Batman character who gained notoriety in May for a video that went viral of him being punched and body slammed by a bully.
THE PUNCH LINE
"ABC News reports that Moammar Gadhafi had a crush on Condoleezza Rice and even dedicated a photo album exclusively to her. Rice told him she was flattered, but she's trying to work things out with Kim Jong Il." — Conan O'Brien.
Norm Clarke can be reached at 702-383-0244 or norm@reviewjournal.com. Find additional sightings and more online at www.normclarke.com. Follow Norm on Twitter @Norm_Clarke.