Ladybugs in great demand in valley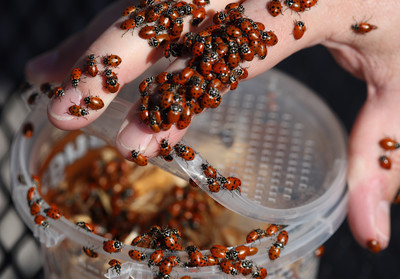 In what has become a local rite of spring, ladybugs are flying off the shelves at nurseries and big-box hardware stores across the valley.
Plant retailers can't seem to keep the live insects in stock, as gardeners snap them up to combat aphids and other pests.
On a recent Saturday at a Home Depot store on Pecos Road, the nursery sales clerk seemed exasperated by all the requests for ladybugs. She said the store sold out not long after a new shipment arrived.
"One guy bought about 20 bags of them," she said.
Jeff Knight is not surprised.
The state entomologist for the Nevada Department of Agriculture said the sale of ladybugs and other live pest eaters has increased over the last 15 to 20 years because people are moving away from pesticide use.
Lacewings and parasitic wasps are more efficient aphid predators, Knight said. But the familiar red bugs with black spots, known in insect circles as ladybird beetles, seem to have won out in the court of popular opinion.
"They're kind of considered nice and cute," said Knight, who added that the ladybug has a long history of use with gardeners and farmers.
Brian Adams, who manages Plant World Nursery at 5301 W. Charleston Blvd., said there is an art to stocking ladybugs.
"We run out of them because we try not to keep them around too long or they die," Adams said. "It's a fine line."
The valley's eight Star Nursery locations usually start selling ladybugs in late February and phase them out when hot summer weather arrives in May.
The Star Nursery at 8170 W. Charleston Blvd. got a fresh shipment last Wednesday: six cases with 20 tubs in each case, or roughly 180,000 ladybugs.
At the time, Assistant Manager Eleazar Valdez expected the bugs to sell out by Saturday. He was wrong. They were gone by Friday night.
"We're out of them right now," Valdez said. "People have been asking for them."
The bugs come on a bed of wood shavings packed inside what looks like a plastic margarine tub with tiny air holes in the lid. For $5.99 plus tax, you get about 1,500 of them.
At least that's what it says on the container. "I haven't tried to count them, trust me," Valdez said.
When Valdez has them in stock, the tubs of bugs are stacked on the counter next to the cash register.
"Some of the cashiers are freaked out by having them next to them," Valdez said.
Ladybug Nursery & Pool Services in Boulder City started selling the bugs not long after the business opened 15 years ago.
"Ladybug Nursery needs to sell ladybugs," explained owner B.J. Conklin, who swears by their use.
"They eat anything smaller than themselves." she said.
Conklin gets her bugs from a distributor in Oregon and sells them 1,500 at a time in mesh bags or in cardboard containers with screens on top.
She gets a fresh batch of the insects every few weeks and usually sells out before the next shipment arrives.
"We have trouble with teachers who just want 15 ladybugs" for class, Conklin said.
Star Nursery uses a supplier in California.
Knight said he knows of no major ladybug distributors in the state, although there are places in the Sierra Nevada and in the mountains around Pioche where the insects tend to congregate.
In the fall, ladybugs head for higher ground, where they gather in huge numbers on rock outcroppings until the time comes to hibernate.
"That's how they harvest them," Knight said. "These guys go up with vacuum cleaners and suck them all up."
The captive bugs ride out the winter in cold storage and get shipped to store shelves in the spring.
Knight said the type sold in stores is the convergent ladybird beetle, which is native to most of the United States.
Many local nurseries also stock praying mantises, which are sold while still in their eggs so they can hatch by the hungry hundreds in your garden.
The primary target in either case is the aphid, or plant louse, which can stunt new growth on plants.
Linn Mills is a horticulturist for the Gardens at the Springs Preserve and a big proponent of natural forms of pest control.
Early in his career, chemical pesticides were all the rage.
"We were way out of gear. We were spraying them on everything," said Mills, who writes a column on gardening for the Review-Journal. "Now we have organics that will take care of just about anything."
Chemicals do have one obvious benefit. A jug of pesticide lacks wings and the will to fly off to some other garden down the street.
Ladybugs come with no such restrictions. "They've been cooped up, and they're programmed a bit to fly," Knight said. "You could release them and have most of them fly off."
Contact reporter Henry Brean at hbrean@reviewjournal.com or 702-383-0350.
LETTING YOUR LADYBUGS LOOSE
So you've laid your hands on a container of live ladybugs. What now?
Plant experts recommend releasing the bugs after sundown when they are less likely to fly away.
The bugs should be shaken out on plants that have just been watered and where they are likely to find food.
Some experts suggest placing the bugs directly on areas where aphids are concentrated. Others recommend releasing the bugs at the bottom of aphid-filled plants so they can work their way up.
The key is to make sure there is something around for the insects to eat, said state entomologist Jeff Knight.
If the bugs don't find food in your garden, they will go looking for it somewhere else.