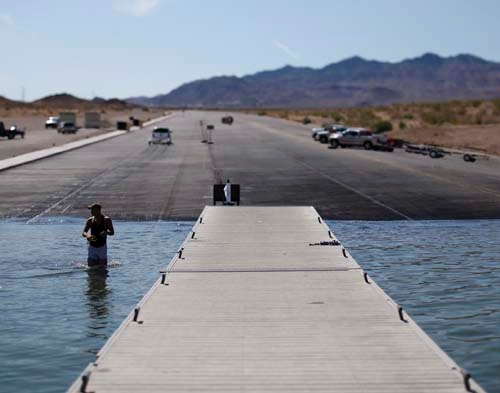 After a decade of declines, the water is finally on the rise at Lake Mead.
So where are all the people?
The lake saw roughly 590,000 fewer visits last year than it did in 2009, and visitation has fallen even further this year.
The 1.5 million-acre national recreation area east of Las Vegas has posted declines in every month through July for a total loss of almost 440,000 visits over this time last year.
Park officials are scratching their heads.
"The quick answer is we don't know why," said Andrew Muñoz, spokesman for the National Park Service at Lake Mead. "We can guess."
The most popular theory involves a combination of high fuel prices and a down economy, which have forced some people to leave their boats on dry land or give them up altogether.
Longtime marina operator Gail Gripentog Kaiser said five large cabin cruisers were repossessed from their rented slips at Las Vegas Boat Harbor last year alone. Before the economic downturn, the marina might see one repossession every three years or so, she said.
And it's easy to see why Lake Mead might be vulnerable to a spike in fuel costs. After all, people have to burn gasoline to get there so they can burn more gasoline in their boats and jet skis.
Muñoz said recent surveys suggest high fuel prices may be changing the behavior of visitors, an increasing number of whom are trading motor boats for hiking boots and beach chairs.
"We are seeing more shoreline visitation," he said. "I think people are changing how they're visiting the lake."
Gripentog Kaiser has certainly noticed a difference.
She said people used to have to get their reservations in by March if they wanted a slip to rent during the summer. Now her marina has dock space readily available for all but the largest boats.
There still is a waiting list for those wishing to rent large, covered slips, but the wait has shrunk from about five years to more like two, Gripentog Kaiser said.
Visits to Lake Mead National Recreation Area peaked in 1995 at just more than 9.8 million. The numbers remained high until 2002, when visitation slipped below 7.6 million for the first time since 1985.
This year, the park probably won't break 7 million.
Despite the decline, Lake Mead still ranks as one of the busiest National Park Service units in the country. The almost 7.1 million visits it logged in 2010 was roughly 3 million more than the Grand Canyon, Yosemite National Park or the Statue of Liberty.
The lake saw twice as many visits last year as Zion National Park and three times as many as Mount Rushmore.
Of the 363 sites managed by the Park Service, only four see more recreational visits in a year than Lake Mead does.
Two of those, second-ranked Golden Gate National Recreation Area in San Francisco and fourth-ranked Gateway National Recreation Area in New York City and New Jersey, are in urban areas bisected by major highways. The site at the top of the list actually is a highway: Blue Ridge Parkway, a 470-mile scenic road that meanders from Shenandoah National Park in Virginia to the Park Service's third most heavily visited site, Great Smoky Mountains National Park on the Tennessee-North Carolina border.
Lake Mead's visitation stands in stark contrast to that of Nevada's only national park, which is among the least visited in the Lower 48. The lake racked up almost 16,000 more visits over Labor Day weekend alone than Great Basin National Park saw in all of 2010, and that was the fourth busiest year ever for the 77,000-acre park on the Utah border in east-central Nevada.
Lake Mead's drop in visitation in 2010 was part of a nationwide trend that saw park visits fall by almost 4.3 million from 2009.
This year, Lake Mead is at risk of falling from fifth to sixth in the national rankings, one slot behind George Washington Memorial Parkway in the Washington, D.C., area.
If that happens, it won't be because of the lake itself. The water level has risen more than 18 feet since May, thanks to near-record winter snowfall at the headwaters of the Colorado River and its major tributaries.
Current projections call for the reservoir to gain another 20 feet by the end of the year and almost 40 feet by September 2012.
If nothing else, Gripentog Kaiser said higher water generally translates to more positive media coverage for the park.
Last November, Lake Mead sank to its lowest level ever, but it still ranked as the nation's largest man-made reservoir.
"And we still had people calling us from all across the world asking if there was enough water to go out on a boat," Gripentog Kaiser said.
A recent fee increase at Lake Mead hasn't helped visitation either.
In January, the park raised its entrance fees from $5 to $10 for each vehicle and from $10 to $16 for each boat or jet ski.
Gripentog Kaiser and Muñoz disagree about the impact. She thinks visitation has taken a "big hit" this year as a result. He thinks it has played a part but probably not a major one.
They do agree on this much, though: Even with the higher fees, Lake Mead is still an economical place to enjoy the outdoors.
"It's a good, affordable place to go," Gripentog Kaiser said.
Muñoz put it this way: "A carload of people costs $10. Try to take a family of four to the movies for 10 bucks. You're not going to get very far."
Contact reporter Henry Brean at hbrean@reviewjournal.com or 702-383-0350.
Lake Mead visitation through the decades
1940 — 655,910
1945 — 587,436
1950 — 1,798,280
1955 — 2,675,400
1960 — 2,254,200
1965 — 3,594,100
1970 — 4,897,100
1975 — 6,001,500
1980 — 4,965,601
1985 — 6,952,147
1990 — 8,582,223
1995 — 9,838,702
2000 — 8,755,005
2005 — 7,692,438
2010 — 7,080,758
The nation's most visited park units
Based on recreation visits logged in 2010:
1. Blue Ridge Parkway: 14,517,118
2. Golden Gate National Recreation Area: 14,271,503
3. Great Smoky Mountains National Park: 9,463,538
4. Gateway National Recreation Area: 8,820,757
5. Lake Mead National Recreation Area: 7,080,758
6. George Washington Memorial Parkway: 6,925,099
7. Lincoln Memorial: 6,042,315
8. Natchez Trace Parkway: 5,910,950
9. Delaware Water Gap National Recreation Area: 5,285,761
10. Cape Cod National Seashore: 4,653,706
SOURCE: NATIONAL PARK SERVICE