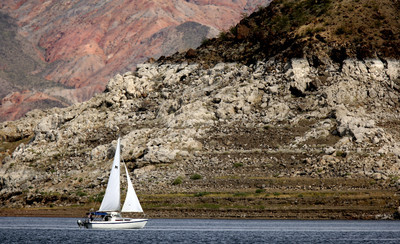 Another below-average year on the Colorado River will soon shrink Lake Mead to a level not seen since President Lyndon Johnson unveiled his "Great Society" and the Beatles bared their "Rubber Soul."
By next month, the surface of the lake is expected to sink below 1,100 feet above sea level for the first time since May 1965, according to the latest projections from the U.S. Bureau of Reclamation.
And the decline won't stop there. By July, the reservoir on the Nevada-Arizona border is projected to shrink more than 13 feet from its current level of 1,105 feet above sea level.
That's more than 8 feet lower than forecasters were predicting just one month ago. The news has water managers and marina operators scrambling to deal with the immediate effects and bracing for what could come next if drought conditions don't improve along the Colorado River.
"We have to hope we have a decent spring. Otherwise we're headed for uncharted territory," said J.C. Davis, spokesman for the Southern Nevada Water Authority.
The lake is now 30 feet away from elevation 1,075, the trigger point for a federal shortage declaration that would force Nevada, Arizona and Mexico to reduce their combined water use by 400,000 acre-feet a year. Nevada's share would be 13,000 acre-feet, roughly the amount of water used each year by 26,000 average Las Vegas homes.
Davis said the water authority has sufficient reserves to cover such a shortage for a decade or more, though tapping some of that "banked" water could prove difficult should the lake continue to shrink.
The Las Vegas Valley gets about 90 percent of its drinking water from the Colorado by way of Lake Mead. The authority is in the midst of building a third straw that will reach deep into the lake and allow water to be drawn even if the two existing intakes are forced to shut down. The $817 million construction project is slated for completion in 2013.
"We're going to continue to race against Mother Nature to get that third intake done," Davis said.
A sharp drop in the lake level poses more immediate concerns for the National Park Service and its concession holders at Lake Mead.
"This is going to be problematic," said Jim Holland, park planner for Lake Mead National Recreation Area. "It's going to cost a lot of money to accommodate a 10-foot drop in such a short amount of time."
None of the privately operated marinas will be forced to relocate altogether this time around, Holland said, but several of them will have to move out into deeper water.
Several of the park's boat ramps, access roads and utility lines might need to be extended to reach the receding water line, Holland said.
As a rule, each 20-foot drop in the lake level costs the park service and its contract marina operators about $6 million, said Andrew Muñoz, spokesman for the recreation area.
Since 2000, Lake Mead has dropped more than 100 feet. But even at less than half full, the reservoir remains enormous, with some 500 miles of shoreline and 89,400 acres of open water that is up to 300 feet deep in places.
"It's still the best place for freshwater recreation in the Southwest," Holland said.
Just don't go out on the water expecting to find everything right where it was the last time you were there.
"The hazards are in different places. Where the water was deep, now it's shallow," Holland said.
A good rule of thumb: "Treat Lake Mead as if this visit is your first visit," he said.
In 1965, the last time the lake shrank below elevation 1,100, much of the Colorado's flow was being used to fill Lake Powell for the first time.
The culprit this time is an ongoing drought that has delivered below average snowfall to the Rocky Mountains and below average snowmelt to the Colorado River during eight of the past 10 years.
In four of the past eight years, the river has received little more than half of its normal runoff. In 2004, the inflow was 45 percent of average. In 2002, it was 30 percent of average, marking the river's driest year in a century.
This year's snowpack started close to average and then fell back to about 88 percent before recovering slightly in the past few weeks, said federal water supply forecaster Angus Goodbody. He expects a final inflow number somewhere near 90 percent of normal.
"We see it edging up a little bit, but not a whole lot," said Goodbody, who monitors snowfall data from hundreds of samplers throughout the Rockies. "It's close enough to average to be an average year."
The trouble is, even in an average year, less water flows into Lake Mead than flows out through Hoover Dam to fill water orders in California, Arizona and Mexico. And after almost a decade of deep drought, the only way to refill Mead and Powell is with several years of near-record runoff.
Until then, water managers and park officials are left to continue their costly work, chasing the shifting shore.
Contact reporter Henry Brean at hbrean@reviewjournal.com or 702-383-0350.