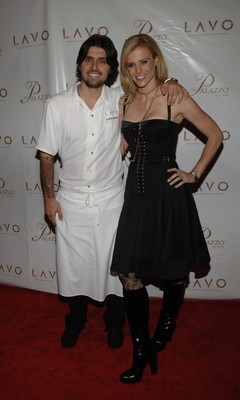 She was a young American attorney. He was a young French chef with a Mobil five-star rating.
She didn't know French and he didn't know English.
But the language barrier was little more than a speed bump.
"He had me at bonjour," recalled Kristine Lefebvre.
Ludo Lefebvre was the executive chef at Los Angeles hot spot L' Orangerie when she saw him for the first time on Feb. 22, 1999.
He was at the maitre d' stand, checking reservations for the night when she walked in with a date.
"I fell in love at first sight," she said.
She was so smitten, she said, and a neophyte to fine dining, that "when we got an amuse bouche I thought he was sending me a love note. And when dinner ended and complimentary petit fleurs (cookies), arrived I thought a very gentlemanly way of professing his love back to me."
She went home and looked him up on the Internet and a few days later "sent a male friend of mine in to give him my phone number.
They went out twice, but she doesn't count them as dates because they were barely able to communicate.
On their third meeting, Ludo arrived and in one hand was carrying a Barnes and Noble bag, with a French-English dictionary and French language tapes, and in the other hand, a bouquet of flowers.
That was the deal clincher.
Nine months later, they were married.
At that time she was the in-house counsel for the Staples Center. She's since become vice president of business development and legal affairs for the pro beach volleyball tour (AVP).
Ludo, who grew up in the Burgundy region of France, is the executive chef at Lavo, the new restaurant and nightclub at The Palazzo.
Kristine has another Las Vegas connection: She was one of the last contestants eliminated in the sixth season of Donald Trump's "The Apprentice," which was based in Los Angeles.
"My firing was based on putting the wrong telephone number on the sales brochure for Trump Tower II," she said.
"Trump fired me and Hef hired me," she said, referring to her June 2007 Playboy cover and eight-page pictorial.
SCHWARZENEGGER SURPRISE
California Gov. Arnold Schwarzenegger showed his loyalty to an old friend on Friday. Planet Hollywood Resort boss Robert Earl and his son Robbie, 15, stopped in Sacramento on Friday as part on a 21-restaurant tour of Earl's new Buca di Beppo acquisitions in California.
Schwarzenegger, one of the original investors in Planet Hollywood over 20 years ago, invited Earl and his son to stop in his office and go to lunch. But the Earls couldn't make it because of a meeting with a Buca di Beppo staff. Schwarzenegger surprised everyone by walking in the restaurant and having lunch with the new owner before heading off to a Lincoln Day tribute. Also showing up for lunch was Sacramento Mayor Kevin Johnson, the NBA star.
SIGHTINGS
Richie Sambora, at Marie Osmond's doll signing Friday at the Flamingo. He was in town for a friend's wedding. …
At LAX Nightclub on Thursday at Luxor, site of the Club SI Swimsuit party celebrating the launch of the 2009 Sports Illustrated swimsuit issue: cover girl Bar Refaeli, Brooklyn Decker, fianceé to Andy Roddick, six-time Grammy award-winning recording artist John Legend, DJ Sky Nellor, Holly Madison, Criss Angel, Carrot Top and the other swimsuit issue models. … Los Angeles Dodgers manager Joe Torre, in The Country Club at Wynn on Wednesday. …
At Tryst (Wynn) on Thursday: NBA star Tracy McGrady of the Houston Rockets and teammate Chuck Hayes; Golden State Warriors standout Corey Maggette; Orlando Magic guard Tyronn Lue; Oakland Athletics slugger Jason Giambi, UFC fighters Dan Henderson and Michael Bisping; rapper Too Short and Luxor headliner Criss Angel and Holly Madison. …
THE PUNCH LINE
"A new survey reported that 40 percent of people think it's a good idea to get engaged on Valentine's Day. The other 60 percent were men." — Jimmy Kimmel
Norm Clarke can be reached at (702) 383-0244 or norm@reviewjournal.com. Find additional sightings and more online at www.normclarke.com.