Las Vegans celebrate Obama's inauguration
January 21, 2013 - 7:44 pm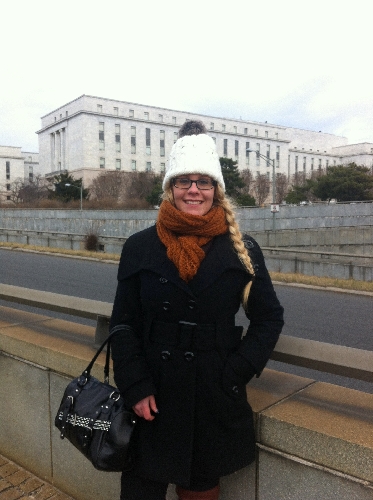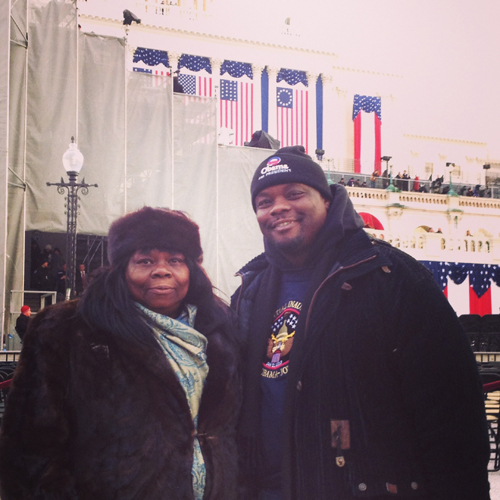 WASHINGTON – The dance group representing Nevada marched in the presidential inaugural parade Monday but without the festive accompaniment key to their performance.
After struggling with fundraising, members of Comparza Morelenze could not afford to transport their disc jockey to Washington, D.C., according to Tony Espinoza, one of the group's leaders.
The invitation in December to take part in the parade came as a surprise to the six Las Vegas families who dress in elaborately embroidered headgear and costumes and perform a 150-year-old dance indigenous to the Mexican state of Morelos.
Rep. Dina Titus, D-Nev., assigned a staff member to help the group navigate the parade bureaucracy after she was told Sunday of their plight. Without musical accompaniment, "we will not be 100 percent to perform," Espinoza told Titus in her office.
As they passed the White House viewing stand in front of President Barack Obama and his family, the dancing Las Vegans cut colorful figures against the bright lights of the viewing area.
And they were not entirely without music: They marched behind a high school band from West Virginia and in front of one from Kentucky.
SWEDEN NATIVE A BIT MORE AMERICAN
Madde Bergengren became a little bit more of an American after attending the presidential inauguration.
Bergengren was born and raised in Sweden before moving to Las Vegas five years ago when her father married a local. Now 21 and a U.S. citizen, Bergengren works three jobs and studies political science at the College of Southern Nevada.
Fluent in four languages, Bergengren, whose full name is Madeleine, has her sights set on a job with the CIA, perhaps as a translator.
Bergengren said she could not think of anything in Sweden to compare with the emotion she felt in the crowd witnessing Obama's swearing-in.
"It was overwhelming," Bergengren said. "I loved how it was very patriotic and how much support there was for the president. Democrat or Republican, either way they supported him, or most of them. It was amazing to me how a country can come together like that."
SHARING INAUGURATION WITH MOM
For Shaundell Newsome, attending the inauguration of Obama was made more rewarding by being able to share it with his mother.
"I went to the first (Obama) inauguration; my mom really wanted to go, and I wanted to be part of the experience," said Newsome, president of Sumnu Marketing, a Las Vegas company. "This year, she wanted us to do it again."
When it comes to inaugurating a black president, "most of us who are African-American, we don't know when's the next time it will happen," Newsome said with a laugh.
For Helen Newsome, a teacher from Brooklyn, N.Y., "It's very important when families can come together and share memories like this."
Comparing the two Obama inaugurations, Shaundell Newsome said the first one was more celebratory while Monday's was more businesslike. The message was less hope and change and more firmness in Obama's direction for the nation.
"It was great sharing these moments with my mom and my family," Shaundell Newsome said. "That is what we have to do. We don't want our kids to go through the same things our parents went through, but we also don't want them to forget, not just for African-Americans, what it feels like to have inequality. I don't care if it is gay rights, immigration. We want to make sure everything is right for everyone."
REPUBLICANS HEAD TO VEGAS
As hundreds of thousands of people, mostly Democrats, arrived in Washington for the inauguration, a number of people, mostly Republicans, decided it was just as good a time as any to take a vacation.
And what better destination than Las Vegas, where the weather is mild, the deals are abundant and major resorts are owned by prominent Republicans .
Four years ago, Republican lawyer Charlie Spies and his wife, Lisa, organized a Vegas getaway for themselves and 20 friends over the first inaugural weekend for President Barack Obama. This year the group swelled to more than 100, including veterans of Mitt Romney's presidential campaign.
"We wanted to give the Obama team and all its supporters a chance to celebrate in the city," Spies said. "We wanted to get away, and it was a chance to meet up with folks who worked on the Romney campaign and friends and consultants."
Spies was treasurer of Restore Our Future, the principal Super PAC that supported the Romney effort. Lisa Spies was one of the finance directors of the Romney campaign.
The group held a dinner Sunday at The Venetian, owned by GOP mega donor Sheldon Adelson, and followed it up with a party at the Wynn Las Vegas, owned by Romney backer Steve Wynn.
TIRED BUT THRILLED
Weary but happy, Sandra Thompson and Alfreda Gibson stopped at a McDonald's on the way back to their hotel in the Virginia suburbs after the inauguration.
"I'm sitting here trying to rest," Thompson said. "There was a lot of standing and a lot of walking. And it was all worth it."
Like many in the crowd estimated at up to 1 million , the Las Vegans had to maneuver their way onto the U.S. Capitol grounds. They arrived in the city at 8 a.m., but it took them three hours to get to their designated viewing area after being directed this way and that on blocked-off city streets.
Thompson, a retired Clark County School District administrator, finally hired a pedicab to ferry them to their destination.
"I said, 'We can't walk any more,"" she recounted. "I guess that was the price of having all the security."
Thompson and Gibson, a technology facilitator at Desert Rose High School, skipped the inaugural parade in favor of returning to their hotel and preparing for the evening inaugural ball.
"It was just too rough for us," Gibson said. "Too many people and just so much walking."
Still, she said, attending the inauguration "was worth every minute of it. I would do it again."
'ALONG WITH ANOTHER 800,000 PEOPLE'
When Joanne Bernick told her fifth-grade students at Wolff Elementary School in Henderson she was going to attend the inauguration, they asked whether she was going to meet the president.
"Probably I will, along with another 800,000 people," she replied. Bernick took lots of pictures Monday for a presentation she plans to share with her students.
Bernick and her husband had professional interest in the inauguration. Lee Bernick, whose doctorate was in political science, is dean of the Greenspun College of Urban Affairs at the University of Nevada, Las Vegas.
"Any inauguration is an historic event," Lee Bernick said. "There is a part of me that says when you have a chance to be a part of history you ought to. So few people get to do these things."
Steve Tetreault/Stephens Washington Bureau