Las Vegas attempted bank robbery suspect gets new lawyer – again
November 14, 2013 - 4:27 pm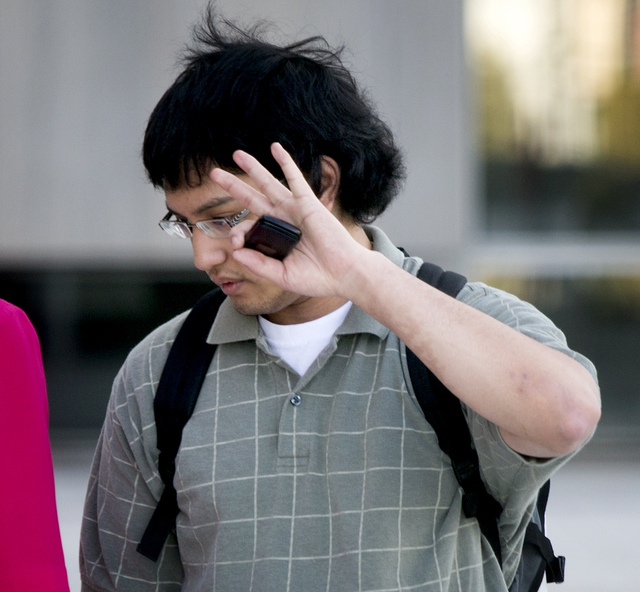 Michael Charles Garcia didn't get a chance Thursday to withdraw his attempted bank robbery plea.
Instead, he got a new lawyer.
Earlier this month Garcia, 22, told U.S. District Judge Jennifer Dorsey that he was "under duress" and felt "coerced" by defense lawyer Todd Leventhal into signing a plea agreement in July that called for a sentence of probation.
His mother, Katrina Garcia, had pushed to derail the deal, contending in court documents and interviews with the Las Vegas Review-Journal that Garcia was innocent.
Leventhal denied coercing the younger Garcia into signing the plea agreement, and late last week filed court papers seeking to withdraw from the case because of "an irreconcilable conflict" with his client.
On Thursday he told Dorsey, "I don't think ethically I could remain on as counsel."
Dorsey agreed.
She appointed another veteran defense lawyer, Paola Armeni, to represent Garcia and put off the hearing on whether to allow Garcia to withdraw his plea.
The judge expressed concern that a pattern was developing in which Garcia's mother was creating conflicts with her son's attorneys. She said Armeni is Garcia's fifth lawyer in the case.
Dorsey reset Garcia's sentencing for Jan. 14 and told Armeni that if Garcia still wants to withdraw his plea, she should file a written motion detailing the reasons before then.
Leventhal had negotiated a rare plea deal with Assistant U.S. Attorney Amber Craig in which prosecutors agreed not to oppose probation. Federal probation officers, however, recommended a prison term of 37 months.
Craig described the plea deal earlier this month as a "generous offer" and said there was "absolutely no duress" placed on Garcia to strike an agreement.
Garcia had confessed to driving the getaway car in the $1,600 robbery of a Citibank branch on Jan. 31, 2012.
He pleaded guilty to attempting to pull off the robbery of a City National Bank branch before the Citibank heist.
In his agreement with federal prosecutors, Garcia acknowledged that he went inside the City National Bank, but failed to carry out the robbery.
He also admitted that from there, he drove his co-defendant, Matthew Dale Dewberry, to the Citibank caper.
Dewberry, 41, who said his real name is Robert Gruscynski, pleaded guilty to one count of conspiracy to commit bank robbery and one count of bank robbery. He is to be sentenced by Dorsey on Feb. 3.
Katrina Garcia has insisted that she, not her son, unwittingly drove Dewberry to the robbery of the Citibank branch at 8701 W. Sahara Ave.
But she failed an FBI-administered polygraph, and authorities did not charge her
Several weeks after the robbery, Garcia turned in Dewberry, a drifter who had been living with the Garcias, and tried unsuccessfully to collect reward money from the FBI.
Dewberry admitted committing the Citibank heist but provided FBI agents with additional evidence of Michael Garcia's involvement.
Dewberry also told agents that Katrina Garcia put him up to robbing the bank because he had no money and she wanted him to start paying rent.
Katrina Garcia has denied persuading Dewberry to rob the bank.
Contact reporter Jeff German at jgerman@reviewjournal.com or 702-380-8135. Follow him on Twitter @JGermanRJ.