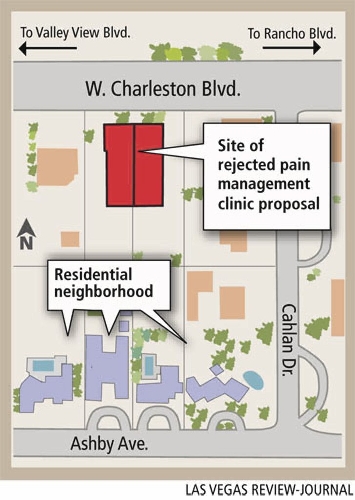 A doctor is questioning Las Vegas officials' commitment to business-friendly government and desire to attract better medical care after the City Council rejected his plan to convert two vacant buildings into a pain management center.
The unanimous vote Wednesday to reject Dr. Alain Coppel's proposal to renovate and add a second story to buildings at 2809 and 2905 W. Charleston Blvd. came after about three dozen residents from a nearby neighborhood, including District Judge Donald Mosley and former City Councilman Michael McDonald, showed up in opposition.
The neighbors wanted the council to deny Coppel's plan because, they said, it didn't include adequate parking and ran afoul of a land use restriction on that section of Charleston Boulevard that prohibits two-story structures.
Coppel bought the buildings out of foreclosure and sought to add square footage to accommodate the amount of space and advanced equipment high quality care demands.
The vote to deny his request for a variance from parking requirements and development plan approval, however, means the buildings will remain vacant for now, Coppel said.
He was doubtful he would resubmit another, similar plan because of the power of the opposition.
"The council members, the judge, they all know each other," Coppel said. "It is going to be hard to convince them."
Coppel said the denial runs counter to the notion local officials will go out of their way to accommodate business people looking to improve the city's available medical care.
"If you are not able to create it, it is not ever going to happen," Coppel said.
But opponents of the project said their intention was to preserve the integrity of nearby, historic neighborhoods, not discourage Coppel from doing business.
The rear of Coppel's Charleston parcels abut the rear lines of residential properties on Ashby Avenue, although the second story would not have had windows facing the homes.
Opponents also worried a variance to provide 84 parking spaces where 111 are required would result in people parking on nearby residential streets.
Others said allowing Coppel to add a second story to a building where it is otherwise prohibited would prompt others to do the same.
"This is the kind of thing that would lead us to that situation," Mosley told the council.
McDonald is a former officer with the Metropolitan Police Department who is also seeking to become chairman of the Nevada Republican Party. He said exceptions for Coppel would damage McNeil and other neighborhoods in the area, characterized by older homes, large lots and favored by longtime residents.
"Without the neighborhoods the city is nothing," McDonald said. "We have been fighting … to keep this neighborhood intact."
The rejection on a motion by Councilwoman Lois Tarkanian followed a recommendation from city staff that the council deny the variance request and development plan, although the Planning Commission voted 4-3 on Dec. 13 to approve the project.
At a neighborhood meeting on Dec. 1, residents also turned out en masse in opposition.
"The most important thing is to preserve the character of the neighborhood," McNeil Neighborhood Association President Brett Birdsong told the council. "It is very dear to us."
Coppel said his intention is to improve, not degrade, the community.
Coppel, 39, born in Hermosa, Mexico, said he immigrated to Tucson, Ariz., as a child and became a U.S. citizen.
He studied medicine at University of Arizona, had a residency at University of Chicago and worked at Johns Hopkins in Baltimore before coming to Las Vegas.
His expanded practice would have included a physical therapy suite, a diagnostic MRI suite and a medical office. Coppel operates a practice nearby that employs 10 to 15 people, and his proposal to expand to the site across the street would have increased employment to 20 to 30 people.
Coppel told the council it would give patients treatment in one location, instead shuttling them between offices.
"I want to be in an underserved area," Coppel said. "I don't want to set up in Henderson or Summerlin."
Contact reporter Benjamin Spillman at bspillman@reviewjournal.com or 702-229-6435.