Las Vegas City Hall could become new headquarters for Zappos
November 29, 2010 - 4:47 pm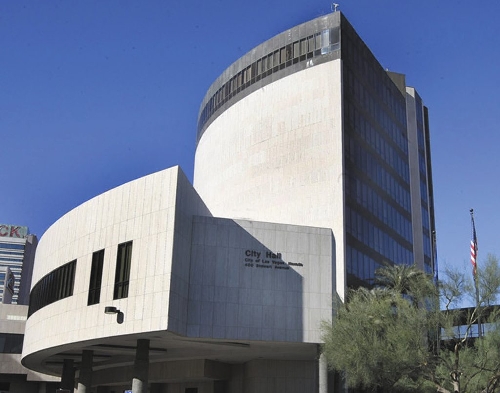 Zappos wants to take over the Las Vegas City Hall building and use it as the company's headquarters when the city moves out, bringing an expected 1,000 jobs to downtown and the potential for additional construction and development.
"This revolutionizes the way downtown will exist in the future," an enthusiastic Mayor Oscar Goodman said Monday, noting the employees are part of the "creative class" who tend to embrace downtown living.
"It creates a critical mass of those folks," Goodman said. "These are the kind of folks who will be frequenting the Fremont East entertainment district. They'll be over at the Arts District. They'll be milling around the downtown and creating energy."
On Wednesday, the Las Vegas City Council is scheduled to vote on an agreement with Resort Gaming Group. That company would buy the City Hall building, two adjacent parking garages and the KCLV-TV building for $25 million to remodel the complex and lease it to Zappos, an online shoe and clothing retailer.
The company also would have options on about 12 city-owned acres to the east of City Hall that would be available for expanding the corporate campus.
The deal calls for the city to lease the square footage currently occupied by the city at $1 a year until March 2012, which is when the new city hall building on Main Street is expected to be complete. The Metropolitan Police Department occupies part of City Hall, but that department is building a new building for itself with an expected 2011 completion date.
"Any downtown around the country, you find a market specifically targeted toward young professionals," said City Councilman Ricki Barlow, whose ward includes this property. "The spinoff from this is going to be fabulous. We have the cultural corridor. We have First Friday. We have the Fremont entertainment district.
"I'm not surprised that they approached us. They showed us, 'We're out here, and you all have something that we want.' "
Resort Gaming Group principal Andrew Donner approached the city in June about the Zappos headquarters possibility. Donner said he had an ongoing relationship with Zappos and wanted to bring the company to downtown Las Vegas, where Resort Gaming is working on redevelopment of the Lady Luck.
At the time, though, Baltimore-based Cordish Cos. had exclusive rights to negotiate for the City Hall site for development as a sports arena and entertainment district.
There was some resistance to giving up that exclusivity at first, Goodman said, but Cordish eventually agreed to relinquish its interest in that site in order to study parcels in Symphony Park for arena development. With that permission granted, Las Vegas officials could start talking with Resort Gaming and Zappos.
Zappos, an online shoe and clothing retailer, started in 1999 in the San Francisco area and moved to Henderson in 2004, bringing 70 employees along.
"The only thing I feel bad about is I haven't been allowed to talk to my good friend Andy Hafen," Goodman said Monday evening, referring to the Henderson mayor and citing a confidentiality agreement he had signed that kept him from disclosing the potential move until it was finalized. "I hope he speaks to me tonight.
"This is a situation where Las Vegas did not seek Zappos out, although I would've liked to. They came to us. They're the ones who were the prime moving force."
The city built several incentives into the Zappos deal not normally seen in office space sales, according to several real estate executives informed of the terms spelled out in official documents. But they also point out that in a topsy-turvy real estate market, normal has become hard to define.
"There are very few comparables to stand this deal up against," said Brian Gordon, a principal at the consulting firm Applied Analysis.
The deal calls for a $3 million down payment, with the city providing $22 million in seller financing with two notes. One, worth $17 million, calls for payments through 2043 at a fixed interest rate of 5.125 percent, while the other at $5 million comes due entirely the same year with no interest or interim payments.
Further, the city would accept a lower repayment priority than an $18 million loan from another financial source, money that would go to remodeling City Hall into a corporate campus.
"There is a legitimate purpose in trying to boost downtown and job creation," said Robert Moore, the managing director of Faris Lee Investments. "Otherwise, I would hate to think the city would do a deal this dumb."
For example, a seller almost always takes the first priority loan, raising the chances of being repaid in the event of default, similar to the difference between first and second home mortgages. The added security for the remodeling loan can bring better terms, Moore added.
In addition, a $5 million no-interest loan and a 30-year fixed rate loan are almost unheard of in commercial real estate deals, Kent Clifford of Clifford Commercial Real Estate said.
While 5.125 percent is within the norm for rates, locking that rate in for 30 years is not, both said. Typically, commercial loans have interest reset provisions after a few years or can be called in prior to maturity.
Moreover, down payments often run double or more than the 12 percent in the Zappos deal, Clifford said. But others also note that the current recession-battered market has scrambled this aspect as well.
At $91 per square foot, based on the $25 million price for a listed 274,000 square feet of space, the price is within the range of other office deals, said Gordon.
But a final judgment would depend on an appraisal that takes into account the age and condition of the building.
Goodman, while declining to discuss specifics, said, "Not everything can be measured in terms of economics."
Donner said he would present a complete economic report to the council on Wednesday.
Zappos has been recognized as both a fast-growing company and one that's great to work for, with perks such as free food and on-site car washes.
The company's annual revenue grew from around $185 million in 2004 to roughly $1 billion this year, and its employee count expanded from 60 to 1,500.
Those successes attracted the attention of Internet retailing giant Amazon.com, which snapped up the privately held Zappos.com for $850 million in July 2009.
Zappos also has a warehouse in Kentucky. It has closed all three of the brick-and-mortar stores it had opened in Las Vegas before the recession.
Review-Journal writer Jennifer Robison contributed to this report. Contact reporter Alan Choate at achoate@ reviewjournal.com or 702-229-6435. Contact reporter Tim O'Reiley at toreiley@review journal.com or 702-387-5290.