Las Vegas couple wed during Grammy Awards show
January 29, 2014 - 10:57 am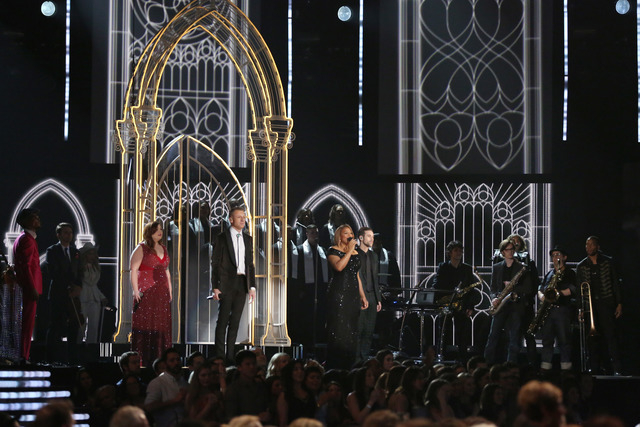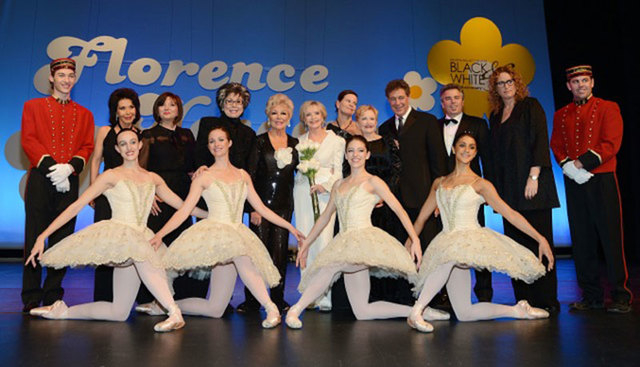 Las Vegas magazine publisher Tammy Shaw and local magician Seth Grabel announced via Facebook they were among the couples being married during the Grammys broadcast at the Staples Center.
Queen Latifah was the officiant for the mass wedding as Macklemore and Ryan Lewis performed their Grammy-nominated hit "Same Love" with Madonna and Mary Lambert.
The song has become an anthem for legal gay marriage.
The 30-plus wedding couples were a mix of gay and straight.
Shaw and Grabel were engaged last year in the Grenadine Islands. Grabel has appeared on "America's Got Talent" and "Millionaire Matchmaker."
ELAINE WYNN'S BIG SURPRISE
Florence Henderson and Elaine Wynn shared the loudest ovations at the 30th anniversary of the Nevada Ballet Theatre's Black and White Ball on Saturday at Aria.
"Brady Bunch" star Henderson was the "Woman of the Year" honoree while Wynn, the event's first honoree in 1985, provided the surprise of the evening with her $1 million donation to NBT.
At the outset of the program, Nancy Houssels, co-founder and co-chair of Nevada Ballet Theatre, ran down the list of honorees, starting with Wynn.
"She's my 'Woman of the Century,' " said Houssels, citing Wynn's "great legacy" for her dedication to education.
Houssels had no idea what was coming when Gillian Wynn, speaking on her mother's behalf, made the breathtaking announcement while her mother watched from their table, shying away from the spotlight.
The final tally for the night: about $1.3 million, with $200,000 for live music. Christian Kolberg handled live auction duties, and Chet Buchanan took on the live music appeal.
"Brady Bunch" cast members Barry Williams (Greg) and Christopher Knight (Peter) showed up to pay tribute to Henderson, their TV mom from 1969 to 1974.
Williams, 15 when the ABC show took off, asked the crowd of 500, "First of all, have you noticed that none of the "Brady Bunch" kids ever show up in the news or on the radio reports for shoplifting or drag street racing or resisting arrest, driving without a license or throwing eggs on a neighbor's house?
"One of the reasons for that is because Florence, with her strong guiding hand with all of us, keeping us grounded."
He gave an example of how supportive she remained after the show ran its course.
"She came to me with the idea of a Broadway musical that was about to take off," he said.
He had arranged for an audition for "Pippin."
"I'm telling you there was no amount of preparation I could have done, which was extensive, that could have pacified my nerves," he said.
The day of the audition, which was in front of Bob Fosse, Henderson showed up "and before I went out, she went out ahead of me and pretended to be a first-time performing actress. It brought the house down. They all laughed. It broke the ice. It made it a completely different experience. … I felt on top of the world."
His voice cracking, Williams said, "That became my first Broadway credit and changed my professional life forever, and to this day I continue doing musical theater."
Big applause.
He got even bigger applause when he looked into the crowd and said to Henderson, "If you agree, I think I'm finally now old enough to take you out on a proper date."
Mitzi Gaynor, last year's honoree, cracked up the crowd during her tribute to Henderson.
When a member of the "Thunder From Down Under" cast pushed a cart bearing a birthday cake for Henderson's 80th on Feb. 14, Gaynor observed, "At my age, 'Thunder From Down Under' just means gas."
Henderson's speech included a Viagra joke about her father having 10 children after getting married at the age of 50.
Then she added, "Don't you love that commercial about Viagra" and the warning to head for an emergency room if still aroused after four hours.
"But," Henderson said, "would you stop by my house first?"
Houssels shared a light-hearted moment from the 2012 gala that honored actress and activist Eva Longoria.
Moments before the show was to start at Aria, Longoria discovered a piece of lint on her flowing black gown.
Longoria's grand entrance was delayed when her support team couldn't find a lint roller.
After a panicky search, two lint rollers were found and, after the lint came off, the show went on.
THE SCENE AND HEARD
Former Guns 'N Roses guitarist Slash has been added to the "Kerry Simon Says Fight MSA" event on Feb. 27. Also participating: Sammy Hagar, Alice Cooper, Vince Neil plus star chefs Jean-Georges Vongerichten, Daniel Boulud, Charlie Palmer and Wylie Dufresne. Tickets and information: www.keepmemoryalive.
THE PUNCH LINE
"It is dry here in L.A. There has been no rain in 100 days. It's so dry that Snoop Dog changed his name to Snoop Camel." — Craig Ferguson
Norm Clarke's column appears Sunday, Wednesday and Friday. He can be reached at 702-383-0244 or email him at norm@reviewjournal.com. Find more online at www.normclarke.com. Follow Norm on Twitter @Norm_Clarke. "Norm Clarke's Vegas," airs Thursdays on the "Morning Blend" on KTNV-TV, Channel 13.