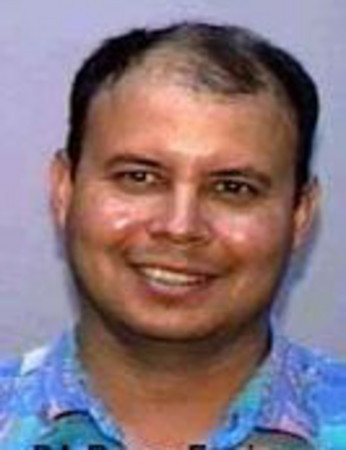 KINGMAN, Ariz. — A criminal indictment accuses a Las Vegas physician of using his clinic in the northwest Arizona community of Golden Valley to illegally distribute prescription drugs and submit false insurance claims.
U.S. and Arizona authorities detailed their case against Dr. Albert Szu Sun Yeh, 44, during a Monday news conference in Phoenix. Yeh is charged with conspiracy, assisting a criminal syndicate, money laundering and administering narcotic drugs in a 14-count federal indictment.
A separate indictment charges his physician assistant, Bryan V. Espinosa, 54, of Henderson, with seven felony counts.
A message left for Yeh at his Las Vegas office wasn't immediately returned late Monday afternoon.
Officials used the press conference and the example of Dr. Yeh to express a commitment to better policing the prescription drug arena.
"Dr. Yeh did not practice medicine; he dealt drugs; such doctors do great harm to the public and the medical profession," said Drug Enforcement Administration Special Agent Elizabeth W. Kempshall.
Investigators said Yeh would typically write more than 100 prescriptions during the Tuesday-only operation of his Pain Wellness Center in Golden Valley.
DEA Special Agent Ramona Sanchez said a search warrant affidavit alleged that Yeh over the past five years wrote prescriptions not in accordance with generally accepted medical standards and in violation of Arizona's drug laws.
"The affidavit alleged Dr. Yeh wrote prescriptions for his Arizona patients, including undercover investigators, without obtaining a complete medical history, conducting an appropriate medical examination or establishing the presence of chronic pain," Sanchez said.
"The affidavit further states that Dr. Yeh filed more than 31,900 claims for insurance reimbursement between 2004 and 2009, a total believed far in excess of what could be possible to comply with appropriate medical standards during the hours that he saw patients in Arizona," she said.
Sanchez said authorities have seized some $3.9 million in assets from Yeh's bank and investment accounts, real estate and other holdings.
She said the defendants, if convicted, face a maximum of 121/2 years for each count of administering a narcotic drug, 121/2 years for each count of conspiracy, 83/4 years for each count of money laundering and 33/4 years for each count of assisting a criminal syndicate.
The Associated Press contributed to this report.