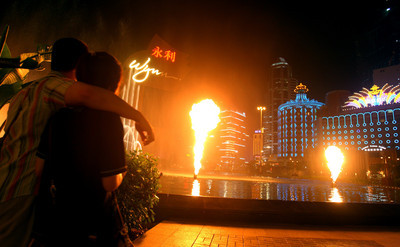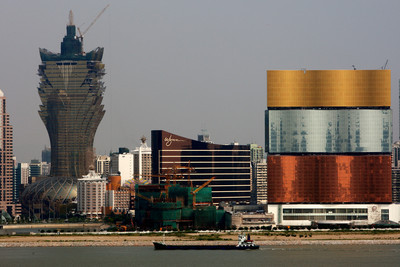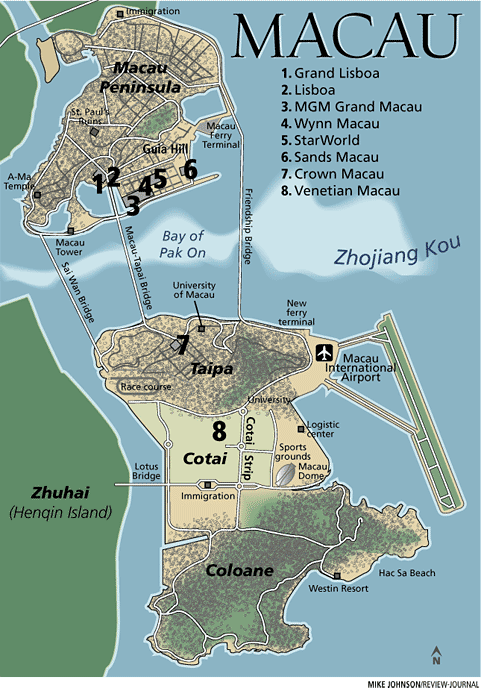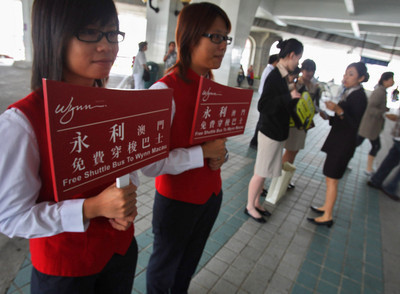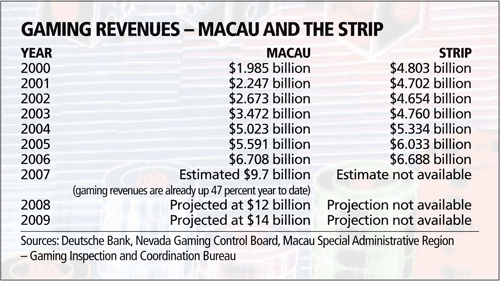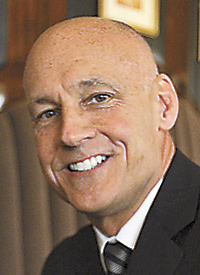 MACAU — On the island of Coloane, Restaurante Fernando harkens to a time when the Portuguese controlled this picturesque area of southern China.
The open-air eatery looks out on the black sands of Hác-Sá beach, where cool breezes help stem the area's natural humidity. The aroma of barbecued beef, roasted suckling pigs and freshly cooked seafood wash over the restaurant.
Customers partake in a traditional Portuguese menu, in which the entrees are paired with freshly grown vegetables and meals are enjoyed with bottles of chilled vinho verde, Portuguese green wine. Credit cards are not accepted. The restaurant is cash-only.
Reggie Martin, a native of East Chicago, Ind., has lived in China for almost five years. Martin, the senior manager of special events and sports for The Venetian Macau, grew quite familiar with Restaurante Fernando during his time as general manager of the nearby Westin resort in Coloane. He still eats there at least once a week.
Hong Kong residents, Martin said, will often make the hour-long trip to Macau across the South China Sea by the high-speed hydrofoil ferry just to dine at Restaurante Fernando.
In contrast, the massive $2.4 billion Venetian Macau, with 3,000 hotel rooms, sits about 10 minutes from Restaurante Fernando on the fast-developing Cotai Strip, where an estimated 20,000 rooms housed in more than a dozen hotel-casinos are under construction. The Venetian has its own Portuguese restaurant, with about 30 other dining establishments.
Still, Martin believes The Venetian, which has been averaging between 40,000 and 60,000 visitors a day since its Aug. 28 opening, will not harm Restaurante Fernando. In fact, the new resort might mean a few more customers for the restaurant.
"It will never change, no matter what happens around it," Martin said.
While Restaurante Fernando might survive competition, change is something the 510,000 residents of Macau will be facing through the end of decade and possibly beyond.
'IT WAS A VERY SCARY, SCARY PLACE'
Macau — which includes the urbanized Macau Peninsula, the islands of Taipa and Coloane, and the Cotai Strip, an area of reclaimed land between the two islands — is in the cross hairs of a multibillion-dollar building boom largely fueled by Nevada's major gaming companies, which are exporting Las Vegas-style casinos into a market starving for action.
In 2002, Macau's government, which operates separately from the People's Republic of China as a special administrative region, opened the way for casino expansion.
At the time, Macau had 11 decaying gambling halls under the direction of one operator, a consortium headed by controversial Hong Kong billionaire Stanley Ho, now 86 years old and the chairman of Shun Tak Holdings Ltd. It is one of the largest publicly traded companies on the Hong Kong Stock Exchange, with interests in real estate, transportation, hospitality and gaming.
For years, U.S. and international law enforcement authorities have thought Chinese organized crime triads secretly controlled the casinos operated by Ho, much in the same manner Nevada's gambling industry was controlled by organized crime syndicates in the 1960s and 1970s.
A decade ago, Macau did not have a hospitable environment.
Mark Brown, president of the two Las Vegas Sands Corp. casinos in Macau, first visited the city in 1993 when he was handling international marketing for Caesars Entertainment. He didn't think he would ever return.
"It wasn't much, and it was a very scary, scary place," Brown recalled. "The casinos were very dingy and very smoky."
But like Las Vegas, which rid itself of its mob image when corporate America invaded the Strip, Gaming Inc. has transformed Macau.
At the end of 2006, there were 26 casinos, including glittering Las Vegas-style resorts operated by Las Vegas Sands and Wynn Resorts Ltd. Three new hotel-casinos have opened this year, including the Sands-owned Venetian, which has a 546,000-square-foot casino, the largest single gambling hall in the world, and 10.5 million square feet of public space.
A fourth resort, the $1.1 billion MGM Grand Macau — which is a 50-50 joint venture between MGM Mirage and Pansy Ho, the daughter of Stanley Ho — will be unveiled by year's end.
"The Macau market is really different from the Las Vegas market," said MGM Mirage International CEO Bob Moon, who is overseeing development of the MGM Grand Macau.
"Las Vegas is a destination resort, and that's what Macau wants to be."
GAMING REVENUES SOAR
Walter Power, senior vice president of operations for Las Vegas Sands' two Macau casinos, was one of the gaming company's first employees on the ground in China. His initial goal was to investigate what the competition was offering.
"Four and a half years ago, Macau was a very hard-core intensive gambling experience," Power said. "It was a monopoly. There was a lack of competition, and the offerings were pretty bare."
One of the first places Power visited was the Ho-operated Lisboa, a dark and smoky gambling parlor with low ceilings, a no-frills personality and a male-dominated customer base playing baccarat, the overwhelming game of choice among Asian gamblers. Lisboa casino bosses immediately spotted him and his fellow Sands executives.
"They knew what we were doing, and they certainly didn't make us feel welcome," Power said. "But this was a way for us to determine what the market was like. It was a testosterone-driven, male-dominated gambling hall. It had slot machines, but there were no seats around the slots."
Not much has changed at the Lisboa in the past five years. Asian prostitutes still circle a rundown retail area in the hotel's lower levels under the watchful eyes of their pimps, who sit in the promenade's noodle bar, and hotel security guards, one of whom admonished a Review-Journal photographer for secretly trying to take pictures of the working girls.
What has changed are the total gaming revenues coming from Macau. In 2002, Ho's casinos won $2.67 billion from customers. At the end of 2006, gaming revenues in Macau topped more than $6.7 billion, surpassing the total revenues earned last year by Las Vegas' lucrative casinos on the Strip by about $20 million. Through August, Macau's gaming revenues were up 47 percent from a year ago.
Gaming analysts predict the gap between Macau and the Strip will widen. They estimate Macau casinos could produce annual gambling revenues of more than $14 billion by 2009.
On those revenues, casino operators pay a 39 percent tax to the Macau government.
Baccarat accounts for roughly 80 percent of all table games.
"We have one craps table at The Venetian," Brown said of the casino, which has 870 table games. "Good luck if you can find it."
COMPANIES COMMIT BILLIONS
Las Vegas gaming companies have invested substantially in Macau. Las Vegas Sands spent $265 million on the Sands Macau in 2004 and since has put another $100 million into the property. In addition to the $2.4 billion for The Venetian, the company is spending more than $12 billion to build 11 resorts on the Cotai Strip. Wynn Resorts' total investment is more than $1.1 billion in the 600-room Wynn Macau, and the company expects to spend $600 million to add a second hotel tower by 2009.
Deutsche Bank gaming analyst Bill Lerner, who has visited Macau several times in the past year, said gaming companies stretch their construction costs because labor and materials are cheaper than in the United States.
"Development is less expensive, but it doesn't mean they are not spending billions of dollars," Lerner said while sitting at an outdoor cafe at Wynn Macau. "They are getting more for the money by doing it here. Because this is a limited-license environment, it leads to higher returns on investment, and there is evidence of that."
Las Vegas Sands officials said they recovered their investment on the Sands Macau in less than a year. Lerner said Wynn Resorts was getting about a 30 percent return on its investment in Wynn Macau. But when factoring in the $900 million payment the company received from Australian casino operator Publishing and Broadcasting Ltd. for its lucrative casino sub-concession, the return is more than 100 percent.
"It's so much different than you see in Las Vegas," Lerner said.
The number of hotel rooms in Macau — about 800 in 2004 — is expected to hit 8,900 by the end of this year. The Venetian alone brought 3,000 hotel rooms to the market.
The growth is an effort to change visitation in Macau, from that of a 24-hour day-trip market, to one where customers are willing to spend three or four days staying in luxury hotels, gambling, eating in fine restaurants, shopping in upscale retail malls and viewing shows, actions that would replicate those of the typical Las Vegas tourist.
The Venetian's Grand Canal Shoppes covers more than 1 million square feet and eventually will house 300 retailers. Wynn houses about a dozen upscale retail tenants, and the MGM Grand will benefit from One Central, a retail, dining and entertainment project being built next to the resort by the company's joint-venture partner, Pansy Ho.
The Venetian will unveil a Cirque du Soleil show in the spring, and Wynn is building a theater for a yet-to-be named show.
"Compared to The Venetian, we're a boutique operator now," said Ian Michael Coughlin, president of Wynn Macau, which opened a year ago and is in various stages of three expansion plans.
"We do see the destination traveler as a growing part of our business," Coughlin said. "Macau has been a strong day-tripper's market, but that's been Macau's history. We're seeing a significant increase in the destination travel market, which is good. No one wants to be one-dimensional."
Brown said the early days of The Venetian have been consistent with Macau's history. Most of the guests are staying just one night. He believes the figure will change over time.
"It reminds me a little bit of the Atlantic City market," said Brown, who ran Donald Trump's casinos on the Boardwalk before joining Las Vegas Sands. "Because we have so much to offer (at The Venetian), we think our customer will want to stay longer."
A record 22 million visitors came to Macau in 2006, 86 percent of whom traveled from mainland China and Hong Kong. This year, Macau tourism officials expect the number of visitors to increase to 25 million.
In the neighboring mainland Chinese jurisdictions that surround Macau, such as Guangzhou, Zhongshan, Jiangmen and Foshan, the Chinese government estimates 314 million residents are eligible to travel. Las Vegas Sands executives like to point out that 3 billion people are within a five-hour plane flight to Macau.
While China is still a communist nation, business development has created an expanding middle- to upper-middle class of citizens with disposable income. Casino gambling is one vehicle for that spending opportunity.
"People are coming to discover Macau as almost their first step out of their country, and it's an easy step for people," Coughlin said. "We're seeing new players coming all the time, and we've become the venue of choice. We have about 22,000 people a day come here. We compete with other casinos, but we have carved out a niche for ourselves. We're not about scale and volume right now. We are about luxury and quality."
LAS VEGAS MODEL TRANSLATES WELL
The Gaming Asia Pacific Summit, held in September at the Macau Tower and Convention Center, carried two days of discussions on the growth of gaming throughout the region.
Jonathan Galaviz, a partner in Las Vegas-based Globalysis, a research and consulting firm that advises companies in several travel-related industries on the Asian market, led several discussions during the summit. Galaviz, who has traveled extensively in Asia, said Macau is capitalizing on the booming Chinese economy.
"Productive workers are reaping the benefits of the wealth they have generated, and now they want to be able to spend it somewhere to have entertainment," Galaviz said. "What's interesting is that the Las Vegas model of tourism development, which uses casino gaming as a fundamental driver of economic growth, is at play here in Asia. This is why Las Vegas companies are so successful in the region."
Galaviz said Nevada casino operators are able to transfer their experience to the Chinese market.
"Las Vegas knows how to do it and do it right," Galaviz said. "They understand regulation and the competitive dynamics, where new entrants into the marketplace actually refresh the marketplace and benefit all the players. It's like you see on the Las Vegas Strip, where one new property ends up benefiting all the players."
Macau has one gambling aspect that defines the market as different from the one in Las Vegas: high-end play inside luxurious private gaming salons, tucked away from the main casino floor, which is dominated by mass-market players.
The Venetian, Sands, Wynn and the soon-to-open MGM Grand, house elaborate private gambling areas with features similar to private country clubs.
At The Venetian, guests checking into the Paiza Club never have to venture into the main casino, unless they want to visit the Grand Canal Shoppes. Wynn has private salons on the hotel's upper floors. The Crown Macau on Taipa operates its private gaming salons on the hotel's 37th floor, offering views of the Macau Peninsula.
Crown Macau CEO Greg Hawkins said a high-end customer is required to put up $30 million in Hong Kong dollars — about $3.9 million in U.S. currency — for gambling purposes to gain access to the private salon.
"We're looking for the top of the VIP market, as is our competition," Hawkins said.
The reliance on high-end play shows in a percentage breakdown of Macau gaming revenues. Of the $6.7 billion won by Macau casinos last year, roughly 70 percent came from the VIP customer base, a figure that stands out to Nevada gaming officials.
"We look at Macau and see the casino floor fairly busy, but the story is what's happening in the private rooms," said Gaming Control Board member Mark Clayton, who spoke at the summit. "It's almost opposite of Las Vegas, where most of the action is up front. We see minimal business in the back of the (Strip's) private gaming areas."
Gaming analysts and Macau casino leaders think the mass market will cut into VIP percentage as more casinos are added to the mix. Brown said his two casinos have seen an influx in mass-market customers since The Venetian's opening.
"We have gamblers on the floor who wager $5,000 to $10,000 a hand with us," Brown said. "That same guy in Las Vegas is in the baccarat pit with 12 pit bosses standing around and staring at him."
Another difference between casinos in Macau and Las Vegas is that photography inside Macau casinos is prohibited by the Macau government because of privacy issues for the customers.
Media outlets can petition the government for permission, but Venetian Macau spokesman Buddy Lam said the paperwork can take up to two weeks or longer.
'NOT A MARKET FOR AMERICANS'
Macau, despite its rapid growth, is not competition for Las Vegas. The markets are completely different.
Southeast Asia — about 14 hours travel time by airplane from Los Angeles to Hong Kong — is too far to travel for Americans interested in a gaming vacation. Those consumers have Las Vegas at their disposal, gaming industry insiders said.
"This is not a market for Americans," Power said. "The market here is growing, but it's Asians that are transforming this market."
Clayton said Nevada regulators are not concerned that Macau is slicing into Silver State gaming revenues.
"The operators I've spoken with tell me the market is the People's Republic of China," Clayton said. "It's a complement to the Las Vegas experience and furthers a person's desire to visit Las Vegas. The profits made by our Las Vegas licensees in Macau may lead to further development in the state of Nevada."
Galaviz believes Macau offers Las Vegas the opportunity for even greater riches. Southern Nevada could be the center of the core innovations for casino gaming and entertainment, he said, much like New York City is for financial markets.
"The industry will go into other emerging markets over the next 10 to 20 years," Galaviz said. "As innovation takes place globally, most of the intellectual property development and the new, creative ideas will be coming from Las Vegas."
MODERN MINGLES WITH ANCIENT
The under-construction Grand Lisboa hotel tower, designed in the shape of a lotus flower, rises high above the Macau skyline.
About 20 minutes away by foot, the Ruins of St. Paul's sit on a hill above the city, a short walking distance from Senado Square, Macau's centuries-old, Portuguese-themed urban center.
Senado Square is paved with a wave-pattern mosaic tile. The Ruins of St. Paul's is a two-level stone facade, which is all that remains of the area's first Jesuit church.
The structure, built in the early 17th century, was destroyed by a fire in 1835.
The blended images of the history and the future symbolize Macau, where museums and historical landmarks mix with shimmering gambling halls.
The A-Ma Temple, a shrine that existed before Macau was even developed, still welcomes a representation of all Chinese cultures: Confucianism, Taoism and Buddhism.
The casino cluster that includes the Lisboa, Wynn, StarWorld and MGM Grand is just a 10-minute walk away.
"There is strong central culture, with an old colonial Portuguese influence here," Coughlin said. "As much the casino industry grows, that's something that will always be part of Macau."
Contact business reporter Howard Stutz at hstutz@reviewjournal.com or (702) 477-3871.
MacauLas Vegas, Half a World AwayIn Depth Package
Editor's note: Review-Journal gaming reporter Howard Stutz and director of photography Jeff Scheid traveled to Macau to see how some of Nevada's largest gaming companies have helped the Chinese enclave pass the Strip in annual gaming revenues. THE SERIES Today: Macau is in the cross hairs of a multibillion-dollar building boom largely fueled by Nevada's major gaming companies, which are exporting Las Vegas-style casinos into a market starving for action. Monday: Thanks to the growing casino industry, unemployment is just 3 percent in Macau. But where will all the workers come from to staff the new casinos now under construction? Tuesday: More than 80 percent of the table games in Macau are dedicated to the game of choice for Asian gamblers: baccarat. But the use of slot machines is growing, and Nevada's slot makers are trying to capitalize on the market. Wednesday: Macau's Cotai Strip has more than 20,000 hotel rooms in various stages of construction. By 2010, the Cotai Strip will resemble the heart of the Strip in Las Vegas. Thursday: American gaming giants Las Vegas Sands Corp., Wynn Resorts Ltd. and MGM Mirage are establishing footholds in Macau. But an Australian company, in partnership with the son of Macau's casino pioneer, is ready to challenge the experienced casino operators.