Las Vegas hospitals expand, look to improve service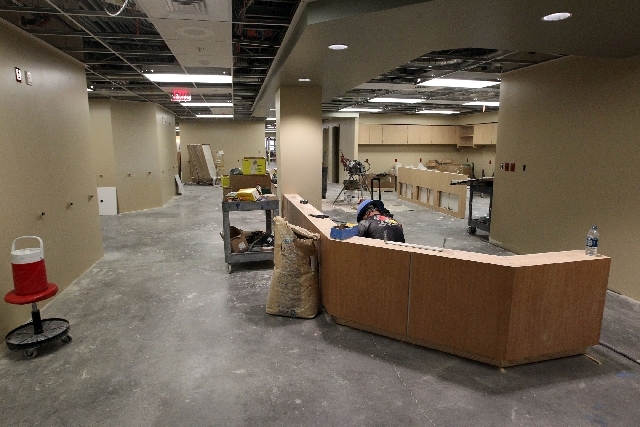 Big dollars are being spent at hospitals throughout the Las Vegas Valley on large-scale expansions and improvements to the medical campuses.
Will Wagnon is CEO of MountainView Hospital, 3100 N. Tenaya Way. He said a "fairly conservative approach" was used in planning the $85 million expansion underway there.
The first phase of the expansion included a $70 million, three-story tower that opened in January. It features a new emergency room with a dedicated entrance, a new waiting area and 23 private evaluation rooms. The 85,000-square-foot tower also houses a 12-bed intensive care unit.
The hospital expanded its accredited chest pain program and constructed a helipad near the new ER as part of the first phase.
"Believe it or not, we've never had a helipad," Wagnon said of the 17-year-old hospital. In cases when a MountainView patient may need to be transferred to another facility, such as a trauma center, " an air transport makes the most sense (when) it's 5 o'clock in the afternoon" and freeway traffic is heavy, he said.
"Other times, it could be that … there's somebody coming in from Mesquite (who) needs to be whisked down here so we can get them (immediately) into a cardiac operating room. How do we do that without having to clear the parking lot out?"
The addition of the helipad, Wagnon said, is an example of "just being conscious that as we take care of more complex patients. Are we thinking through all of the things that you need to have in place to be able to do that seamlessly?"
The second phase of MountainView's expansion, set for completion this summer, includes renovations to its original emergency room, which was joined with the newly opened ER and doubled in size to 42 exam rooms.
"The ER has been what I call an opportunity that we've had for several years and really the driver to think about what we're doing" in terms of the hospital's overall renovation and expansion plans, Wagnon said.
In recent years, the hospital averaged about 40,000 ER visits annually yet "wasn't sized to be able to handle that." Couple that with a refinement of MountainView's "clinical offerings," such as its chest pain, cardiac alert and stroke programs, Wagnon said, "We continued to see the volume (of patients) grow" to more than 50,000 ER visits in 2012.
Also set to open on the tower's third floor are 32 private medical/surgical patient suites. By July the hospital will have 340 beds — triple the number it had upon opening in 1996.
"I think that our community recognizes and appreciates (that) we've been running at or near capacity for most of MountainView's history," Wagnon said. " And as we try to refine the programmatic offerings and differentiate ourselves clinically, we continue to see the community respond.
"I think the expansion really comes from the community's continuing to turn to us (to meet its health care needs)," he said, "and we need to make sure we have the infrastructure to support that."
An additional $15 million was spent in renovating and expanding a 35-bed inpatient rehabilitation unit in MountainView's adjacent six-story medical office building. The unit complements the hospital's neuroscience and stroke programs.
Referencing MountainView's stroke patients, Wagnon said, "While their hospital stay may be three to six days … there's still some opportunity that they need to go build back their activities of daily living." An inpatient facility can assist patients during the transition from "emergent intervention to potentially being able to discharge them home where they have a baseline deficit (of skills and abilities) that is nil."
Wagnon said he believes the hospital has "an ethical obligation that if we try to entice a patient to drive by another (medical) facility and come to us that we need to be able to have a meaningful reason why they do so. For me, that has always been (that) we need to differentiate our clinical offerings so they feel like they're coming here because there's a program in place that will give them what needs to be done in a consistent manner, and (that) their outcome is not fate — it's deliberate."
Upon completion of the second phase , the hospital's lobby, admitting/registration area and cafeteria will also have been renovated.
Wagnon said the hospital is hiring additional staffers: "We always have opportunities to attract new members to the team that see the same vision as we do." Available positions can be viewed at mountainview-hospital.com/careers/.
Careful consideration and planning also went into the ongoing upgrades, renovations and expansions at Sunrise Hospital and Medical Center, 3186 S. Maryland Parkway.
Beginning in 2012 and continuing through the end of this year, the hospital will invest nearly $30 million in equipment upgrades and facility renovations, according to Associated Chief Operations Officer Tiffany Simpkins.
Among the highlights: a newly remodeled and expanded inpatient rehabilitation center for stroke and other high-acuity patients, a hybrid operating room and the remodeling of 108 patient rooms with new decorative finishes, flooring and bathroom upgrades. The hospital also installed a $3 million telemetry monitoring system to improve communication with patients.
Simpkins said Sunrise turned to its staff members for input before deciding which areas were in need of improvements. "We talk to our physicians about what we're looking at doing strategically in addition to understanding what the needs are," she said
Sunrise is completing a $4.5 million renovation of its surgical services department, including pre- and postsurgical areas, which is scheduled to wrap up late this year or in early 2014. Also this year, the adult intensive care unit and 75 additional patient rooms will be renovated.
"It's all about making sure the patient experience is No. 1," Simpkins said. "When you have state-of-the-art equipment it allows you to provide not only (a) standard of care, but a higher level of service."
The hospital is hiring staffers for its nursing and intensive care units, among others. Job postings can be viewed at sunrisehospital.com/careers/.
At Summerlin Hospital Medical Center, 657 N. Town Center Drive, the final phase of what CEO/Managing Director Robert Freymuller calls a "master-planned development" project is under way.
A $100 million expansion of the campus was completed in early 2010. It included the addition of a six-story tower featuring 173 private patient rooms, bringing the hospital's total number of beds to 454.
Summerlin's emergency room was expanded and remodeled to include a dedicated pediatric emergency room. A dedicated breast care center, featuring the latest digital mammography technology and stereotactic biopsy capabilities, was also opened. The hospital recently purchased a $2 million MRI unit that allows additional mammography and guided biopsy procedures to be performed.
Last year, the hospital moved its wound center to its adjacent medical office building. It features of a pair of state-of-the-art hyperbaric medicine chambers that treat hard-to-heal wounds.
Freymuller said that move "really paved the way" for the hospital to begin a large-scale, $8 million expansion of Summerlin's surgical unit. Upon the unit's completion this fall, the hospital will add two fully integrated surgical suites (bringing its total to 12) and 18 additional pre- and post operative treatment bays.
The additions will increase patient privacy and "accommodate the growth we're currently seeing in surgery and (what is) projected out in the future years," he said.
The surgical unit expansion will also accommodate new technology: Last year the hospital added a second da Vinci Surgical System, a robotic platform that allows doctors to perform complex-yet-minimally invasive procedures.
"We're building these new surgical suites … to allow some of this new technology to be implemented," Freymuller said. "You have to invest (in the facility) to be able to ensure you provide the latest technology, which will allow you to maximize the quality of your care and the (patient) outcomes."
Freymuller said future growth is planned for the 15-year-old hospital. An outpatient cardiac rehabilitation program, to assist in the recovery of open-heart surgery and heart valve replacement patients, will open in June.
Freymuller anticipates hiring additional staffers for the cardiac rehabilitation program, as well as the new surgical unit. Employment opportunities can be viewed at summerlinhospital.com/careers.
Work began earlier this year on a $163 million expansion project at St. Rose Dominican Hospital, Siena Campus, 3001 St. Rose Parkway in Henderson. The project will include a parking garage and a five-story patient tower with 107 patient beds.
Other areas of the hospital also are being expanded and remodeled. Thirty-six adult medical/surgical beds will be added, as will 24 beds in the adult intensive care unit. In the neonatal intensive care unit, 11 beds are scheduled to open by July 16 for a total of 26 beds in that department. An additional 36 intermediate care/medical beds will be "shelled" on the fifth floor of the new tower to be used for future hospital expansions.
In the emergency room, 32 new beds will be available, along with 19 observation bays for patients requiring stays of less than 18 hours. That will bring a total of 56 treatment bays to the department, including four trauma bays. Six operating suites will also open, bringing the hospital's total to 16.
The expansion, which is scheduled to be completed in late 2015 or early 2016, is long overdue, according to Siena Campus Vice President and Chief Operating Officer Teressa Conley.
For several years, she said, the hospital requested approval for the project from its parent company, Dignity Health. "It just came to the point where we were encountering such overoccupancy issues that we had to get it done," she said.
Great consideration went into all aspects of the expansion, Conley said, especially the tower's design. "We involved our physicians, we involved out nurses, we involved our (company) leadership … and said, "Help us to design something that works for you.'  "
In keeping with the hospital's "faith-based mission" to "treat more than just a clinical condition," Conley said the design also takes patients into account. "We want (stays) to be a patient experiences, and so that involves more of the patients' senses (via) environments that are pleasant and involve nature," which she said can reduce stress and assist in the healing process.
As a result of the expansion the Siena Campus will require an additional 600 to 700 employees, the bulk of which will be in clinical positions, including nurses, respiratory therapists and imaging technicians, among others. For a list of employment opportunities, visit http://tinyurl.com/c5nca6r.
Conley said the expansion will allow the hospital "to continue to provide more complex, acute procedures. … I think we're building to meet the needs of the community, and we're building programs around what those community needs are. We're here to serve them."